The word enjoy itself can have a lot of meanings and go to a bar is surely one of them.
Whether you talk about refreshing caipirinha, basic Mai Thai, or a tangy combination of vodka or lime, all of this has finally decided to make its way into your life.
So wouldn't it be better to enjoy all this in something vouge or exotic instead of being in those tardy pajamas all day long?
Well if you are nodding to every above-given statement but still find yourself stuck with the basic question of what to wear a bar? Don't worry we have got your back.
Keep scrolling to find out the basic etiquettes, tips ideas for summer and winter attires, and much more.
Also why it's just not about the looks anymore and what should be done before going to a bar will be explained in detail.
So that the next time you visit a bar it wouldn't be a disaster like "last time".
What to Wear to a Bar?
Back to Basics
Wear a plain basic shirt with formal pants and formal shoes or loafers for a formal look. It will look more classy, elegant, and comfortable at the same time. And it will give you a gentlemen vibe and you'll feel confident too.
Keeping it Casual
Wear a basic t-shirt with regular denim and loafers in footwear for a casual look. This look is more comfortable. But this is more of a common look. So, if you want to play with your style then just read the next point.
A little Play On
Wear a basic t-shirt with formal pants with basic sneakers for a semi-formal look. It will look more chic and comfortable at the same time. You should add on some accessories for an attractive and elegant look.
Smart Casual Style
Wear a basic t-shirt with formal pants and a blazer on top of it with formal shoes. This outfit looks more semi-formal and more stylish at the same time. This style is more like an ambiguous style. The outfit should be well fitted but moderately less formal.
The Hip-Hopper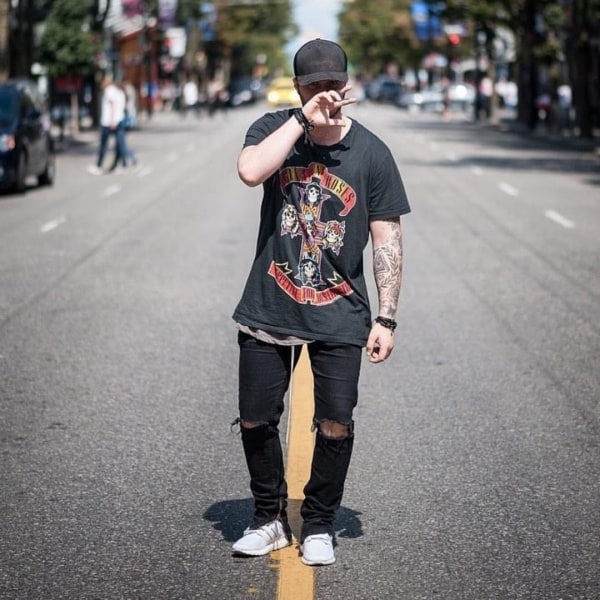 Wearing an oversized graphic t-shirt with cargo pants couldn't be neglected by anyone right?  If going for a similar style, don't forget to flair your attire with a pair of sneakers! It will give you a street-style look. This style is more often found in this generation. This type of outfit will look more cool and trendy.
Regular Fit
Try wearing a hoodie with regular denim or jeans and canvas shoes in footwear. This look is more familiar and usual, not that attractive but a lot more comfortable than those skin-tight pants or jeans.
So, for making this outfit a little more eye-catchy, just add on some accessories like a neckpiece, chains, rings, and bracelets for giving yourself a funky look.
Chic Style
Ever thought about wear a turtle neck? Well, this might be your sign to do so. Try on a basic sweater or turtle neck full-sleeved t-shirt with pants and boots in footwear.
Just for a voguish look add a chain with a supercool locket and a bracelet or you should add a checked scarf for an understated look.
Dapper Fit
Wear a printed shirt with regular basic jeans and a denim jacket or (you can wear bomber jacket also) on top of it and sneakers in footwear.
You can add some accessories like shades, bracelets, minimalist rings for a classy look. This outfit is always in trend and a lot more comfortable which helps you in building your confidence and personality.
Different Seasons Different Styles?
The bar isn't just a one-night fling! The fun goes all the year-long in different seasons which means your fashion train needs a lot more than just some basic ideas and attires.
Hold up no need to boggle up your mind and run through all the different places and sites when all of your questions can be quenched right here.
Summer Calling!
Here are three ideas for what to wear to a bar. As we all know summer is a very breezy season. This season comes somewhere in between the spring and autumn and it has a lot of humid and high temperatures.
So, we should prefer floral prints, pastel colors, light fabrics, cotton blend clothes for rescuing ourselves from rashes and Allergies.
Now, we are here explaining three ideas for summer for what to wear to a bar :
The Street-Style
This outfit is based on the hip-hop style, it includes an oversized graphic t-shirt, cargo pants, jogger, chains, rings, sneakers, and bucket hats.
So, you can wear an oversized graphic t-shirt with joggers and high-rise sneakers. For some fun elements, you can add rings and chains.
This look is more in trend right now and it looks cooler and up to the minute outfit.
Semi-Formal Style
This outfit is not totally a formal style. This style includes a basic t-shirt with formal pants and white sneakers in footwear.
You can also play with this style by adding a silver or gold color and some rings for a modish look.
If you don't want to wear a basic t-shirt you can go with the floral prints but make sure that you should reduce accessories while wearing a printed t-shirt, as printed t-shirts have a lot of fun elements in them only.
The College Boy Style
This style is based on college boys or you can say meant for college boys. This fit includes t-shirts or shirts with regular types of denim with loafers in footwear.
This look is more often found in the teen generation and is a lot more snug and comfortable. Just to add some element to this fit, you can go for shades, rings, or bracelets as per your choice.
Winter Elope!
Here are three ideas for what to wear to a bar in winter. The Winter season is the season that demands cozier, woolen, snug, and warm clothes.
As this season is usually a snow call so wearing trendy, attractive PLUS warm clothes wouldn't be a bad idea. We mean, obviously, no one wants those froze-up legs in the name of fashion.
So again here are some ideas for what to wear to a bar in winter so these winters can be fashionable and warm as well.
Cozy and Warm Fit
This style or fit is perfect for winters since it makes you feel cozy and warm. This type of style includes sweaters, sweatshirts, hoodies, coats, blazers, overcoats.
So, for going to a bar we should wear a full-sleeved basic t-shirt with an oversized hoodie with loose jeans and sneakers in footwear (high rise sneakers).
If you don't want to wear a hoodie you can go for a sweatshirt or an oversized sweater and for some fun elements you can add rings, chains, bracelets, as per your favorable choice.
Debonair Style
Firstly debonair means confident, stylish, and charming. This word is mostly used for men.
This type of style includes more stylish and confident clothes like turtle neck sweaters, slim fits, etc.
So here you can wear a turtle neck basic sweater with slim-fit jeans and boots in footwear with a golden colored chain and some rings.
You can also wear a blazer on top of it to give this fit a little more charm.
Voguish Style
This style means a popular or in trend at a particular time. This type of style is more experimental and aesthetic.
This can include some crazy accessories like hats, shades, bucket hats, aesthetic rings, etc.
So while going to a bar we can wear a basic crew neck t-shirt with a classic print shirt tucked in pants with open buttons with Chelsea boots in footwear.
This fit will look more classic and authentic meanwhile this outfit gives you a gentlemen vibe and all people out there will love this outfit.
You can add some pearl neckpieces and rings for some fun elements.
Accessories: A Needed Fun Element?
Chains
Chains are neckpieces that are always in trend. Chains will never get out of fashion.
Most probably chains go with turtle neck t-shirts, crew neck t-shirts, and chains can also be used in jeans or pants by attaching them to the jeans or pants, these types of tricks can add more fun elements to the outfit.
Belts
Belts are a must and the most important thing in the accessories because belts will secure our pants or jeans and belts help us to give a shape to our waist.
It will hold up our jeans, pants, trousers, etc. These are worn for fashion as well as function.
Sunglasses/Shades
Sunglasses or shades are worn for both fashion and function.
In fashion they help to enhance our outfit, it will give an extra charm to our fit and its function is to protect our eyes from bad rays. Sunglasses can be worn in all styles.
Watches
Wearing a watch can also give you a chic look to the outfit. Watches are authentic and classy at the same time.
You can wear a watch with any type or style of outfit. It can go with any style like formal wear, semi-formal wear, casual wear, style causal wear.
There are many types of watches like a smartwatch, diving watches, automatic watches, pilot watches, etc.
With formal style you can wear diving watches, with the semi-formal style you can wear analog watches, these analog watches can be worn by any outfit because these are always in trend.
Rings and Bracelets
Rings and bracelets are also be worn by any outfit but make sure a large number of rings can be ill-thought-out.
Bracelets can also add a classy element to the outfit if you are not wearing a watch.
Drink with Your Shoes On!
Brogues
These are the formal shoe that can be worn with formal outfits and semi-formal outfits.
Every man should have one pair of brogues because these are the classiest shoe and can go with formal outfits and semi-formal outfits too.
Loafers
Loafers are basically worn by any attire, they can be formal, semi-formal, casual, or they can also go with beachy vibes also.
Sneakers are more in trend right now. In today's world, people are wearing sneakers with formals also but eventually, these shoes are worn with casual outfits or with Street-style outfits.
In the last few years, sneakers are most often used and bought by people. But nowadays there is a trend of high-rise sneakers or basketball sneakers, these sneakers are also given a cool look to the outfit.
Dress Boots
These boots are considered high fashioned boots. These boots are a must for every man out there.
These boots can go with all types of styles expect Street-style or hip-hop style.
Dress Boots gives a chic look to the outfit and enhances the elegance of the outfit.
What to do Before Going to a Bar: Basic Etiquettes 
Here are some grooming tips that you are supposed to follow before going to a bar!
Take a Shower
The first and foremost step in grooming is taking a bath. We should have a bath and have a fresh look before going to a bar. This will look after the next steps. If you are fresh and active then you will take up the next steps.
Do your Beard
You should do a proper beard clean-up before going to a bar. The beard should not look a mess, the beard should be clean and shared.
Do your Hair
The third step is to do your hair, this step means to make a good and appropriate hairstyle according to the outfit. Make sure you are having a decent Hairstyle don't go over the board.
The fourth step is about skin, so you should use a moisturizer, or any cream so that your skin doesn't look dry.
The application of moisturizer helps our skin to glow and looks fresh. If you have dark circles you can use concealer according to your skin complexion.
Dress Up
In the fifth step, you should wear neat and clean clothes according to the night. The clothes should be well ironed, and there should not be any stain on the clothes, this will give a bad impression. So wear good quality clothes.
Smelling Good is the Key
You should smell good, apply a good quality perfume, deodorant, or mist that will stay long.
Applying fragrance behind ears is a must because it will stay a lot longer than applying on other parts. Smelling good is also a very important step in grooming.
Tips of the Day!
Look over the Codes of the Bar
The code of bar shouldn't be disrespected you should be wearing some good and decent stuff in which you also look good as well as trendy at the same time.
You should have to focus on your comfort level with people you are enjoying and interacting with. There should be healthy and positive behavior of everyone out there in the club.
Keep the Vibe of the Club in your Mind
Keep the vibe of the club in mind, The people around you should not get any negative vibes by your behavior and communication you must have positive and having healthy behavior towards everybody in the club.
Last but not the least, while going to the bar you must keep things with yourself,  Should know what type of weather is outside and according to that you should make a plan for going to the bar and having a healthy and safe night. Health is more important than having fun you must keep your safety in mind.
What to Avoid?
Here are some tips that you should avoid while going to a bar or avoid in a bar.
Don't wear over the board
As we all know the club is the place where all the people come to chill. So, you all should wear comfortable clothes that are trendy and attractive at the same time.
A club is a warm place where we all should wear light clothes with a cotton blend or other light fabric clothes. As the club is already hot and a lot of people are there packed in the same place so the heat automatically increases, so that's why you should wear light clothes. In winter you can bring coats, bomber jackets, etc. But wear it according to your preference.
The more you wear jewelry, the more you look horrible
You should choose the jewelry wisely and smartly. Rings, bracelets, chains, are in trend but you can't wear these things in a large amount. Just pick up the minimalist and aesthetic jewelry. If you are wearing chains wear rings with them, if you are wearing a bracelet just go with a bracelet only, if you are wearing a watch go with one or two rings as per your choice but don't wear jewelry in a large amount.
Don't use strong fragrances
Smelling good is one of the most important things but using a strong fragrance can lead to a destroyer. For example, if you are using a strong fragrance and other people in the club don't like these types of fragrances then they will not interact with you. So always go for light and floral fragrances. If you are not a perfume person you can just go with a body mist.
Don't wear uncomfortable footwear
Wearing uncomfortable footwear can lead to harm to your foot. And clubs is all about dancing and having fun if you are not wearing comfortable shoes or any other footwear, you will not able to dance and you will miss all the fun. So don't wear tight, loose, or uncomfortable footwear, just wear the footwear of your size only.
Wrapping it Up!
Chilling and vibing in a night out or bars inflate when you have a perfect attire to match on.
2020 has gone already and this "restriction-ease" year has a lot to offer. (ahh sweet nostalgia of bars and late-night outs).
Well, no need to reminisce any of this anymore. Just use the ideas and references as said above and get ready for a massive nostalgia to hit upon you.
So, if you have made it this far we are sure that you have got your answers to the question of what to wear to a bar?
Going to a bar would be so less hectic and much more fun if followed the ideas well.
To summarize all, just remember to be yourself, be comfortable, and never forget to add that extra zing of fashion and glam!
If you found this article helpful, do share it with your friends! Happy Reading!