The wedding season is here!!
And so your mind gets filled up with thoughts like "what outfit should I wear that will be the most amazing of all".
You all will want to dress yourself up most uniquely and beautifully. We are here to guide you with the most amazing designs of fall dresses for wedding parties.
Wearing these fall dresses will make you feel like " Wow! I'm so beautiful!" You'll love your attire and it will be worth staring at.
In this article, we will be talking about some beautiful dresses especially for the fall wedding season. You will get to know what to wear to a fall wedding. We will also cover some other topics of:-
 What to wear to a fall wedding
 Every time you decide what to wear to a fall wedding, the surrounding temperatures change their nature and ruin your plan.
In case you feel a complete loss at what to wear to fall wedding invitations, here are some quick and easy dressing styles according to the times. You will have different attires according to the different time periods.
Fall wedding guest dresses ideas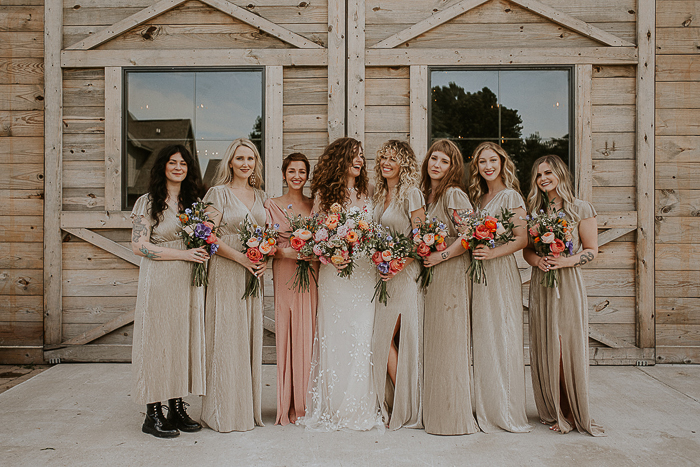 What to wear To a casual Daytime Wedding
Wearing casual attire during the daytime of a fall wedding is not boring. It does not mean that you have to put on some old and typical outfits from your closet. You can put up the fashionable outfits that you pick and buy regularly. They can turn out to be extremely classy when you crash at a wedding party. Your style will be unique from all and you will feel comfortable under the hot sun. Besides being comfortable, it is also chic and versatile in nature. You can style it up with a pair of flat heels or some pair of stylish boots. Add a light leather jacket for adding spices to your attire.
What to wear for a late afternoon wedding?
If you have an invitation for a late afternoon wedding party or a reception ceremony and you are confused about what to wear to a fall wedding at such an odd mid hour timing, then you should wear a simple lined party dress.
A sparkling dress will make you feel odd and uncomfortable. You should wear something that will vibe with the surrounding daylight. It is also a quick trick to look perfect and absolute without changing your clothes time and again.
Dress with simple lines can be worn up and down. You can pair this up with a pair of simple earnings and easy bracelets for a midday event. In case you're a working woman you can switch to your workplace anytime from a wedding.
What to wear to an evening wedding?
 Attending a casual evening wedding party does not always mean that you have to go in with tops and jeans. For men, you can wear a dark-coloured button lined shirt with a pair of corded jeans. For women, you can dress in a chic yet simple outfit.
This attire will give a comfortable feeling and make you look stylish at the same time. You can also use it as a trick to wearing it at a function related to your workplace.
Your dress will be free of heavy beads and luxe fabrics so it will not leave a heavy impression in front of the people. If you add metallic accessories along with it, you will look fab amongst all.
The formal fall wedding attire during daytime
If you have an invitation for attending a formal wedding during the daytime, then you should choose something bold and sleek.
Girls can drape themselves with a bold short dress and for boys, they can go out in a smart sharp suit. This will make them look smart, bold and of a sophisticated personality. Choose light but bright colours so that it makes a vibing impact with the daylight sun.
Try to make your attire sober instead of stuffy. Do not go for dark or black coloured clothes because that will give an office vibe so go with Rich fabrics and colours. This will suit you best at the event.
The festive attire for fall wedding
Do not get tense about what to wear to a fall wedding whenever the festivity comes into the scene. Make it pretty straightforward.
Wear cocktail party attire to make it look more festive and fun. Make it bold and eye-catching. Men can design themselves with a suit styled up with a sleek fashionable Tie
accessory. We will discuss the cocktail attire more in detail later in our article.
What to wear to a Fall wedding  for brides
 The fall wedding season is the most beautiful and festive wedding season of all. They are quite popular with their nature because of the event decoration, backdrops and the overall weather condition.
Therefore we have summed up the best trending bridal attire in this article that will make you fall in love with yourself and your special day a lot.
The Princess cape wedding dress
Design yourself in princess Cape attire. This type of wedding dress will be the sleekest and chic dress. They can be of any length long, mini or midi. These bridal attires were the most trending attires of the Bridal Fashion Week runway.
The wedding jackets for the bride
If you want to make your wedding look like a gorgeous Disney Princess, then you should go for this attire. This will make your Disney wedding wish come true.
Dress yourself up in a white beautiful gown and pair it up with a jacket designed with beautiful laces on its sides.
Once you wear it you will look like a queen for your king. It will also make you feel like wearing it time and again. Use simple accessories for styling yourself with this dress.
The detached sleeve wedding attire
This wedding dress attire will bring a new revolution in trends. These wedding gowns are designed with much love and care.
The off-shoulder design in the bride's gown will give it a new look. They are found in a lot of specific designs like bouffant, slinky as well as in cute laces. This wedding attire is extremely stylish and modern in its way.
The mid-length wedding attire
This fall wedding dress trend is very exotic. It is like bringing up the culture of 1950s wardrobe fashion. They are very modest in nature with their midi or calf length wedding gown.
This wedding attire is very enthusiastic, sweet and spreads a feeling of reinvention of the whimsical vintage during the old times. This will be very fashionable for the bride and make her have a stunning classy look.
The nude and pink shaded wedding attire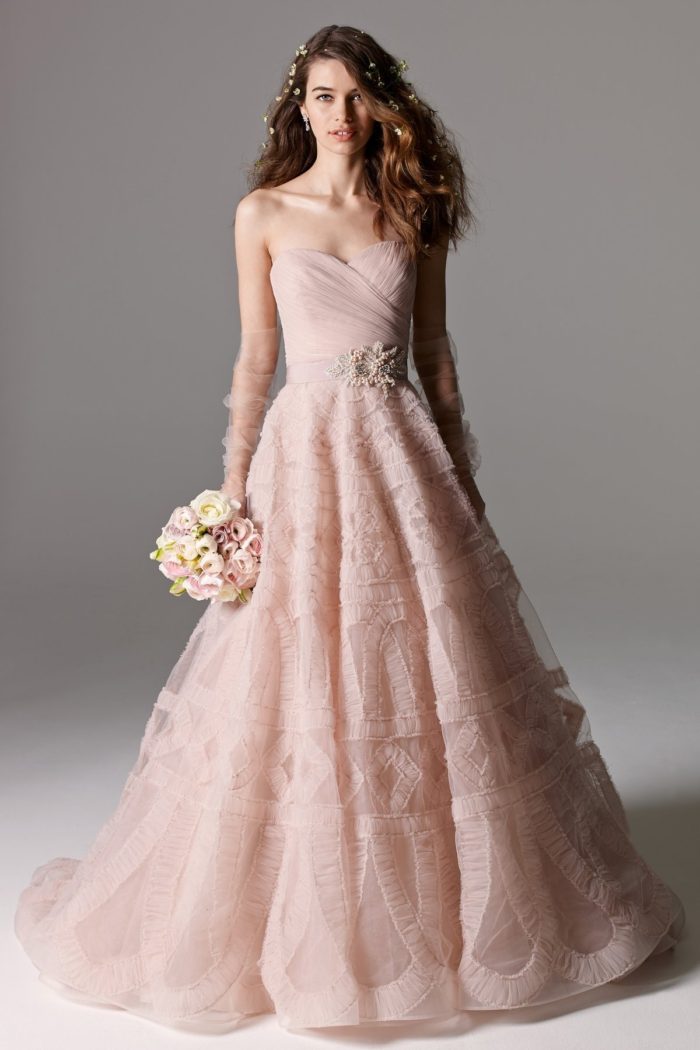 This trend of wedding attire is very sweet and childish by nature. It has a soft blush feeling in its attire because if it's pink and nude shades.
Colours like hot pink and peach also add a bubbly look to the wedding dress of the bride. The pink colour will be absolutely romantic and will resemble the symbol of love at this auspicious event.
Rocking with the mini wedding attires
The modern stylish wedding outfit is here. For all those girls who love to rock the floors with their mini short dresses, this one's for you.
Rock your wedding wearing this modern mini dress wedding attire. You will have the most fashionable modern look in you. This is a new revolution in the making of wedding dresses for all the bride's who dare to go bare.
The pants in wedding attire
Wearing pants on your wedding day seems odd? Well, now it won't. Here we are introducing the new wedding attire with trousers for our new revolutionary bride.
The designers have styled this fall wedding attire in such a way that it looks confident when the bride puts it on. Styling your wedding dress with a jumpsuit is not an easy task for sure but here our designers have done it incredibly.
This classy wedding style will really takedown over the aisle and will make a more feminist impact on the event.
This fall wedding dress design for the bride will also showcase the strongly independent and confident woman in the era of the 21st century.
The shoulder bowed attire for wedding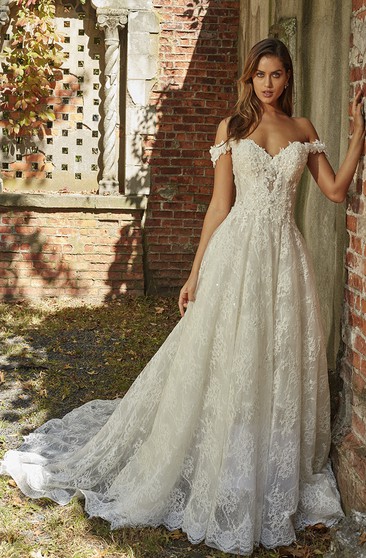 Putting up bows in your wedding dress has not been a strange new thing to anyone. But designing it in a new classy way can be really breathtakingly beautiful for the bride.
In Fact, they look very girly and sweet and have been very popular among the trends of the Bridal Fashion Week runway trends.
Tying your hair into a bun will make you look more beautiful in this fall wedding attire. You should definitely try this one out if you are into cute fashion stuff.
Clean and modern wedding attire
Sometimes it is best to keep things simple and easy. Many people may want to keep their wedding simple sober and with light celebration.
This wedding attire is for all of them. These attires are beautiful and will suit you best for your fall wedding party.
There will not be any muss and fuss in carrying the attire in your body and you will look extremely clean and modern. This attire has also reinvented the 1990s minimalism in its styling. You should add very clean make-up with this attire to make it match well with this attire.
Therefore, these top fall wedding designs for the bride will make the wedding party more beautiful and memorable for the bride.
What to wear to a Fall wedding  for grooms
Dressing up for a fall wedding does not mean you have to make it formal for a groom. You can mix your attire from top to bottom in a semi-casual way.
To know what to wear to a fall wedding for a groom here are some quick tips and tricks.
Keep in classy with the blue wedding attire
You can rock your wedding day by dressing yourself in blue shades of cobalt. This will add soberness to your personality and will make you look sharp. This will also add crispness to your classic attire and give you a solid look for your wedding.
Add flowers to your pockets to make you look like a gentleman.
A khaki suit will be very decent as attire for a wedding. You can wear a white shirt beneath it. It will be a modern revolutionary to introduce rich neutral tones of colour for the modern bride.
This will look fab for the groom in a fall wedding.
The bold mixed pink attire
Stripes and checkers have not lost their existence in the news trends of wedding attires. You can make it look more interesting by Designing it differently.
You can combine blue stripes on a solid pink suit. To add more spice you can add a checkered bow and a boutonnière of orange colour.
This shade combination in the groom will add more pop style. Mixing and matching have never been this good with bright colours. These attires will suit best to all the grooms who love flaunting their fashion statement. This will make your wedding more fashionable.
You will not require a coat when you can style yourself as a groom in a waistcoat. This will make you feel casual, comfortable and easy.
Try the waistcoat with the hues of Grays and blues. Make sure that it has a proper fitting on your body.
This will show your stout figure nicely and also make you look bold. Adding a classic boutonnière will be like adding a cherry on the top of your attire. The groom will look dashing smart like an extra dapper and with the perfect fittings to add extra polish.
Rocking velvet wedding attire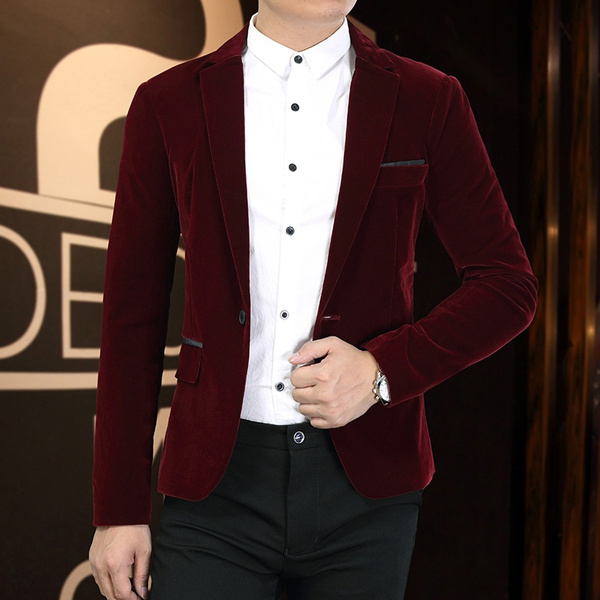 This fall wedding attire will be extremely rich and filled with luxe. This is extremely luxurious by its texture when adorned by the groom.
That will make the groom feel very comfortable. This attire is of velvet texture and has striped buttons in designed patterns.
This attire will look brilliant in the shades of navy blue and burgundy. Try to match it with the same coloured accessories. This attire if chosen to wear by the groom on the wedding day will catch a lot of attention from the people.
Seasonal colours on the wedding attire
On styling your wedding attire with seasonal colours like rustic brick red you as a groom will look fun and enthusiastic.
The pop colour will look funky and romantic at the same time. Pair it up with a pale-coloured tie or some mixed neon and orange juxtaposition for a modern stylish look.
This outfit combination is befitting and will be best if you have planned your wedding in the summertime. This attire will vibe a lot with the golden rays of the sunlight.
The uneven textured attire
Styling your wedding attire differently has never been a bad idea. They will be more fun and interesting than a plain suit.
Moreover, for a fall wedding event during the day, this attire will look more bright and comfortable. It will be the best summer staple with a summer charm in it.
To add more fashion into your attire you can put on a red coloured sporty designed polka-dotted bow or tie. This attire will vibe best at a casual wedding party celebrated in a garden or barnyard.
The festive wedding look for men
You can also style yourself in a subtle way for your wedding. Wearing a solid burgundy suit will be very decent and sophisticated.
It will add a subtle flair festive look if you are planning for a seasonal wedding. You will smooth with the cloth on your body.
You can pair it up with classic Oxfords of solid colours or some brogues. They will make you have a more polished look.
Styling your attire with a funky Tie
You will look very hot and dashing if you keep your wedding attire simple and easy. Wear a tailored blazer in dark hues, pants in a lighter shade than the blazer; You can choose the option of brown and a plain white shirt.
In this attire, your main focus will be on the tie. The total outfit will have a semi-formal look for the groom at the wedding event.
The tie will be a funky one with multiple colours in it. It may also be designed with some floral or skinny prints.
It will be a hundred per cent match with the bride's bouquet. You can definitely try out this attire at your wedding.
Styling yourself in a layered cardigan
For a fall wedding event planned in the autumn season. You will have to style it up with a layered outfit. This layered outfit will match perfectly with the beautiful palettes of nature in the autumn season.
Wear some dark coloured shirts like a navy knitted cardigan with buttons styled in a designed pattern. You can also pair it up with olive-coloured or a light dusky colour cloth.
Put on a jacket of some dark shade like deep red, wine, or maroon. If you have long hair, make your hair into a man bun.
This will make you look aristocratic and elite. This attire is designed for the superior men who deserve a luxurious wedding.
The navy and black mixed wedding attire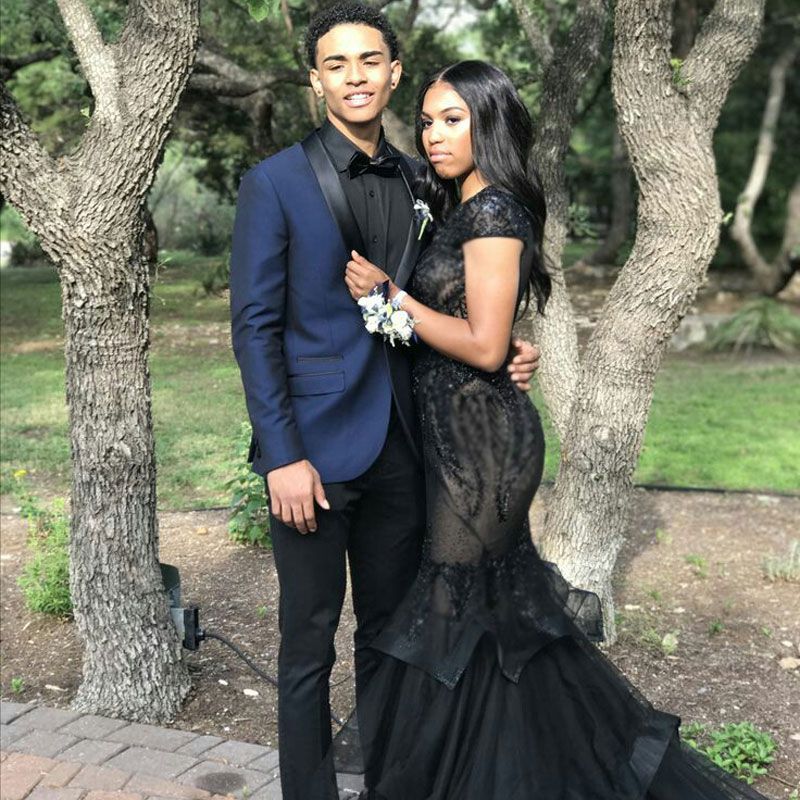 Though mixing navy and black is not a good combination in terms of fashion, you can use it for designing your suit for the groom.
This is an attire that will break rules and show itself that it is the most attractive of all. Adding a velvet jacket will add more beauty and elegance to this attire.
To make yourself comfortable and casual you can add black or any dark-coloured pants with linen white shirts. And then you are all set for entering the wedding hall as the groom for your bride.
Mixing tan colours with black for wedding
If you still have confusion to choose between dark and light colours, then you should definitely go for this attire. Style yourself up in tanned colours as the groom. Along with this add black pants and brown shoes.
Striped socks will look perfect with it and your look will be perfectly complete. If you are still not satisfied with your outfit and feel like something's incomplete in it, then add a colourful bow tie which will be funky and whimsical at the same time.
This will look extremely dashing and fashionable for you as a groom in the fall wedding event.
A Chino suit paired with loafers
In case you want to rock your wedding in casual effortless attire, you should definitely go for this outfit. You will look polished without putting in any effort. Just put on a beige coloured Chino suit paired with stylish loafers.
This choice for grooming yourself is the best of all. Some interesting colours that will suit this attire the most are forest green, olive and creamy yellow.
They will look good for the loafers too. Add a pale green tie for a complimentary beauty to your dress.
Therefore, after going through all these options you will completely understand and then you will be able to choose what to wear at a fall wedding.
Maintaining styles according to the budget and how to do that
You need to figure out your total budget for the wedding. And then sum up the total bill for dressing purposes.
Check out the style and fashion you are searching for and go through the quality of the product. See if it fulfils your budget and then goes for it. To get discounts on your shopping bill, start your wedding shopping a little bit early.
If you buy your dresses and suits during an off wedding season, your dresses will be available at less prices from the stores.
According to the theme
 Cocktail wedding attire
 Now let's discuss the cocktail wedding attires for fall weddings. There are many styles with which you can dress up in sizzling hot for these glamorous party events.
What to wear to a black-tie optional Fall wedding
 The black-tie optional style party is one of the bewildering events. People who are invited to these events are very lucky to witness that. Dressing up for this party is not at all hard and you can put on anything you like on yourself.
This black-tie optional event gives you the option to wear anything of your choice. From a mini sleek to a sizzling gown you can rock this party with anything. You can also put on anything casual if you want.
What to wear to a formal or black tie fall wedding
 For a formal black tie wedding, men can style themselves with tuxedos and for women, they can put on a formal gown.
It will be best if the gown becomes as long as the length of the floor. For evening event purposes, the black colour for your dress will be very glamorous and shiny, but if you add a jewel tone to your dress, it will look more festive and glossy.
For best suggestions, you should try out something with beads, sequins and other embellishments.
Accessorizing for a fall wedding
Jewellery
You can put on a thin chain or pendant to make your wedding attire casual and comfortable. You can also put on a single or double-stranded pearl accessory.
They are light, calm and yet beautiful. In case you want a descendant look, go for a crystalline choker or a statement necklace. Twin themselves with the same coloured earnings. Earnings are always worth starting accessories.
You can also put on some bracelets for a black-tie party. Bracelets are very fun and trendy in nature and can go well with your wedding attire. Avoid accessories that can be the complete opposite of what you are wearing.
Matching accessories with your attire will make you look stunning and extremely fashionable. It also depicts your fashion styles and statements.
Footwear
For the footwear, you can follow some of the designs given below:-
The sparking wedding sandals
These sparkling and glossy sandals are very stylish for the bride to be and they look very practical and consistent.
The shimmering satin styling of the shoes is lived by all. They are very feminine with their nature and they add glamour to the feet of the bride.
The pretty sandals for the Romantic bride
To complete your wedding attire in a stylish and comfy way you can choose this kind of sandals. They are very rare in the markets nowadays but you can luckily get them by surfing through some online wedding store.
It is carved with pearls, ivory, a chic bridal bow, and lots of love for the wedding bride. The heels are flat, block and plain.
This romantic wedding sandal will hug your feet and give them a very comfortable feeling. You will not bear any pain and will rock your wedding event with ease from aisle to the after-party.
The best embellishing wedding shoes
These wedding shoes are very sleek and sophisticated in their nature. They have a modern front look and a glam back heel.
They have tiny crystals embedded in them which makes them even more beautiful. I photographed from different angles, they will look extremely beautiful and they are suitable with all kinds of wedding outfits.
The beach wedding sandals
If you're planning to marry at a beach or any kind of sandy place, this type of sandal will be perfect for you. They will not only make you free by embodying your feet with carefree nuptial seaside vibes, but they will also provide supreme and luxurious comfort and support to your feet.
This specific sandal style is available in quite a few range of colours. It will be the best choice for all the brides and their fellow bridesmaids.
For men:-
The whole cut Oxfords for wedding
These shoes will be the best choice for men who are planning to attire themselves in a  formal way with black ties. This will look bomb for cocktail party attire.
These whole cut Oxford shoes are made up of pure fine leather. They are very sleek and Gorgeous when adorned by the groom.
Wedding nights will surely be hectic so you should choose something which will be light and easy to carry in that case. They are also very flexible by nature so you will not feel any pain in your feet on wearing this.
The classic wedding boots
Never try to wear something misfit on your wedding day. If you have styled yourself with the best attire then your feet require the same.
You should go for tailored slack or boots which should be highly expertise. They will provide coolness to your attire in the right amount. It will also match appropriately with your dress code. Choose boots in dark or light-dark colours and make sure it has the best designs carved with the best quality leather.
You can style your feet with these comfortable pairs of Belgium loafers for your wedding day. They will give you a dashing dapper look and will also be resistant to the sand and dirt in case you are planning for a beach or garden wedding with your bride.
Do not pair it with some socks because it may induce moisture which can ruin the quality of the leather.
What to wear to Semi-Formal or Casual Fall wedding  guests
 For the attires of the guests at a fall wedding event, we also have some beautiful and easy suggestions. After going through this you will rightly be able to choose what to wear to a fall wedding event.
Fall weddings are generally very tricky with their seasons in general.
They become more tricky when you have to dress for them. Sometimes you feel like not wearing that gorgeous designer gown from your wardrobe for the casual fall wedding party. In that case, you can style yourself with
A cute cropped jacket made up of faux fur and leather. That will make you comfortable and stylish at the same time. The length of the jacket being cropped will allow you to show off your dress at the event.
A modern sleek shrug will be practically best for the situations when you want to turn out your outfit in a casual manner. You will only have your arms covered and your dress displaying itself beautifully through the front cut.
A chic wrap of Kashmiri pashminas will be best. As a guest, you will be revolutionizing the style of the mid-90s.
What not to wear at a fall wedding
Fall weddings may not have the code casual necessarily, but that doesn't mean that you will attend the party in a t-shirt, shorts, or sneakers.
They are never appreciated as a bride dress, a groom dress, or even a guest dress. You should dress yourself up so that you are showing your love and respect for the event. You should have a basic idea of what to wear at a fall wedding
Final Thoughts
In conclusion, I would like to say that embrace different styles and cultures and put them on your clothes. You can style yourself in your own way.
You can also follow the tricks given above so that people can understand that you have a very good idea of what to wear to a fall wedding. We would like to know if this article was really helpful to you. Let us know about your reviews on our website and keep searching and following us.
Thank you!