"Love is in the air." Sounds a bit cheesy right?
But not when you have that special someone in mind (well-well, someone is blushing!) and if the stars are in your favor maybe you have finally gotten the chance of that first date with him so do you want to impress your love with the first sight but don't know what to wear so that they get impressed?
Do you get all confused when it comes to having that "perfect outfit" idea?  Or maybe you`re a new bee around this dating game or just looking for some ideas to make you feel beautiful and confident on your first date?
Well, you have landed in just the perfect place. We have searched so you won't have to! And even if your wardrobe is full of beautiful dresses but you are still stuck at " which one will steal his heart with my looks".
Well, you need not worry because we are here to guide you with what to wear on a first date? Date nights are very romantic and your love for your partner should show up in your attire.
For a romantic and memorable date night, we are here to give you some tips and tricks.
11 Ideas for What to Wear on a First Date to Keep you Reminisced
Date nights are very special and romantic. It is a social and romantic event where couples go out and spend time together.
It is a way of leaving the struggles and hurdles of daily life behind and craving love from their loved ones. To make your first date night more romantic and impressive you should wear the following dresses.
The long-sleeved dress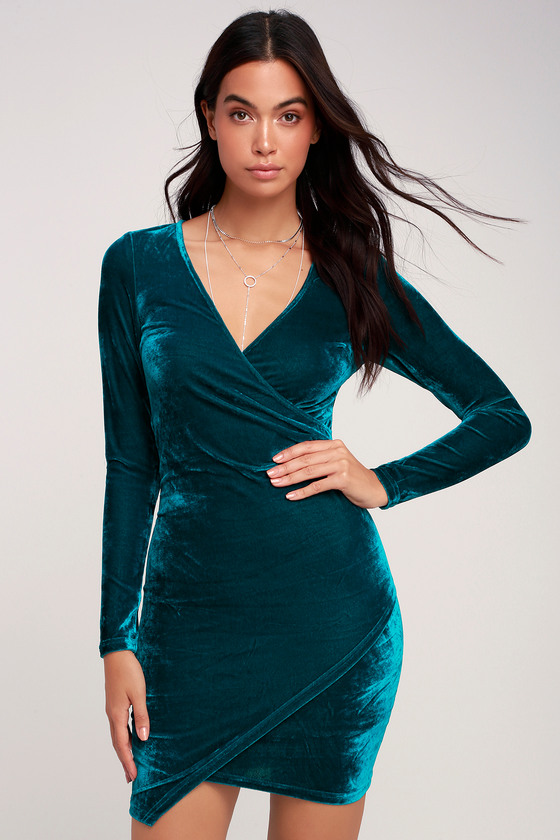 If you want to impress your partner with your perfect figure and slim legs then the long-sleeved midi dress is perfect for you. This dress will suit all types of bodies. Choose light colors like red, pink, and lavender for your dress because these colors signify the symbol of love. Add ankle-strapped shoes to your feet. This will make you have a deluxe as well as a sophisticated look.
The lace midi dress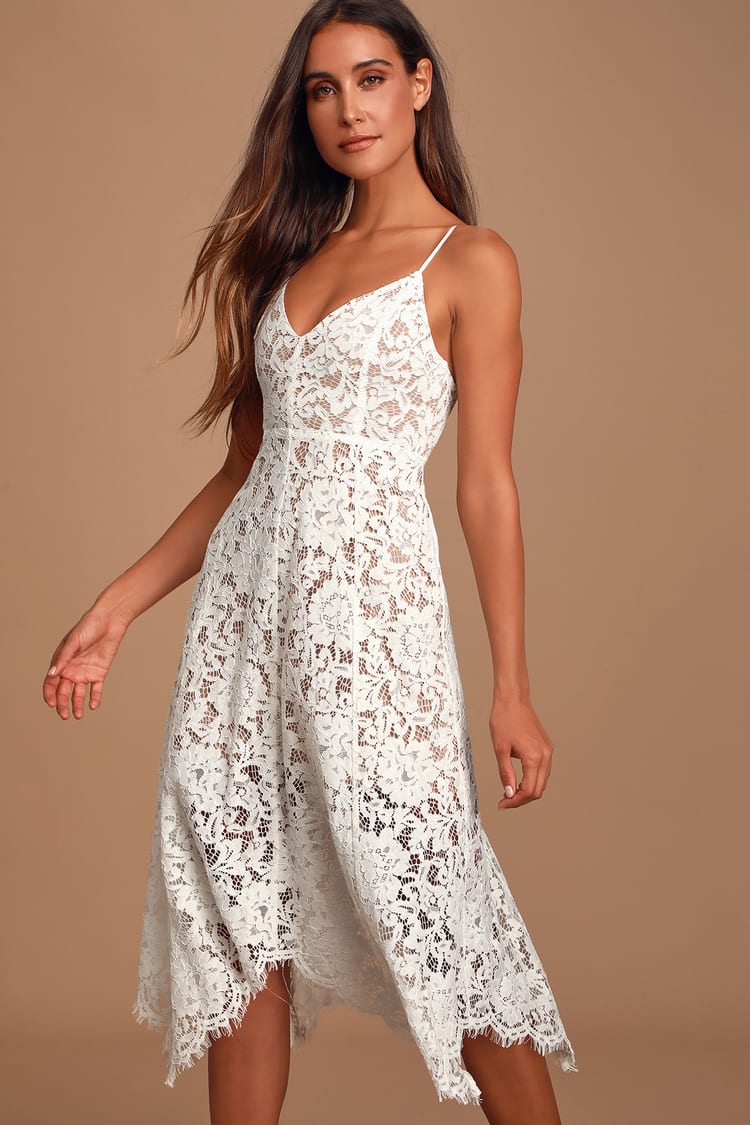 The midi lace dress is trending for first date nights. This will be perfect for weekday date nights. The dress is backless and it radiates confidence and extravagance within yourself from the cutout section. Style your attire with black sandals. This will look perfect with your attire and completely round up your style experiment.
Black slit dress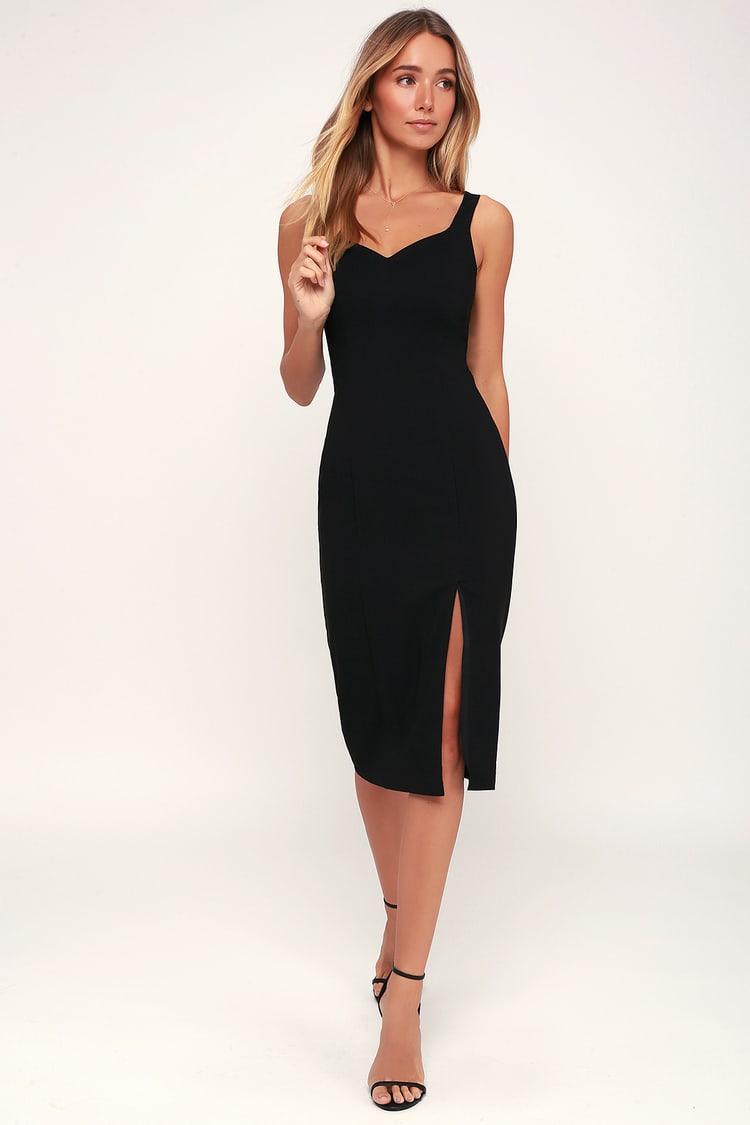 If you want to impress your partner on your first date nightwear the supreme black slit midi dress. This will fit in your body and show your curves pretty well. Add an animal printed cover, blazer, an oversized cardigan, or a trench coat over your dress. Your style will be unique and will attract your partners more towards you.
The semi-formal midi dress
If you are going on a first date with a partner from a semi-formal background you should also style up yourself in a semi-formal way. You should therefore opt for a long-sleeved nicely printed midi dress. This will add a glamorous look to yourself. To add the look of sophistication along with glamorous pair up your feet with black sandals or heels. For other accessories carry a minimalist clutch or bag along with your attire.
The white crush dress
If you are going on your first date night with your long-term love or crush, then this white crush dress is perfect for you. Choose a simple lovely outfit. Wear skirts or mid-length dresses for making your outfit casual yet beautiful and fashionable. Add pearl earrings and necklaces as accessories and flat-heeled shoes to your feet. And then you are all set for a lovely date night.
The dark V-neck dress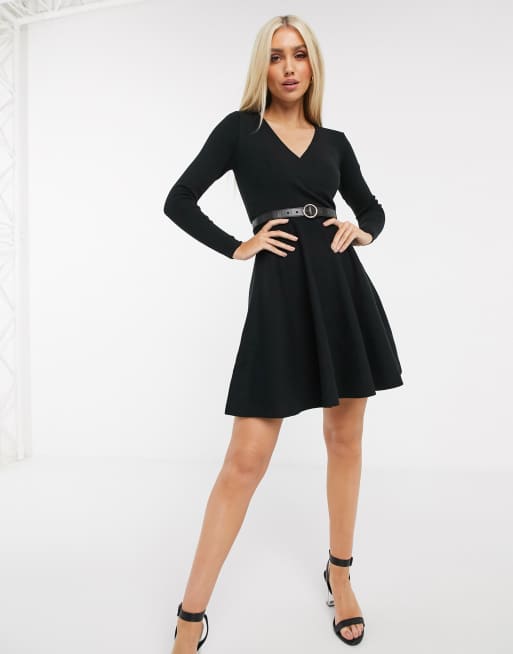 The perfect dress for your first date night is here. Choose a dress with LBD designed V-cut neck dress. Go for the dark color as it will look more glamorous at night. To add more compliments to your silhouette outfit, pair your shoes with heels.
The soothing yellow
You can also choose the soothing yellow color for impressing your love with your sweetness and cuteness. Wear a light or medium yellow midi dress. It will radiate a very unique and romantic vibe through your outfit. You can also carry this outfit on an evening date.
The shiny outfit
For making your first date night sexy as well as romantic try this outfit. Style your upper body with a shiny sleek deep V top running down your cleavage. Combine it with black corded pants and wear high heels for your foot accessory. For side, accessories choose for a small clutch and a shiny necklace.
The black and white outfit
To impress your partner with your fashion sense, combine white with black. Go for a white folded sleeve top and pair it with a black skirt or pants. This will make you look elegant, decent as well as sexy. Choose bossy earrings and solid black heels as your accessories.
The all-black outfit
The first date at night will go bomb if you style yourself up in black. Black suits on all skin tones and it is classy as well as simple. Choose an all-black outfit. You can opt for dresses of any length and rock your date night. Pair it up with black accessories and black heels.
Style with pants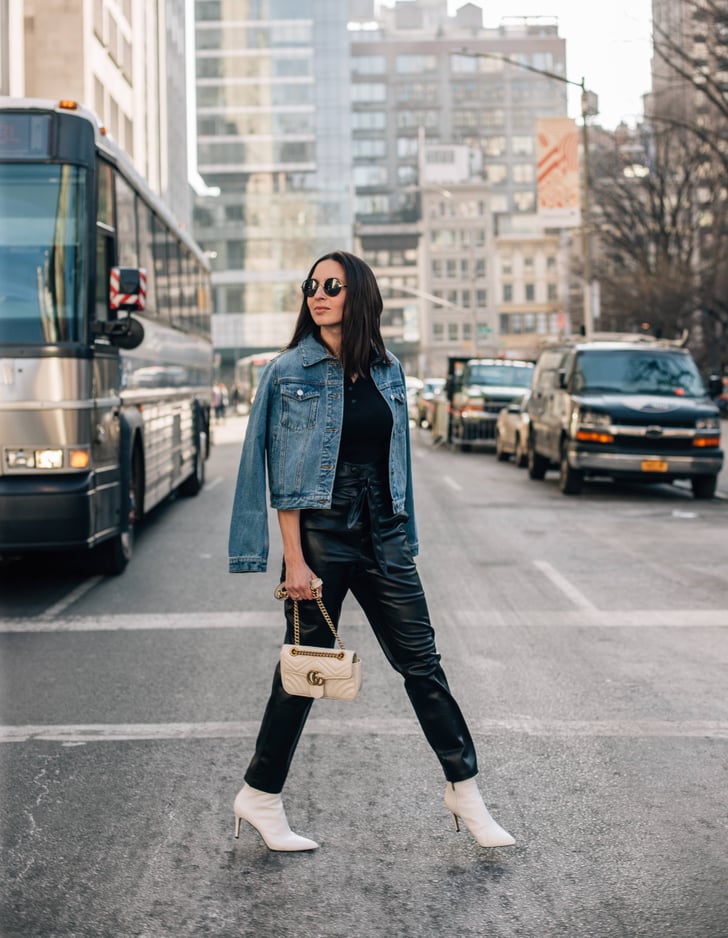 If you feel comfortable with your pants, then you should go for it on your first date night. Play with colors and mix your outfit with light and dark shades. Like if you're wearing a light-colored top, you should go for dark-colored pants and vice versa. Match your purse color with your paint color. Add up other accessories like necklaces, bracelets, or watches to give yourself a very smart look.
Rules for making the best first impression on your date  (Do's and Don'ts)
We wish that date night was as easy as it sounds but to our dismay it's not any near to word "ease." There are a lot of things that one must keep in mind before stepping up into this dating game.
A lot of things can be done to enhance your first impression on a first date night and trust us there are a lot of things that must be avoided at any cost if you want your date to be successful. Relax no need to boggle up your mind, as we are here to solve your every question.
 What are the big No-Nos that must be avoided on a date?
Avoid too much of Reveal or Sheer:
We know that we may sound a bit "too traditional" or out of the century but don't get us wrong even we are such head over heels for those sheer corsets and hotness of cute décolleté necklines but when it comes to your first date you may try to have that elegant and modest look.
It's a key factor in dating as even you would want them to love you for you and not someone who just hangs around you for looks. Besides such clothes can help you to be more comfortable and breezier around someone you are meeting for the first time in your life!
Are Baggy Clothes a Good Idea for a Good Date?
We do agree that baggy clothes are just the best when it comes to comfort and plushy looks but if you are thinking to go for a baggy look on your first date it may not be the best idea (worst idea if you ask us).
Baggy clothes will surely provide you a lot of comforts but it is something that may hide the best out of you. If you are planning for a baggy look, it is recommended to wear something more fashionable and cuter rather than going for a billowing look.
Over Accessorize: A Bad Decision?
 While wearing cute statement jewelry with a dress can help you to complete your outfit but if any of that is used in access, trust us you might end up looking like a walking jewel box. So it is recommended to go for some cute neck chains like balls or a pendant chain and the ever classic snake style chains might be a good option too.
When it comes to earrings avoid wearing too heavy or "too much" of it. A simple and elegant dangle and drops or post-earrings like latches can work just perfectly. If you are going for a fancy thing like a dinner date, going for something like a fish hook earring can be a great idea well.
So, What Should Be Done Instead?
Bring the Action:
It's high time when you have to look out for something new and fresh, we understand your never-ending love for that summer dress that you bought last year, but even you would agree that cloth does depreciate over time, no matter how much good care we take of it.
So, it's recommended to wear something new and up to a minute so that you won't end up looking frumpish or sloppy.
In other words, this time try something fresh to make that perfect first impression on your first date night. It's okay to choose something from your wardrobe as long as you don't end up looking shabby or unkempt.
Choose the Color Accordingly:
So far, we have talked about how to dress up? How not dress up? What to wear how to wear and even why to wear? But have you ever thought WHAT COLORS SHOULD YOU WEAR?  Well to answer this question we have to understand that it depends on a couple of factors.
First of all, different shades of skin compliments different colors, bright yellow, white, and orange can go with dark shades, and baby blue, coral can suit well on light shades so try to choose the color of your dress accordingly.
The other factor is the day/night game. Always remember that light colors like baby blue, pink, yellow, white, etc are made for the day. These colors go well in the daytime. Whereas if you are looking to wear something at night, dark colors like blue, black, dark green are recommended.
Show Love to Kitten Heels:
Imagine you meeting that special someone for the first time, you caught eyes with each other ready to give that welcoming hug and BAM! You tripped!! Well, these lines aren't just a story but a nightmare for most of us who are stuck with the question of what to wear on a date night?
So if you are stuck in the same thing we suggest going for some cute kitten heels, as these heels compliments every height and are very easy to pull off.
Unless until it's a "fancy-fancy" date, and you are stuck with the high heels option only, we highly suggest going for kitten heels as these heels are not only comfortable but also compliments almost every outfit, whether you are talking about a midi, a long velvet dress, a maxi dress, a top, and pant look or a denim skirt, kitten heels are the answer!
What to wear according to different dates?
Coffee date outfits
Coffee dates are casual. Hence you should keep your outfit casual and confident. Wear denim jackets, pants, or trousers with a leather cropped bomber and put it up on your favorite dress. Other accessories include sunglasses and funky earrings. Use wedges or flat-heeled shoes for your feet and make sure that you're comfortable in this outfit.
Movie dates
Make your outfit casual yet cute for a movie date. You can style yourself with cute crop tops with mini skirts or jeans or dress in a playsuit or jumpsuit for a healthy movie date.
Late-night pub dates
For late-night pub dates, choose a sexy romantic outfit. A satin mini dress or a satin cute top and skirt with sleek shiny heels will rock the party floor with your partner on your date night.
Post work dress
Post work dates are attended directly after work and therefore you have to choose for an outfit which will suit both your work and date.
Go for a semi-formal outfit with a plaided white shirt and a knee lengthed pencil skirt. You can add a blazer or a coat as per your choice.
Wear watches and bracelets on your wrist and high heels on your feet.
Drink dates
Make your drink date outfit smart and casual with leather pants, denim shirts, and espadrilles. Carry your outfit casually and confidently. Wear sneakers and light jewelry as accessories to your outfit.
Dinner date
Dinner dates take place at night so you should try looking beautiful with your outfit. Wear long sleek gowns or bodycon maxi dresses for your dinner date and choose heels or sandals with beautiful earrings and bracelets.
Ice-cream date
Make your outfit cute and pretty for your ice cream date. Wear floral printed or light-colored clothes to make your date cute and romantic. Add on sneakers or white sandals and scrunchies as accessories for your cute outfit.
What else can ace your date game besides choosing a dress?
Be yourself
Making a good impression on your partner is very necessary but that doesn't mean you have to fake yourself and fit into the character your partner wants you to be. Be what you are and showcase your authentic self. You will earn more respect and love from your partner by showing up your honest and true identity.
Be confident
You should be confident with what you speak and also with your body language. You should utilize your gestures for showing your confidence as well as self-assurance. Do not get nervous even if it happens to be your first time. Your confidence in yourself is what attracts your partner more towards you.
Comfortability is the key
On a first date night, the prime thing you should be concerned about is how comfortable you and your partner are. Make sure with your conversations that your partner is comfortable. That will help him/her to open up more to you.
Avoid Distracting Prints and Colors
You may think that vibrant colors or prints will help you to stand out, well this standing out game might end up messing your dating game. Make sure to wear dresses with colors that are pleasant to look at and not hard on the eyes. Try to wear small print outfits, big prints may make you look a bit "too much."
Natural makeup at its best
Do not go for heavy make-up on the first date night. Try to keep your makeup simple, easy, and casual. Let your natural beauty win your partner's heart.
Perfect Tips for Perfect Date:
You should communicate smartly and properly with your partner. Communication is the key to healthy relationships.
Ask questions to know more about your partner Like for example what he/ she is interested in.
Make both yourself and your partner feel comfortable in the environment if it's your first date night.
You should have fun while talking. Sometimes healthy flirts can add spark to your date.
Talk about reality and your expectations and be honest with what you speak.
Make sure that you and your partner completely open up with each other on your first date nig
While communicating with your partner, avoid sticky and cringy topics. That will create a bad impression of you Infront of your partner and will make both of you feel uncomfortable.
Do not be on your phone so intensely and get distracted from the date.
Avoid pulling the topic of exes and the number of relationships for both yourself and your partner.
Never pressurize your partner with your list of requirements on your very first date night. He/ she might feel disrespected and not interested in the date.
 What do you wear on a casual first date?
For a casual first date, make your outfit casual, comfortable, and stylish. Wear cute crop tops with funky jackets and jeans. Add sneakers and light jewelry for stylishly completing your attire.
What should an older woman wear on a first date?
Fashion has no age hence there are no restrictions for older women for their first date. Yet, to make oneself look perfect with their outfit even at an old age, you should go for gowns, maxi dresses, or comfortable pants if you want. Impress your partner with your outfit and do not let your age dull your aura.
What a guy should wear for the first time?
For guys on their first time, a silhouette with perfect fittings will be best. Wear clothes that embrace your body and not constrict it. You can also opt for a slim shirt with buttons and add a denim jacket over it.
What should I bring to a dated house?
On being called to a dated house, always bring something that can serve as a meal for both of you. If your partner isn't into heavy meals, a bottle of wine will be perfect for you to carry.
What to wear on a first date in summer?
For summer, wear light flowy dresses with sandals. You can also fit yourself into tank tops with denim skirts and sandals. It will make you look casual, comfortable yet pretty.
What to wear on a first date spring?
Spring is the season of love so try showing love with your outfit. Try wearing floral printed cute dresses and style yourself up in a cute way with cute accessories and sandals.
What to wear on the first date for a teenage girl?
Teenage girls should be more girly with their outfits. Hence shorts, capris, skirts with cropped tops will look perfect for them. They can also wear cute pretty frocks if they want for their first date.
Final thoughts
I would wrap up with the advice that you should wear outfits that showcase your personality for your first date night. After going through this article we hope that you have finally understood what to wear on a first date. If you have any recommendations and feedback we would love to know them. Do mention them below on our website. For more such content keep reading us.
Thank you!