A fashion that never gets outdated from men's cool clothing list is leather jackets.
Men have a profound love for jackets. Most of them prefer jackets over hoodies or pullovers.
Leather jackets complement a look when paired with matching shoes or boots. The craze of this trend flourished since 1800 from the US navy to Hollywood sets and then Russia to global fashion love. However, the journey of jackets is controversial.
Not just a protective coat in winter, but a savage wear norm, 'leather jackets' have got included in the living cult worldwide.
From bikers to bombers, jackets have styling options and trend updates now and then.
What majorly defines the jacket look is matching footwear. No point in opting for the wrong pair for a signature fashion like a jacket.
It's all about trend sense to know what shoes to wear with a leather jacket. We've got some incredible ideas here for you.
Is the Leather Jacket Trendy in 2022?
Though lifestyle in 2020 had been affected miserably by pandemics, it could not back off jacket trends. Is the leather jacket trendy in 2022? Maybe you've got your wardrobe with a set of leather jackets or you're on the way to buy the latest model. Festive spring is a high time to own one.
Well here's listed top 5 trendy & latest jacket styles 2022
1. FRINGED JACKET
A combo of ponchos and jacket, these jackets infringe are best autumn wear for 'stiff, cow-boy look'.
Other names: Buckskin
Price: The current pricing of fringe jackets may cost from $82 to more than $8000.
Prints & shades: Get highlighted with a green fringe leather jacket over a white T-shirt with white or denim blue sneakers to match. Other best shades to pick up can be bronze orange, wine red, and tortilla brown.
Best season: Autumn
2. LEATHER BLAZERS
It's hard to get over any other wear than a leather blazer in winters. Blazers not only establish warmth and comfort goals but also the sleek coat pattern presents an iconic style.
Other names: Sportcoat
Price: A leather blazer is currently available in the range of $22 to $101 in the online market.
Prints & Shades: royal blue leather blazers with high neck t-shirts or sweaters look virtuous enough for formal looks. On the other hand, you've sleek black, light brown, a pale orange available as a choice.
Best season: Winter
3. QUILTED JACKETS
Jackets with quilted patterns are best for snowy trips. If you're on the way to heights or cold regions, a quilted jacket is a must need to carry.
Other names: Puffer jackets
Price: You can buy one for $13 to $54 or directly order from Amazon, Myntra, or Flipkart.
Prints and shapes: Put on a juniper green quilted jacket with glasses and red sneakers. Also, try navy blue zipped one or hot classy black.
Best season: Winter & Autumn
4. SAFARI JACKETS
Mostly available in shades of green, Safari jackets were specifically designed to head to bushes in the 1970s. A safari jacket is a must-have in the list of the latest jackets for 2022.
Other names: Bush jacket
Price: $11 to $67
Prints and shapes: Cosy safari jackets are available in all your favorite colors and shades. Peach, cherry red, or hot red for girls are ideal colors while boys can go for stone or indigo blue or darker shades of green.
Best season: All seasons
5. BOMBERS
To adopt a rebellious or savage look, nothing can be better than bombers. Racer coats with zips, bombers are like power jackets to put on and rule. Bombers jackets are versatile for all seasons.
Other names: Flight jacket
Price: $10 to $54
Prints and shapes: if you're done with brown, black and green, opt for printed yellow, monster red, and shades of blue in 2022.
Best season: All seasons.
What Shoes to Wear with Leather Jacket?
Leather coats and jackets twining with pairing shoes is a flattering combo without a doubt. But men are usually baffled about which jacket goes better with what shoes. Carrying a signature outfit with a personable approach needs expert ideas.
Try these ideas about "what shoes to wear with a leather jacket"
1. Vintage red leather jacket – leather sneakers
Do you own a vintage red leather jacket? Even if not, red jackets and leather sneakers are the perfect pair to get the crowd to stare with big eyes.
2. Military bomber jacket – Chelsea boots
Bomber jackets are an all-time favorite. What's cooler about it, is its hype with boots. Check a military bomber jacket with Chelsea boots.
3. Ash grey Safari leather jacket – Black shoes.
Carry a gracious look putting on an ash grey Safari leather jacket with perfect gym shoes that have lemon green lace. You may add glasses and caps to your outlook.
4. Sleek black hoodie blazer – casual white sneakers
Are you a hoodie boy? Well, then casual white sneakers with black hoodie blazers are a must-try look for your upcoming plans.
5. Traditional green flight jacket – brown zip boots
We make it easy for trend chasers to know what fits them best. You have had a flight jacket with shoes of other colors and types. Hit up a classic experience with brown zip boots this time.
6. Brown leather jacket with furry borders – brown brogue
Brown jackets with furry borders are what a cool look stands for. A brown brogue accompanying this jacket can take it to another level.
7. Leather Moto Racer jacket in black – black sports shoes with brown stripes.
Racer jackets already have an adventurous vibe. Combine them with black sports shoes adding brown or orange stripes on them.
8. Printed quilted grey jacket – brown tabi boots
Winters must have some stylish looks with quilted jackets. If you are to buy one, printed quilted grey jackets combined with brown tabi boots would be recommended.
9. Denim hoodie- pale green canvas shoes
When it's about jackets, why not denim & leather together? Is it available? A big yes. The latest denim hoodie with leather sleeve jacket and pale green canvas shoes sounds crazily tremendous.
10. Hot red safari jacket with furry collar – Aegean blue sneakers.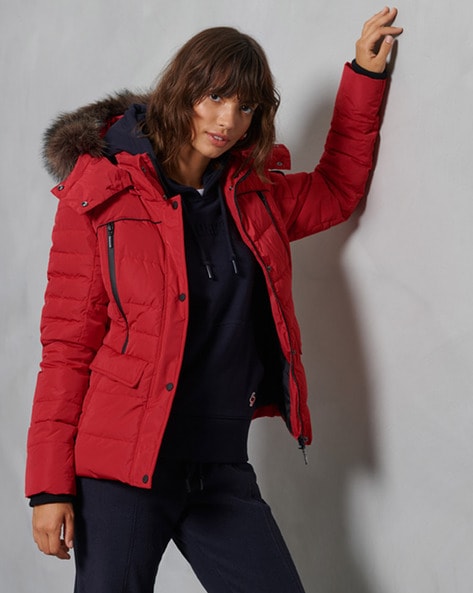 Who doesn't own a pair of pretty blue sneakers? But it might be complicated to know what jacket it goes with. A spicy hot red safari jacket with the collar of fur Aegean which grey lace is the best deal. Can't agree more!
Shoes for Jackets of Different Colours!
"What shoes to wear according to different leather jacket color" is sure to strike you too before stepping out outdoors. An outfit that doesn't play well with the color of your shoes is a complete mess.
Your wardrobe has all the colors, but is it taking you so long to choose the right outfit with the right colored footwear? We've handpicked 5 decent colors with 3 choices for you to make. Give up on thinking!
1. Grey formals: Considering that you are heading with a brown jacket (maybe fringed, Bomber, blazer for Safari), add formal grey Lace-Up shoes with Round Toe.
2. Orange sneakers: Sneakers are always there for brown outfits. Racer jackets with orangish
sneakers are underrated without a doubt.
3. Zipped brown boots: Match out zipped brown boots for any jacket of brown color.
1. White wild sneakers: Sleek black jackets are jacket market kings. If you own one, opt for white wild sneakers for sure.
2. Green loafers: Get a reckless look with a savage black jacket with green loafers
3. Espadrilles: You may also include matching espadrilles for black bombers in your wear collection.
1. old skool sneakers: Tan-colored jackets need black Jean and white laced old skool sneakers for ultimate looks.
2. Hiking boots: off-colored hiking boots can go with any light or darker shades of the tan color jacket.
3. Brogue: Designed milky-colored brogue shoes are a comfortable fit for tan-colored jackets.
1. Brown leather shoes: A grey fringed jacket can easily be paired up with a brow. Leather shoes are like pros.
2. PVC shoes: laced-up PVC shoes in lime or dark green look remarkable with grey jackets.
3. Black Sneakers: Try this compelling look of black sneaker shoes with yellow lace and borders.
1.Brogue dark navy: cognac brown jacket may match best with brogue dark navy shoes. This is a must-try pair for sure.
2.Rainbow sneakers: try white shoes with all color patches to hit cognac jackets and boom!
3.Vintage shoes: Wear red wine-colored shoes with cognac for collaboration. You can also opt for cognac-colored shoes.
 5 Outfit Ideas of Leather Jacket with Different Shoes!
The x-factor of a fashionista is 'putting on a vibe that lets him stand out". If you're different, why put on the same dress code? 2022 brings you several newly launched jackets and their ways to style up.
Let's have a look at "5 outfit ideas of a leather jacket with different  shoes"
1.The Racer Jacket
The racer jacket was structured and designed for an ultra-racer bold look. For style commitment, racers have become a dress code for their race. Racers jackets are freestyle, so it's alright for anywhere you're heading to.
To connect with this style, try out multiple zipped glassy black racer jackets with collars that would go great with sneakers for parties, boots for hunts, and loafers for formal dinings.
2.The Biker Jacket
If you're to put on simple celebrity fashion, biker jackets are a solution. It's an attitude that men have an attachment to. Being a biker, your winter must be unique with a new look.
Go for a lightweight biker jacket with formal printed pants. Blacks are not mandatory. Also, get metallic rose gold sneakers to match.
These jackets have versatility with different color shoes and sneakers. The darker shades of the Biker Jacket can connect best with a simple sneaker but alter-colored lace.
3.The Bomber Jackets
Flight jackets are usually known as Bomber jackets that are perfectly designed for forceful leading looks.
There are varieties of Bomber jackets, however vintage brown leather Bomber with brogue shoes or hot espadrilles may hit your college union or fests harder. You may add a lot of accessories like digital watches, caps, and glasses.
4.The Quilted Jackets
Quilt patterned jackets are comfort-based hot buddies for winters. If denim bores you, you must try a navy leather quilted jacket with zipped brown boots. A thicker Quilted jacket can accompany you to heights and hiking.
You may also try ash grey boots or boat shoes instead. A chain watch and goggles will get you highlighted more.
5.The leather Trench coat
A costume mostly used by detectives or mysterious characters in movies, the Trench coat is a retro fusion of old and modern-day jackets.
Leather trench coats can be well put on with belts and formal shoes for attitude wearing. However, a shorter trench coat would be a much better idea.
Dress up a red leather trench coat with white tees (use a brighter color) pairing with hiking boots or loafers. Add transparent glasses. There you go with a bossy look.
FAQ O CLOCK!
Does a leather jacket have to match shoes?
The Colour of the shoes is not mandatory to match your leather jacket, however, it must be a sparky combination that defines your personality.
Can I wear black shoes with a brown leather jacket?
For sure! Black boots look great with all the jackets in brown. If you have sneaker goals, opt for a lighter collection to match with leather jackets.
What season do you wear leather jackets?
The different leather jackets from different animals can be comfortably worn in all seasons. Thicker Jackets made from cow skin and that from goatskin are specifically winter and autumn designed respectively.
Is it OK to wear a leather jacket in summer?
Leather jackets are absolutely fine in summer. We recommend any leather jackets other than a normal traditional leather jacket might be not a good idea in summer.
Can you wear a leather jacket in rain?
Leather jackets make the wearer rain-prone by simply not letting the rain droplets soaked into the clothes. In this way, jacket fashion beats the monsoon too.
Last Words!
Some outfits are not just meant to cover you but to enhance your persona more than that. And that's what jackets are all about.
Different people may have their own flavors to put on. Some opt for printed while others may go for the plane. Jackets are designed to satisfy all its fans with more than 5 categories and multiple color options.
The best part of jackets is there's no comparison to jackets when it comes to bold and hot outlook. Formerly jackets were designed for winters only but today jackets are for all seasons and any occasion.
If you're perplexed about what shoes to wear with a leather jacket, this blog is a must-read for you. We'll appreciate your warm feedback.