The fun thing about jeggings is that they aren't the most appropriate formal clothing, but still people appear to be wearing them to the office and parties. Also, the material from which jeggings are made is not only gentle but is extremely comfortable to wear.
Jeggings are pants that combine comfort and style. These can be worn for a variety of occasions as they are always in trend. But even after all these interesting facts and details about the jeggings, you might still get stuck with the question of what are jeggings anyway?
Well, don't worry, even if you don't know much about jeggings cause this post contains all the facts and information about what are jeggings?
What Are Jeggings?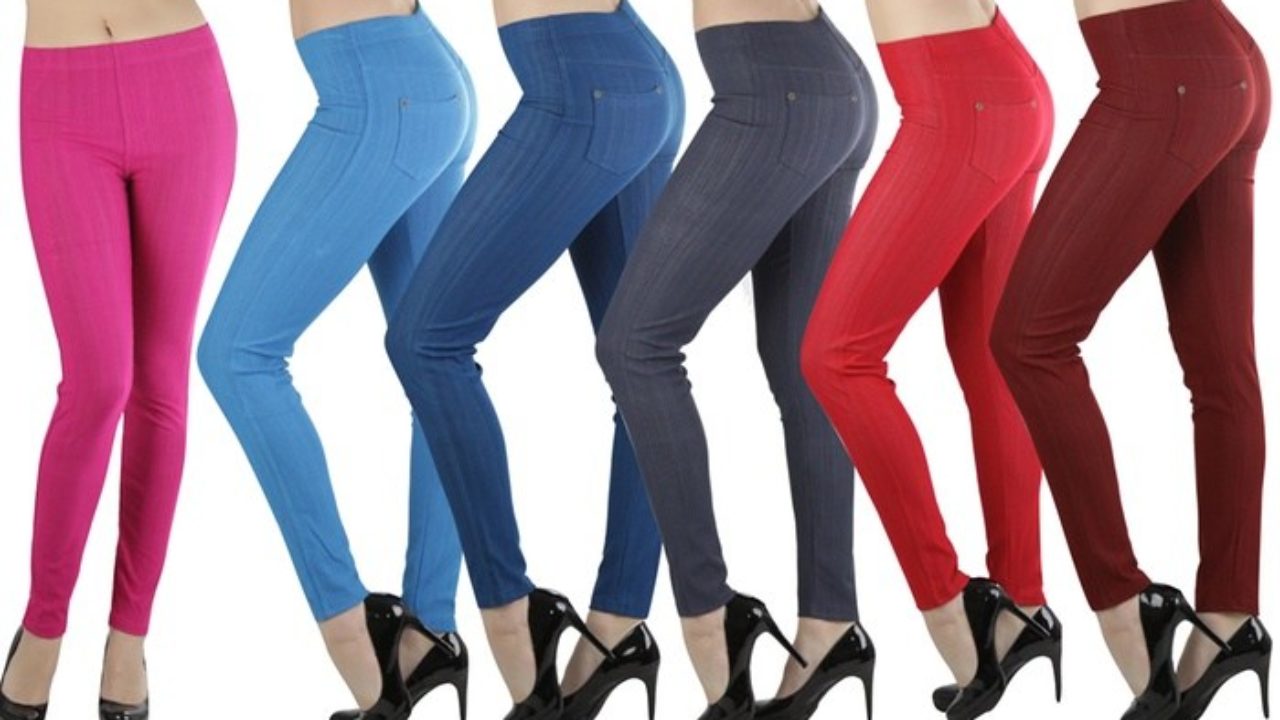 So, basically, jegging is a combination of the words "jeans" and "leggings". Jeggings are more comfortable and stretchable than jeans. Jeggings give you the look of jeans but feel like leggings and it is incredibly comfortable as daily wear as it provides the freedom of movement, which is why it is also known as comfortable jeans.
Jeggings give you a versatile, beyond a stylish, and slimmer look. The thickness of the jeggings is quite liberal and apart from just covering the leg, they can be worn as fashionable wear. Jeggings have faux pockets; their length is variable and is available in usually one color.
These jeans became popular at the beginning of the 21st century when people were looking for even tighter pants.
What Are Jeggings Made Of?
Jeggings are a clever combination of "jeans" and "leggings" resulting in a unique combination of both comfort and fashion.
Jeggings are typically made from a blend of spandex fabric or skin-tight stretchy denim material which is more stretchable and they are more likely a cross between denim and leggings Material(which is made from the blend of cotton, polyester, nylon, or lycra) these materials resembles higher elasticity and are stretchable and comfortable.
Is It OK To Wear Jeggings?
It is definitely okay to wear jeggings as jeggings are comfortable and stretchable to wear and the material of the jeggings are soft and stretchy too. So the answer is a big YES you can wear it for daily use.
How To Wear Jeggings?
As we all know, jeggings come in different varieties. If you dress up the jeggings in the right way you can flaunt your body in a perfect manner.
Now, come on to the topic of how to wear jeggings:
1. Casual Wear: You can wear jeggings for daily or casual wear. You just need to wear a simple t-shirt on it and add sneakers too.
2. Party Wear: If you want to go to a party and you want to wear a short dress but are confused about how to dress up so that your body will not look revealing then just wear light shade jeggings. It will cover up your body and enhance your look.
3. College Wear: Jeggings are common everywhere but college students wear jeggings mostly as it is comfortable and gives the wearer a fantastic look.
What Do You Wear With Jeggings?
You can pair jeggings with literally everything either it is a normal top, crop top or a fancy top, no matter what the occasion is you can pair your jeggings with everything But it will look best when you pair it with –
1. Button-down shirts
2. Tunic style top
3. Tees and Tank Tops
4. Slouchy sweater
5. Loose t-shirts
Outfit Ideas For Jeggings
1. Blouse with Blazer:
Wear a blouse, cover it with a blazer, pair it with black tight-fitting jeggings and add high heels with some sort of accessories and you are good to go.
2. loose top:
just wear a plain loose top to contrast it with your jeggings, add a good quality pair of flat sandals or sneakers and you are ready to flaunt your look.
3. Long or Tunic style top:
Tops are the best option to wear with jeggings for casual wear. You can use a long or Tunic style top to style it with black fitting jeggings as these types of top upgrades your look and for the footwear, you can wear knee-high boots
4. slouchy sweater:
slouchy sweaters are the best option to opt for the winters. Just wear a slouchy sweater or long jacket and put it on over stylish-tight fitting jeggings and add some heels on it and that's it.
5. Tees and button-down shirts:
Wear a normal t-shirt or button-down shirt to upgrade your look with jeggings and add some flats or sneakers to complete your look.
Jegging Vs All
Here are some fundamental differences between leggings, jeggings, treggings, skinny jeans, and jeans. If we compare jeggings to all of these-
1. Material
Treggings, leggings are made from a softer material. Jeggings are typically made from a blend of spandex fabric or denim, and leggings are made from the blend of lycra, cotton, nylon, or polyester while treggings are trousers + leggings, which basically means leggings in a trouser look, and jeans and skinny jeans are made up of with denim fabric
2. Flexibility
When it comes to flexibility jeggings are more flexible than any other bottoms, ie; leggings or treggings, and comes with the benefit of a jean look-alike appearance. Whereas treggings is a combination of trousers and leggings making them appear stylish and feel stretchable. However, when it comes to supreme flexibility and stretchability leggings are the best choice so far.
3. Pockets
Leggings do have a few disadvantages like they don't have any pockets making it hard to carry your daily essentials. It's worthy to mention that jeggings and treggings also don't have any pockets, however, they come up with faux pockets but jeggings and treggings have faux pockets and jeans have watch pockets.
4. Color options
Jeggings and treggings are usually available in a few of the basic colors like black blue or white. Jeans are mostly available in denim shades either it is light or dark whereas leggings are available in many colors and colorful printed fabric making a popular choice among teen girls.
5. Thickness
Although the thickness of pants is dependent on the fabric of the pants, still we can give a general estimate about the thickness of different pants. Jeggings are Thicker than leggings while treggings is Thicker than both leggings and jeggings and jeans are thicker than jeggings, treggings, and leggings.
6. Versatility
Even though leggings do come in different shades patterns and prints but jeggings also don't lag behind in this versatility game. Jeggings come in different textures and styles of pants, giving them a better outlook for combining with any casual wear or even professional ones. The same goes with treggings you can wear treggings for any casual hangout. But the professional and casual approach of jeggings somehow does make them more versatile than leggings or treggings.
7. Length
Just like a thickness, the length of pants cannot be pre-decided. Although the idea of thickness might still come in the general estimations the length of any pants cannot be pre-estimated as the length of Jeggings and treggings are variable and the same with jeans length. It has varieties whereas the length of leggings is till ankle.
8. Compatibility with footwear
When it comes to footwear, jeggings and treggings have a limitation and same with jeans as you have to match your footwear with your jeans type but any type of footwear is compatible with leggings. So we can say that you can match anything from thigh boots to flats with leggings with great ease. So, we can say that it has a better approach with footwear than any other form of pants.
Different Type Of Jegging
1. Denim jeggings: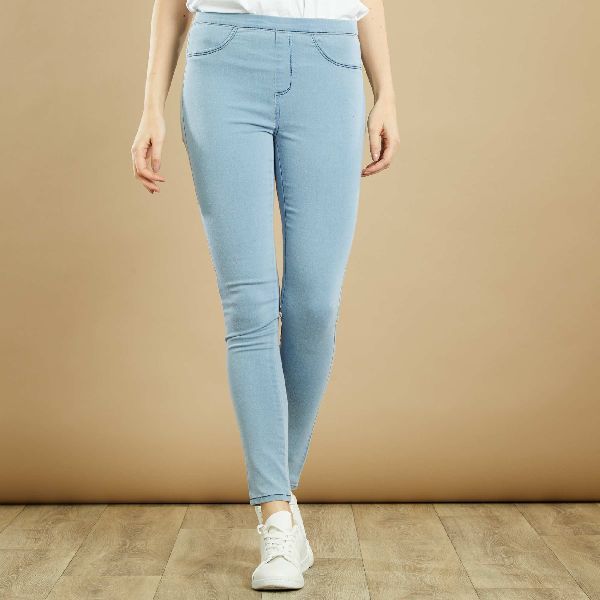 Denim jeggings are way similar to denim jeans as denim jeggings are made up of denim fabrics and have a pocket too. It will give you a feel like jeans but surely it gives you more comfortability as compared to jeans.
2. Ripped jeggings:
Ripped jeggings are in trend and also mostly girls prefer ripped jeggings over any other jeggings as it gives a stylish look to the wearer.
3. High-waisted jeggings:
High-waisted jeggings work very similarly to high-waisted jeans and you can pair them with a crop top and short neck top too.
4. Floral jeggings:
Floral jeggings can also work well on summer days as they will give you a cute look. Just throw on a white plain t-shirt and wear flat sandals on it.
5. Skinny jeggings:
skinny jeggings are mostly for the ladies or girls who have a perfect hourglass figure as these type of jeggings fits wearer body perfectly
6. Extra curvy jeggings: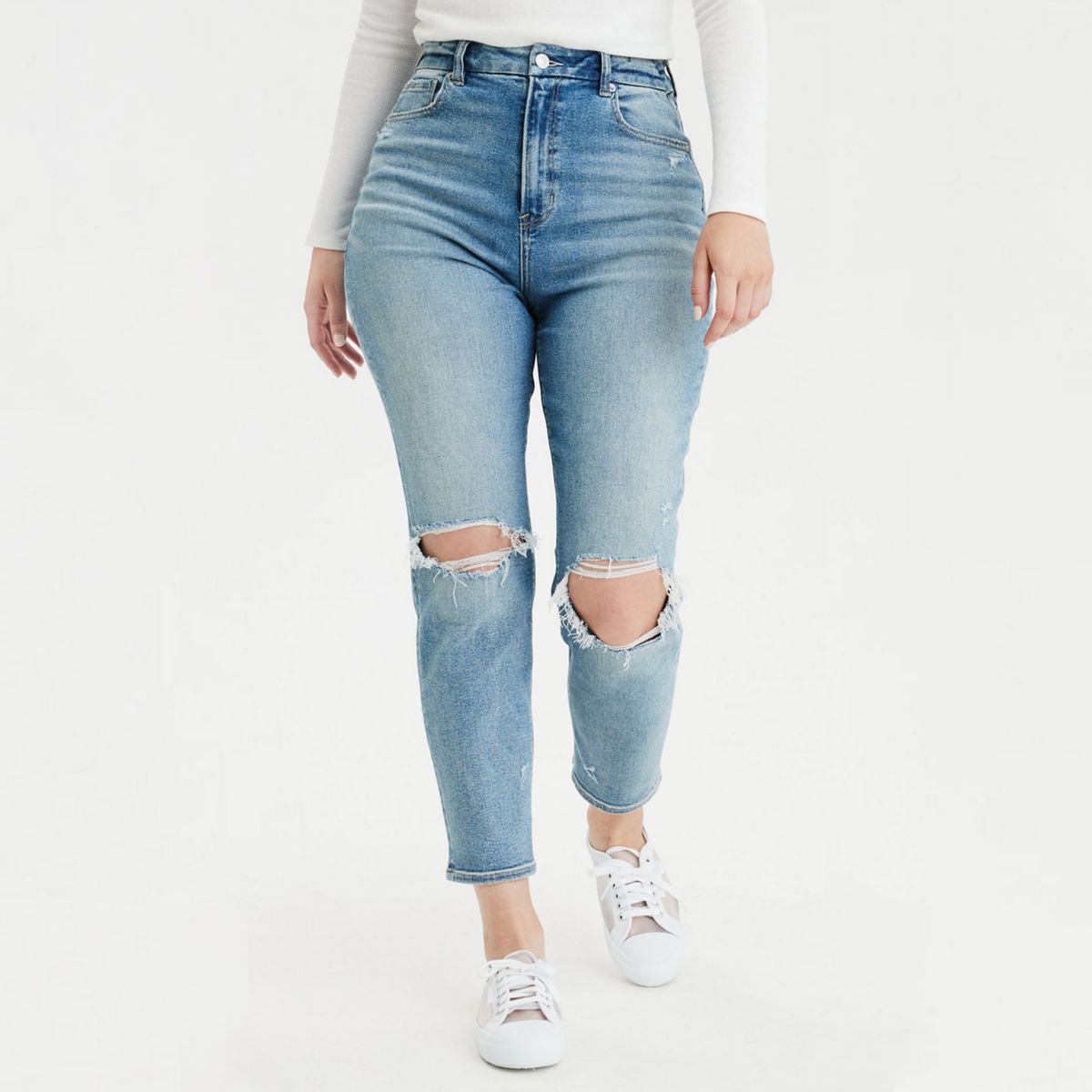 Extra curvy jeans are for the girl who have curvy or thick body texture because these jeggings are tighter on the skin over any other jeggings so It will give a wearer a perfect look
Best Jeggings For Women To Wear?
1. American eagle: American eagle offers different rises like mid-rise, high rise, and many more. The fabrics of this company are comfy fit and range are also good and affordable for every customer.
2. Vero Moda: when we talk about the brand which can be a show stealer then Vero Moda is one of them as it comes with varieties of colors from neutral to louder shades.
The fabric, Price, and collections of the Vero Moda can definitely suit your moods.
3. GAP: This brand comes with various styles and fabrics when we talk about GAP jeggings. They are made from different fabrics so they are easy to wash and keep.
4. Forever 21: This brand comes with varieties of jeggings so that it can be worn on casual or formal occasion both. Skin-fit jeggings from this brand are perfect for casual wear.
5. Roadster: Roadster becoming popular in youth as it comes with trendy styles of outfits. It also comes with an attractive price and new generation age style so that it will complete or satisfy your style needs.
Rules Of Wearing A Jegging?
Here are some Do's and Don'ts which you should follow :
1. DO'S:
Wear oversized T-shirts or loose sweaters and knee-high boots it will give a cute and chic look
Go for shoes it will look crazy on you but do remember to prefer light and soothing shades
Do buy them in leather, suede, or in darker shades
Wear them as denim pants because they will definitely give you a denim jeans-type look.
Leave something to the imagination and create your own imagination look
2. DON'TS:
Don't go for a crop top or tight tops as it will not give you that much cool look
Don't go for funky or loafer shoes as they are out of trend and also not suitable for the jeggings
Don't wear neon colors as they are not that perfect for the everyday wear
Try not to follow every fashion trend in day to day life instead follow your own confident and natural look
Don't doubt yourself and never lose confidence
Tips Of Wearing A Jegging
1. Purchase good quality fabric jegging: We know fabric matters a lot so only purchase those jeggings which are good at their fabric so they can go for long-lasting.
2. Go for the style which actually suits you: as many of us have to face a problem in our daily life, which outfit will suit us so always go for the style or outfit that fits your body and gives you a flattering look.
3. Go for the darker shades: Darker shades are more way better than lighter shades as darker shades go with every styling
4. Wear Cute tops: If you are not sure about your body then go for loose and cute tops as it works well on your body.
5. Try to wear the best shoes or heels: chunky boots or heels will do better with jeggings instead of flats or flip-flops.
Facts About Jeggings
Jeggings were bought on by the revival in the style of skinny jeans in the 2000s when a higher amount for tighter pants came out.
We all are aware of the fashion cycle and how it is. Every style and everything comes back to revival. Here are some facts shared about jeggings.
1. Jeggings became popular fashion garments in the late 2000s.
2. Jeggings are a combination of jeans and leggings.
3. Jeggings are made from a softer and thinner material than jeans but they are made from a thicker Material than leggings.
4. High-waisted jeggings can help hide body fat.
5. Jeggings should help your tummy in and lift your rear
6. Jeggings usually offer more flexibility and all-day-long comfort.
7. When it comes to elasticity, jeggings have the same elasticity as leggings so that they will be more stretchable than normal jeans.
8. Jeggings are trendy clothing items and can be worn with longer tops and blouses in order to look more elegant.
9. These can be worn with any footwear but they are more suited to casual shoes.
How To Take Care Of Your Jeggings?
1. A series of cleaning tips are here to ensure that you take care of your jeggings for the best. Summer is a season of heat and sweat, that is why you have to clean them properly in order to maintain their lifespan.
Jeggings are incredibly versatile and comfortable. So don't worry and see below how you can keep your jeggings forever.
2. After each use, make sure to wash it properly with running water to avoid a musty smell and make sure your jeggings are dry. Jeggings are made of hygroscopic materials to keep you dry.
3. In order to make sure your jeggings look and feel new, avoid using dryers as artificial heating will deform individual threads of fabrics, deforming clothes resulting in reducing the quality of clothes.
So, you should hang them to dry to let them air dry to maintain freshness and longevity.
4. Avoid using fabric softener as most softeners contain silicone, it will form a coat on the fabric and will weaken the fabric's breathability.
5. Detergent matters but use it wisely. Just don't assume that the higher the amount of detergent powder is higher the cleanliness which will result in loosening the shape of your jeggings, you have to use only quality detergent to wash.
FAQ's
1. Are jeggings comfortable?
Yes, they are very much comfortable as their fabrics are stretchable and comfy fit too.
Jeggings are considered one of the most comfortable and yet stylish kinds of pants. They have a tendency to go for casual as well as professional looks as well.
So, if you are looking for something stylish and comfortable as well, jeggings are the answer for you.
2. Which is better jeggings or jeans?
Both are good at their own place or occasion but when we think about the comforts then you should surely go for jeggings.
Jeans do look good with a lot of tops and wears but they lack the key factor of comfortability.
Whereas jeggings have the advantage of looking a jeans alike while not compromising with comfort.
3. What size jeggings should I buy?
It all depends on your body type and structure as to what actual size you want to buy.
Jeans fitting has to be perfect and they are not stretchy in nature as well thus sometimes making it difficult to go for the right size.
But when it comes to jeggings or treggings, they are stretchable and comfortable so you should buy a size small for yourself.
4. Are jeggings in style 2022?
Yes, jeggings are in style. Most of us prefer jeggings as our daily outfit. Jeggings are comfortable and stylish at the same time.
Jeggings have come into the market in the late 2000s and are still hyping the market with never-ending high demand.
5. Do the jeggings shrink in the dryer?
Yes, jeggings shrink in the dryer. It generally happens because the hot air of the dryer makes the jeggings fabric shrinking in nature.
So it is recommended to go for a hand wash or machine wash for cleaning your jeggings, as the cold water does not shrink the fabric particles keeping it intact as in shape for years.
Wrapping It Up
Hope now we all know what are jeggings? Jeggings are a perfect compromise for your wardrobe and they should be must-have pants in your words since they are in trend and provide comfort, optimum flexibility, and movement.
As they are stylish, versatile, and comfortable they are great going to-go options and they can be styled in a range of ways for feminine looks.
They are excellent for travel and you don't have to worry about ironing them as these pants do not wrinkle and they take up little space. When combined with different garments these pants are genuinely versatile.