Want you slip your legs into baggy comfort relaxed trousers but want the fabric to be denim?
You wonder, " how can denim jeans be loose and comfortable at the same time"! Well, it seems you have not tried the latest Boyfriend Jeans.
What are boyfriend jeans?
Derived from its name, the term "boyfriend jeans" means a pair of jeans borrowed from men. They are incredibly comfortable, involve a slouchy cut, and fit in a relaxed manner in our legs.
The boyfriend jeans have been a favorite choice for many icons in the fashion industry. Wearing the attire of boyfriend jeans should have the theme of a solid male personality with a feminine look.
The concept of boyfriend jeans was first brought into the fashion industry by Marilyn Monroe and Katie Holmes.
In recent times, boyfriend jeans have become an essential clothing piece in every girl's closet. Girls prefer boyfriend jeans to skinny tight jeans because they are more relaxing in nature and chic in style.
Therefore boyfriend jeans are the epitome of effortlessly dressing in a chic style, with a touch of a little boyish charm.
What are the differences between Boyfriend jeans and Girlfriend jeans?
Boyfriend jeans are synonymous with the terms slouchy and baggy. It does not tap tightly and closely with your legs, thus making you feel comfortable.
It can fit into portions of all shapes and would not matter if you are a little bulky or heavy with the thigh area. They put a slight male personality in your attire.
On the other hand, girlfriend jeans have a feminine look because they happen to be female boyfriend jeans.
These jeans have a tight effect on the waist and are generally worn higher than your waist level. However, they have a tapered slim shape for the lower half of the leg, offering it a flattering silhouette.
The main difference between the two jeans is that while the boyfriend jeans give you a baggy frame, girlfriend jeans fit right onto your legs.
The difference between boyfriend jeans and mom jeans
Mom jeans are generally high-waisted, making your bum appear long and flattered. The zip portion of the mom jeans has a relaxing effect.
Comparing boyfriend jeans with mom jeans, we can see that nothing can beat the comforts of the baggy boyfriend jeans.
9 fantastic outfit ideas with Boyfriend jeans
1.The brunch in boyfriend jeans outfit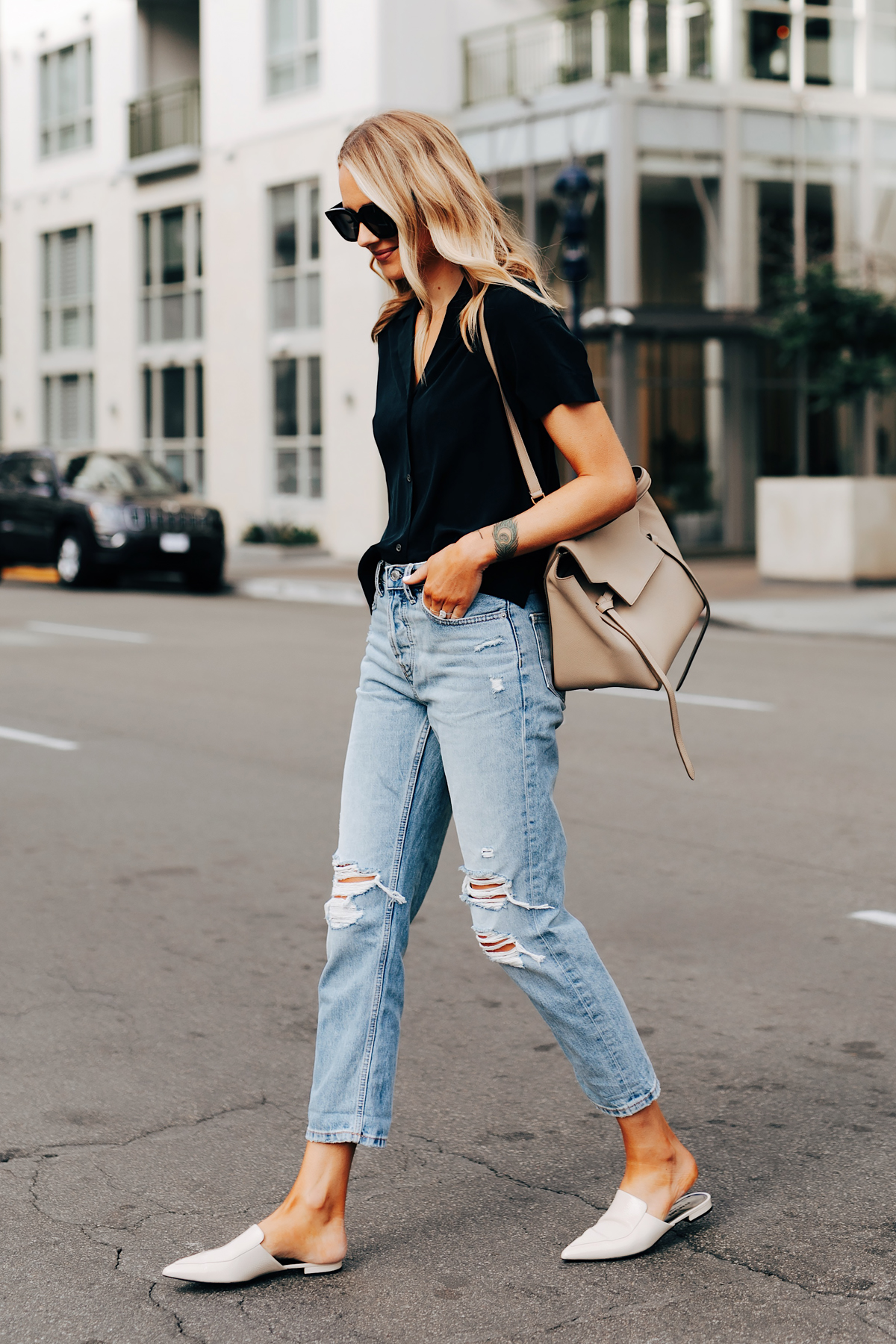 You can style your boyfriend jeans by putting on a solid color full-sleeved top.
Tip: For a stylish look, tuck your top inside your boyfriend jeans. Wear nude, pointed heels as footwear for a better classy look.
2.The cute boyfriend jeans outfit
For a comfy look, pair your boyfriend jeans with a tube or tunic top. For your feet, nothing can be more comfortable than statement-making sneakers.
Try this combination to make your style unique amongst all.
3.The runaway ready appeal outfit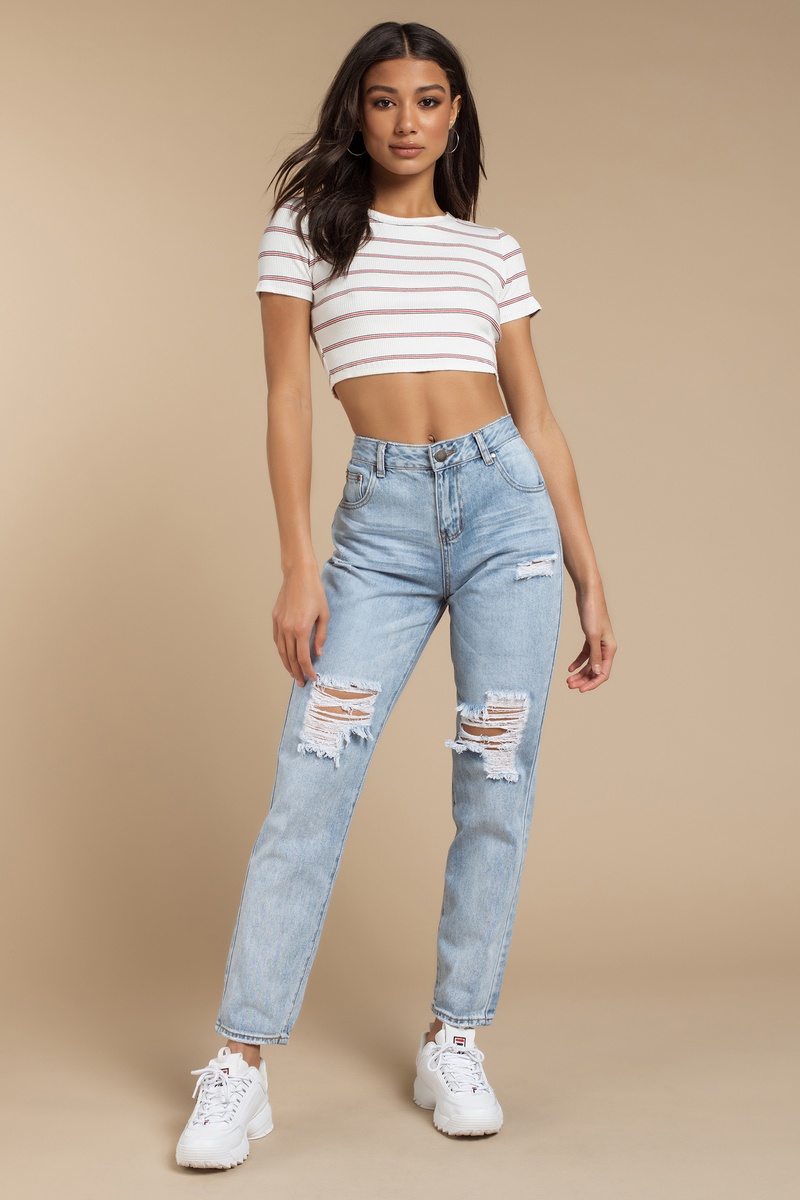 The perfect outfit for a runaway ready appeal at the street meet is twinning your boyfriend jeans with a sweetheart crop top.
Tip: Choose light colors for your crop top and accessorize yourself with a sweet neckline. A pair of white sneakers on your feet will be the perfect finishing touch for your outfit.
4.The casual and funky outfit
For all the girls who think wearing and managing a shirt is too heavy for them, you all can slip into a simple hoodie and wear Boyfriend jeans for your bottoms.
Then, layer your outfit with a cami and complete your outfit with chunky white sneakers.
5.The easy to go outfit
An easy-to-go outfit that can be nothing more than a tank top and a pair of boyfriend jeans.
Tip: Use flip-flop sandals for your feet and put a sun hat on your head. It is the most standout casual outfit you can style yourself.
6.The work outfit
To look fabulous while working with your boyfriend jeans, you can put on a plain solid colored white tee and layer it with a black tuxedo blazer.
Tip: Team your attire with a pair of high heels, and You're all set to rock your workplace with your style.
7.Winter outfit
If you want to feel cozy and comfortable in your attire, you should try this winter outfit with boyfriend jeans. Pair your boyfriend jeans with a pullover-sleeved sweater.
Tip: Wear a flip flop sandal for your feet, and you're all on your way.
8.Pop shop outfit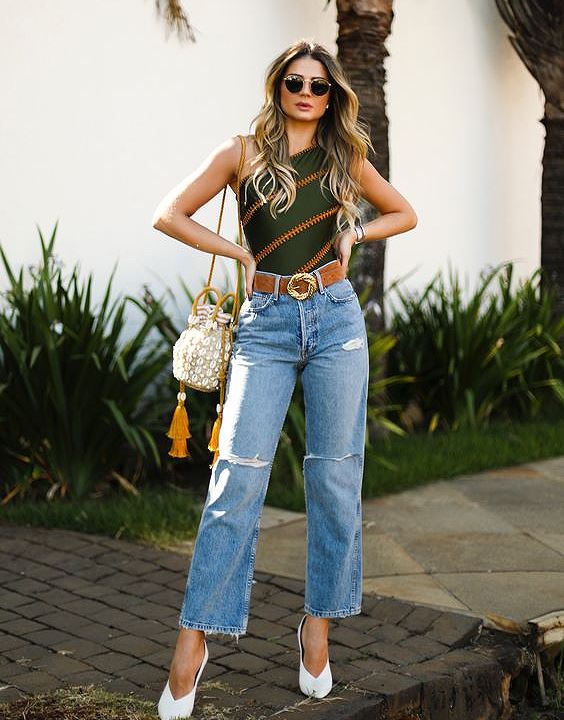 If you're a person who loves many pop and funky colors, then this is your ideal outfit. So put on a cute pop-colored crop top and wear cute hair accessories like scrunchies and floral hairbands on your head.
You will find no one as cute as you and your attire.
9.The fringe jacket attire
You can style yourself in a dashing way with boyfriend jeans and a crop top and layer it with a fringe jacket.
This style is also embraced by one of the highest-paid models of the world Kendall Jenner. But, of course, it would help if you tried it once too.
5 Footwears with boyfriend jeans
1.The cool white sneakers
The fabulous white pair of sneakers is an absolute perfect choice with boyfriend jeans if you have put on an oversized shirt. It looks like an ideal combination.
2.A pair of heels
A pair of heels will look best with a layered cardigan or coat over a plain solid tee and boyfriend jeans. Nothing can be more appropriate than this combination.
3.The flip flop sandals
The flip flop sandals look best with the pullover-sleeved sweater and boyfriend jeans. You should try this one.
4.The sober sandal
Have you ever imagined a scarf outfit? It's the most classy pair of dresses that will look fab with boyfriend jeans. For your shoes, try the sandals—a perfect end to a sober business.
5.Combat boots
You've dressed in the most stylish pair of top and boyfriend jeans, and you don't know what to put into your feet then. So grab on combat boots and wear them. You'll rock in your outfit for sure.
How do I pick the right pair of boyfriend jeans?
If you're a person with big heavy thighs, you'd prefer to camouflage them; therefore, choose boyfriend jeans that fit at your hip snugly and fall in a straight line down. Likewise, you can skip jeans with horizontal distressing on your legs because they tend to widen your body.
If you have a plus-size body, there's nothing to be shy of, and you should opt for a comfortable pair of boyfriend jeans so that it flows easily down your body. Besides that, you can also choose hem-styled boyfriend jeans for a plus-size body.
You might think it's a challenging one, but being a petite woman, you'll rock in boyfriend jeans if you choose the correct fittings and style. Go for the slim, darker boyfriend jeans that get tapered towards the bottom of the legs.
For all those who have an hourglass or apple-shaped body, you all need to slip into a pair of slim boyfriend jeans. However, avoid too much fabric in your jeans as it may put on extra weight in your body.
The primary purpose of boyfriend jeans is to feel relaxed irrespective of our body type. So they should perfectly fit in your waist and hips. Adding a belt to your boyfriend jeans is ultimately your choice. You can also style it in a different way to make your attire have a fashionable appearance.
Top 5 brands of boyfriend jeans
1.CITIZENS OF HUMANITY EMERSON SLIM BOYFRIEND JEANS
They are the most quintessential boyfriend jeans in the era of fashion. They might be costly, but they are very versatile and durable. Moreover, they are made with high-quality comfort denim jeans, which makes them the coziest ones.
2.LEVI'S NEW BOYFRIEND JEANS
This brand of boyfriend jeans has the best reviews of being perfect for fittings of the hip and the thighs. They are very stretchable, which makes them more demanding in the crowd. Being light in weight, it is also perfect if worn during the summer times.
3.AG EX-BOYFRIEND RELAXED SLIM JEANS
It has a cool dramatic whiskering and fading style, making a lively vibe in it. AG ex-boyfriend jeans also have a comfortable fit and are available in a variety of colors.
4.KUT FROM THE KLOTH CATHERINE BOYFRIEND JEAN
They are fan-favorite boyfriend jeans, and they are accurate with the amount of stretch they provide. In addition, they provide extra comfort when worn because of the spare time provided. It is also available in plus sizes.
5.RIDERS BY LEE INDIGO FRINGE CUFF BOYFRIEND JEAN
This brand designs boyfriend jeans in a midi, raise the length and are also very stretchable. They immediately accentuate your waist and smoothen your figure. It is available in multiple colors.
How to choose boyfriend jeans?
While getting yourself boyfriend jeans, you should consider the following parameters.
● Choose a slim cut in your jeans.
Boyfriend jeans are enormous, but that doesn't mean that you will swim in them. Make sure that it is only loose in your thigh portion and not all over your leg. They need to fit into the straight cut of your body.
● Go for a dark shade.
Darker shades create a slim effect when we wear them; therefore, you choose a dark shade for your boyfriend jeans. Choosing the medium-dark wash jeans will make your legs look slim as compared to any light shade.
● Choose the right length.
Choosing the correct length for your boyfriend jeans is very important because it will make you look more lean and polished and reduce your legs' unflattering shape.
Benefits of choosing boyfriend jeans
Choosing boyfriend jeans is very advantageous. It is because they are softer, more supple as well as much more comfortable. You will enjoy wearing them more than your traditional denim jeans. Because of their flexible nature, you gravitate to a lot more comfortably. Therefore boyfriend jeans have a lot of benefits.
What is the alternative to boyfriend jeans?
Nothing can beat the comforts of boyfriend jeans, but you may try palazzo, wide-legged jeans, joggers as alternatives to it. They are also slouchy and baggy and will not create enormous pressure on your thighs. Instead, they will perfectly fit into your legs and give a perfect shape.
How to care for boyfriend jeans
Do not wash your Boyfriend's jeans too often. Since they are made of denim, therefore they do not require washing after every wear. Use cold water when you're washing your jeans because hot water may destroy the fabric, and use liquid detergent as they are mild. Hang them properly after washing so that they can dry perfectly. Never freeze your boyfriend jeans. It may cause a lot of issues later.
Conclusion
I would like to say that you should try boyfriend jeans because they can be your best "easy-to-go" outfit. You will look fashionable without putting in any effort. Through our content, I hope you have understood what boyfriend jeans are, and I'm sure you won't wait long to get yourself one. If you'd like to add some recommendations and feedback, you're most welcomed, and please let us know about it below. For more such content, keep reading us.
Thank you!