Our lips are one of the most attractive parts of your face and there are different shapes and types of lips and each shape and type is beautiful in its own way!
This is why from investing in good lip care products to paying special attention to lip makeup or even considering fillers, we see the world doing it all, and going all out to enhance an already existing beautiful feature.
So in this article, we are going to discuss different types of lips, their features,  makeup hacks, lip care and what should you absolutely avoid to get plumper and rosy pink lips! So without any delay let's scroll further!
Ranging from Angelina Jolie, Scarlett Johansson, Marilyn Monroe to male actors such as Chris Evans, Tom Hardy, Johnny Depp- the list of actors with signature lips is inexhaustible.And why is it so? Because whenever you look at a person, listen to them speak, one of the key attributes you notice is their lips, their color, movement, and how it frequently curves at its corners into a smile!
Lips Beauty in All Shapes and Sizes!
Human beings exist in diverse personalities and appearances, and so do our pout makers. How our lips appear in their color, shape, and size depends on a lot of factors like genes, ethnicities, place of birth, etc.
And the beauty standards concerning our lips are both diverse throughout cultures, and equally irrelevant. Since both us and our smiles are unique.
Hence, here are a few types of lip shapes found generally in the human anatomy.
This means it is the same for types of lips men have. All equally beautiful, with methods to highlight their beauty and how to determine your lip shape;
Different Types Of Lips

!
Full Lips: Embrace the Voluptuary
Are your lips pouty, puffed up, and voluptuous throughout and evenly? If so, your lips tend to lean on the fuller side. Full lips are beautiful and appreciated if taken proper care of since people with such lips catch a lot of attention on them.
But also, as it already catches a lot of attention, they have made the makeup department way easier for you!
People with fuller lips do not need to work with a lot of contouring or lining behind working the shape of their lips. But still, if you need a guide for enhancing your lips area, the guidance is right below.
Make-Up Tips for Full Lips
A dash of your favorite shade of lipstick, that matches your skin tone but does not overpower it is all you require.

If you want to balance out the gaze on your face, then go for nude lipsticks and methods to spread the attention from your lips to your other facial features.

Working on your eyes a little more or going for an active color for the blush are just tricks for you to strike the right balance.

If you are a man, a full-bearded look matches great with well-maintained full lips.
Heavy Upper Lips: Embrace the Disparity
If you own these kinds of lips, your upper lip fold is probably wider and puffier than the lower.
Such lips are great when it comes to drawing attention to your smile, since the upper lip stretches and sticks to your teeth, giving you just the girl/boy next door look! If you have good dental hygiene, then that is an absolute cherry on top of that darling smile you got.
Still, if you want to bring a little bit of parity, these makeup tips might save your day!
Make-Up Tips For Heavy lips
You can always line your lower lips wider to create an illusion of fuller lips to balance it out, but the choice is yours.

Another hack to make it look even is to apply a darker color of the same shade you are wearing on your upper lips to make them appear smaller.
Wide Lips: Embrace the Area
Wide lips are one of the most desired and aesthetic symbols of beauty. Popular celebrities like Anne Hathaway, 
Liv Tyler is known to carry these beautiful aesthetics. If you are of those who are blessed with this kind of lips you must be aware that how these lips help to highlight your apple cheeks, making your smile even more pleasing.
 Well adding to that, we cannot deny the fact that these lips are not attractive but also gives you a lot of space to go crazy with those makeup ideas going all-round in your head. 
In other words, being a makeup buff and having wider lips is just being blessed with a wider area for your lip creativity. It also means a wider and more radiant smile that covers most of your lower face when you smile. Again, there    are always methods to strike a balance such as;
      Make-Up Tips For Wide Lips
Opting for nude shades to draw away attention or overlining them on the upper and lower portions to create an appearance of full lips.

The hack that almost acts as a blessing for your lips is the ombre effect, in which you color the sides of your lips darker, and the rest with a lighter shade to create that perfect pout. Now you have both the perfect smile and the perfect pout, way to go!
Heavy Lower Lips: Embrace the Extra Fluff
It is simple really since we have already talked about heavy upper lips. If you have fluffier lower lips and comparatively thinner upper lips, you own this.

And again, own it proudly because they too are uniquely pretty. Yet again, lip liner is your best friend in make-up, create the perfect pout with defining your upper lip more than your lower and smile away!
Heart-Shaped Lips: Embrace Your Tool of Love
Heart-shaped lips typically have a pronounced cupid's bow up top, with a sharper bottom lip. Now, the exact definition might vary from person to person (some may have a stark point at the bottom; others may have a softer edge), but the key here is that V-shaped cupid's bow.
Make-Up Tips For Heart Shaped Lips
Ah, lips with a defined cupid bow shared with a full lower lip are just as desirable as ever! Forget balance, my friends, enhance your pout anyway you like, in any color you like, just remember to define, and redefine the gift you got- the cupid's bow.

A vibrant red lip is best suited for you on any occasion. Fire away your Cupid arrows!
Thin Lips: Embrace Your Signature English Trait
Thin lips might take away less of a gaze on your lips, but they are a signature British feature and as lovely as ever.
If you have this, you can do anything with your lips and never worry about looking over the top. Studies have also shown that more caucasian women were found to have thinner lips than Asians, with the smallest upper lip height and volume.
Thin lips are naturally very beautiful and can help to highlight your chin and cheek area. If you are looking for ways to enhance or balance your thin lips, here are some tips.
Make-up Tips For Thin Lips
Tools of balance contain lip plumper, liners, and many others.

Your best hack is to line your lower lips a little more, and smudge everything out a little to create that perfect Blue Valentine look!

Using lip gloss or lining with concealer after lipstick can also help to enhance your thin lips.
Do not use darker shades for your lips. Darker shades will make your lips look even smaller.
Downturned Lips: Embrace the Curves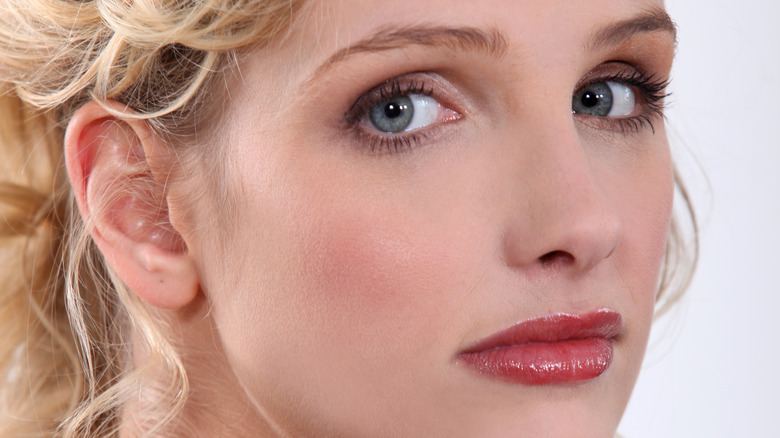 If the corners of your pout appear a little downward with your smile you own downturned lips. Many people mistake it as a frown when there are the most unique set of lips providing you with a tame, mysterious look.
If you have a downturned lip then you are a lucky one as having this set of lips can automatically make you appear more sizzling, as it gives a sharp and fiery look without trying much.
A lot can be done to make them even more appealing, and if you are looking for the ways for same, here are some;
Make-Up Tips For Turneddown Lips
If you want to play up with this mysterious look,  you can always conceal out your corners and redraw them into sharp happy ones with your go-to lip liner!

Bright red colors or darker shades like maroon are suggested to apply to these lips as they can make them look more appealing and eye-catching.
Matt finish lip products over the glossy ones are also recommended for downturned lips.
Small lips: Embrace your petite smile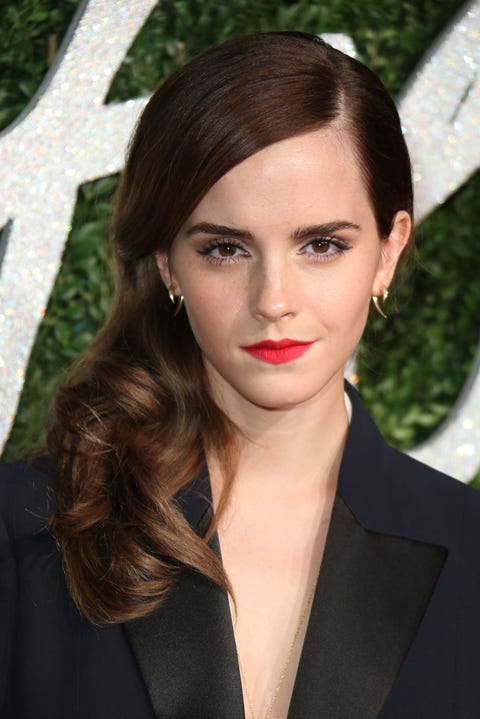 Small lips are easy to define. They are not wide, small in size and they have a tendency to protrude. Many may think small lips are the same as thin lips, but it's not like that.
In fact, both are quite opposite. Thin lips are wide from the side and have less lip area, whereas small lips may have less lip area but they are not wide in fact have more of a protruding structure.
Now you may be one of those who are a bit self-conscious about their beautiful small lip features but to your amazement, small lips can be a better fit for your creative minds as they provide more space for you to flaunt your fashion ideas.
You can make your lips more curvaceous through lip liners or lining with concealer after lipstick can expand your creativity and lips as well.
 Make-Up Tips For Small Types Of Lips
Apply glossy lip accessories so that your lips look full and heavy.
Do not use darker shades for your lips. Darker shades will make your lips look smaller.
The trick to beautify small lips is using soft or lighter shades.
For best results, use the shade of glossy pink lips. They will make your lips look thicker and full
Round lips- Embrace your natural beauty;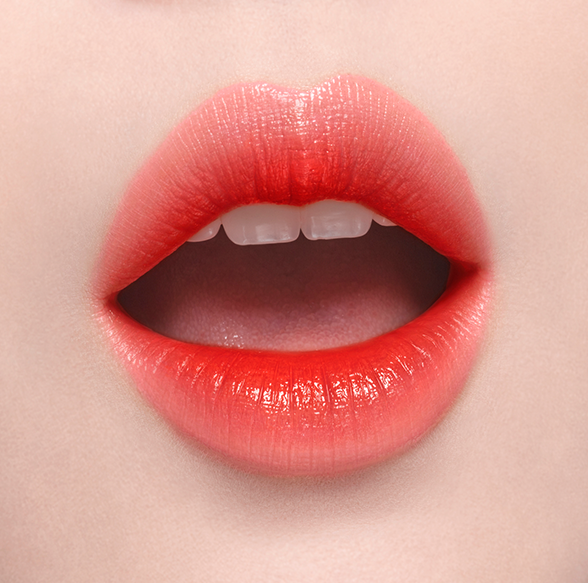 Lips with round shapes are a total round and they lack a cupid's bow. But obviously, it's not something to be insecure about. Round lips have their own natural beauty and charisma. In fact, round lips are quite a bit of "in demand" thing Famous celebrities like, Selena Gomez, Scarlett Johansson has beautiful round shape lips.
Now you must have gotten the idea of the hype of round shape lips. If you are looking forward to having one, it's the right choice to go for, and if you already have these plumpy lips embrace them with your full heart!
Make-up tips for round lips
Using dark shades might accentuate other features over your lips.
Do not use glossy lips as they might tone down the prominence of your lips. They will draw more attention to other features.
Ways To Embrace All Shapes: Care!
We talked about the lips type you have and how to go highlight it or balance it out. It's time to talk about the most essential part- how to take care of your lips.
Scrub Scrub Scrub Away

!
Exfoliation is the biggest enemy of dry dead skin cells that make your lips appear chapped, dry, and darker. You should exfoliate your lips using a toothbrush or a soft item.
For getting bigger lips you should spend some exfoliating your lips. This process is very effective makes your lip have a full appearance
Lip scrubs have gained popularity recently and trust us they deserve all the hype. But also, do not overdo it, try it once a week, and then see how frequent your lips require to get rid of their dead skin cells.
Hydration Is Key

!
Yes, we know. You have been told and retold this. But it is the key to beautiful lips. Drink adequate water, and it will not only help your lips but your skin, hair, really your whole being.
Drinking a sufficient amount of water will swell up your skin and lips. Insufficient water may make your skin dry and shriveled.
Make Vitamin E Your Best Friend!
Vitamin E equals cell renewal and that is what your lips require.
Purchase a vitamin E serum or better a lip balm with that in it and apply and reapply whenever you feel like it, do not opt for complicated procedures. Lip masks are also a lifesaver
Protection and Moisturization!
Your bottom lip gets a lot of sun exposure and that is the common spot for skin cancer. So it's really important to use SPF 15 based products on your lips in the daytime.
Not only for SPF but keeping your lips moisturized in general is not a bad idea at all. the more moisturized you will keep them the more plumper they will appear.
Not to mention, if you are outside and you apply sunscreen or moisturizers, remember to reapply sun-protective lip product and moisturizes every two or three hours, after drinking or eating.
Follow a Healthy Diet

!
To maintain your lips juicy and plump, it is essential to maintain a healthy diet routine. Like vitamins, minerals, and other nutrients reflect on the condition of your lips directly.
If you lack in following a good diet it will definitely make its marks on your lips. Lack of nutrition may result in dark and dull lips.
Always Remove Makeup

!
Your lips need to breathe to get a healthy condition. clogging them with makeup all day long does not ring right, does it?
So, it's important to remove makeup on your lips before you go to sleep. No matter how much tired you are, NEVER-EVER sleeps on with makeup on your lips or skin, in general,
You can use a damp cotton ball to wipe your lips clean. After cleaning your lips off, moisturizing them with a good quality product can be a good idea.
Massage Your Lips!
To get a plump, pinkish lip you can use some nourishing oils to give a good massage for about 5 minutes every day to improve blood circulation in your lips.
As mentioned above Vitamin E is considered great for lips so you can prefer to massage your lips with oils that contain Vitamin E.
Always Carry Lip Balm!
You should always carry lip balm as you do not know when your lips tend to start drying out. Use any berry-based lip balms that are rich in antioxidants and vitamin c.
These two ingredients are great for the nourishment of your lips.
Moisturize With Aloe Vera

!
Aloe vera has some good hydrating, soothing, and healing properties to make your lips look their best. You can use pure aloe vera gel from the plant directly or use a tube product.
Aloe vera has anti-aging anti-wrinkle properties that help to keep your lips moisturized and prevent early aging of skin and dryness. 
Do not Lick your Lips

!
If you have a habit of licking or touching your lips you should stop that immediately. As lips do not have any protection of their own.
If you lick your lips often, it does feel hydrating but once the saliva evaporates, your lips will feel drier.
Lip Exercises!
It has been proven that doing lip exercises consistently for a few weeks may cause noticeable changes. They make your lips full and plump. But most of us are often stuck at the "what to do and how to do" question?
If you are willing to do lip exercise but don't know what steps to follow exactly, don't worry! We have the cure for your query!
Conclusion

!
Lips are one of the sensitive parts of our external body features. Our lips really go through pollution throughout our lives so it is important to keep them moist, hydrated every time.
In conclusion, it can be stated that lip care and lip makeup both are very important to maintain a different yet perfect balance of self-care for different types of lips.  
We hope you liked this article and if you did then share it with your friends and family and don't forget to tell us what is your lip shape and how do you take care of them?