Thinking about rocking a suit and pants? Or is it those quintessential loafers on the go with your button-down shirt? No wait, you have to be thinking about those super comfortable yet classy boyfriend jeans! Well, stop thinking and start working your way out with your immaculate sense of tomboy fashion!
Be it dapper jeans with loafers or a suit on a bodycon, tomboy fashion has it all! But there were times and there still are minimal instances of females being told to be more girly or dress up in the same way.
But with the passing of time, previously exclusive masculine clothing items like baggy t-shirts, boyfriend jeans, sweatpants, pantsuits have almost become a staple in every woman's closet. The barrier of gender-based has been long broken and it is time to continue coordinating what has been considered a wrong pair sometimes.
So, keeping this spirit and your enthusiasm in mind we have come up with the latest guide on top tomboy outfits 2022 and brands that one has to have for enhancing their true spirit of a perfect tomboy fashion.
What is Tomboy Fashion Essentially?
Have you ever seen a woman carrying the tomboy fashion style effortlessly and wondered what fashion is? Well, the answer does lie in the question.
Tomboy fashion has been a groundbreaking style where females effortlessly style different and mostly all types of menswear while adding a certain twist for women.
It has always been a celebration in its very own way where rules are broken and the true spirit of one individual is revealed. Talking about the present times, the fashion industry has come a long way to evolve tomboy fashion with some fascinating ideas and has especially led this year to come up with some of the most appealing tomboy outfits 2022 designs.
7 Finest Tomboy Outfits 2022
Are you looking out for ways to portray your tomboy fashion style better?  Looking for a wardrobe upgrade? Just break loose, channel your tomboy fashion style effortlessly. Well, as simple as tomboy fashion is with essentials being the center of attraction, there might be some rather interesting ways to step up your tomboy game!
1. When in Stress, Throw on Some Distress!
Who doesn't want to add a contemporary edge to their style? Do never be afraid to embrace your inner rockstar. Embrace the distressed denim. Either keep it simple with a printed tee or go all aboard with the funky leather jacket.
Dark acid-washed distressed denim is always in style and so have light washed and medium washed paved their way right in. Fear none and you might as well put on a bong or some other headgear to add some serious punk to your style.
2. Grunge Flannel on the Go!
You surely do not want to miss out on adding a little grunge to your tomboy lookbook with the help of plaid flannels. Be it the classic red and black or any other strong hues, flannel surely adds a hint of spark to your tomboy spirit.
It may be a classic button-down shirt or even a dress for that matter, plaid flannel makes sure to bring out that inner grunge and pop it right into your look.
3. When Layering is Art, You Become the Artist!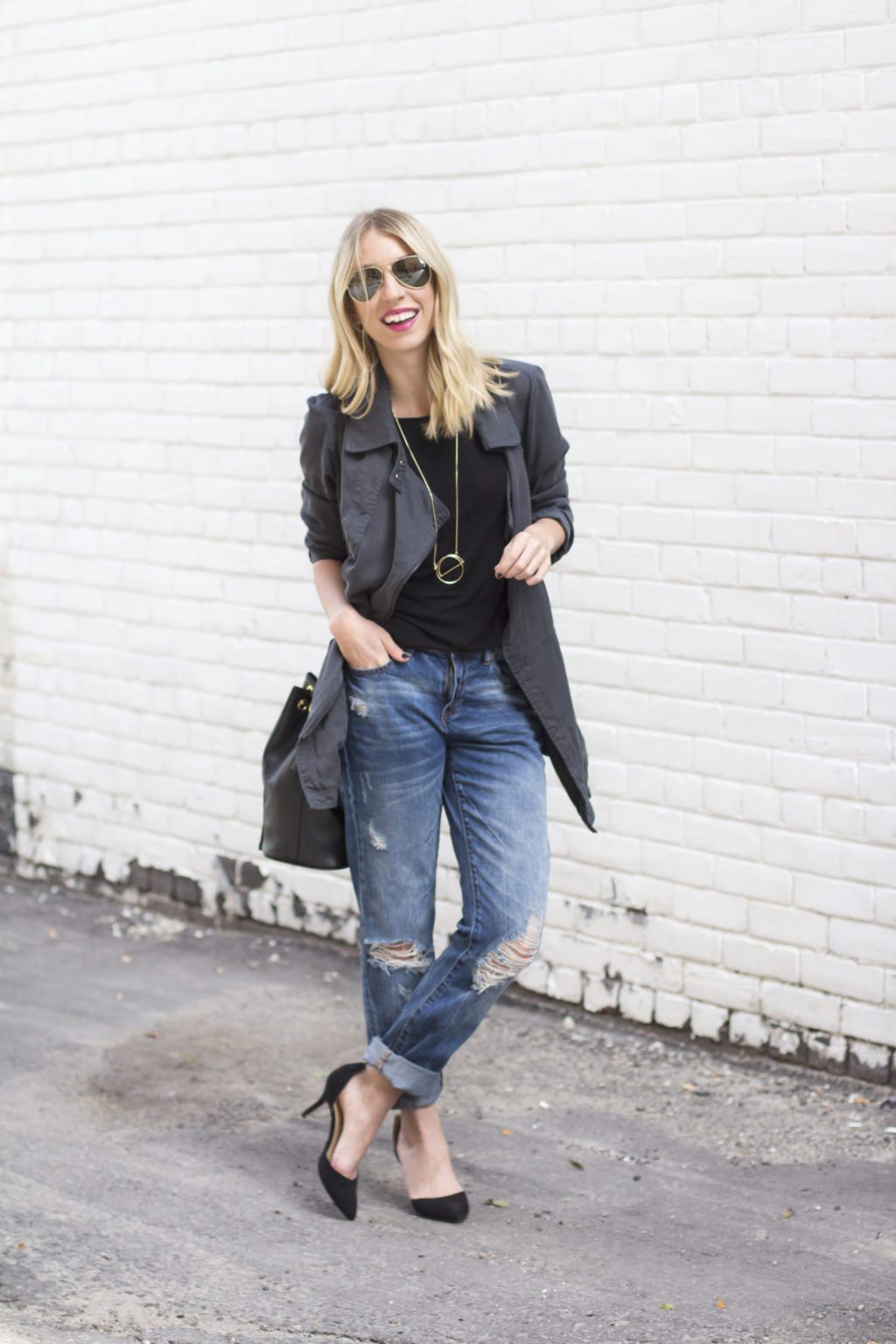 Be it summer or be it winter, layering never goes out of style and is not out of the mind. While it provides the necessary warmth in winter, it continues to add an effortlessly cool element to your style. That leather jacket on top of your high-neck sweater looks as great as the overcoat on top of the denim overlay.
However, this eminent layering does not stop itself from giving you the casual on-the-go yet classy look in summer as well. The thought of the most casual skinny jeans paired with a tank top and layered with a button-down shirt is itself relaxing. The lightweight jackets or those sheer overlays would go hand-in-hand with your tomboy spirit.
4. It is Never Over for the Overalls!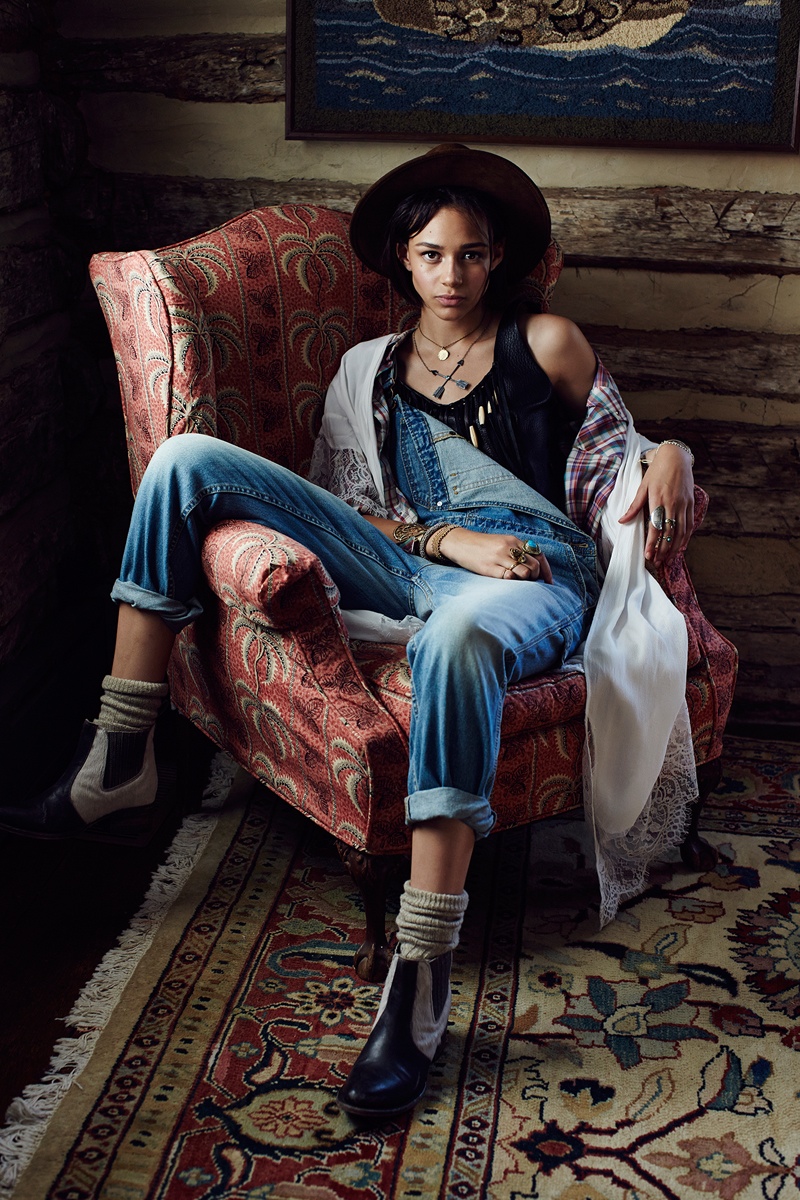 With the 90s fashion trends roaring high and making their way back, overalls have found their spot in tomboy fashion. This is a rather relaxed fit that carries its statement.
An overall is extremely easy to style and pair. You can dress it up or dress it down as per your preference. You can layer it with a simple t-shirt, a basic top, or a dressy high-neck. You had to throw on jewelry to go with the same, be it a stack of chains or a pile of bangles.
5. The Suit Surely Suits You!
The suit is indeed another piece that paved its way back to today's time. It is elegant, chic, and effortless which can be styled in multiple bold ways. You can layer it with a plain t-shirt or a classic bodysuit. You can make it look casual or make it look edgy.
Not forgetting to mention how amazingly a plain shirt compliments the suit to become a perfectly fashionable work outfit. However, now that times have changed it is not just another black suit on the go. You get to choose from a wide range of outrageous colors that add more pomp and show the tomboy fashion looks you are serving.
6. Oversized for the Win!
You definitely should understand that you can never go wrong with your oversized style statement. Not feeling great about your body? Throw on an oversized tee with some fitted jeans. Not feeling comfortable enough? Put on some boxy joggers with a racerback or a spaghetti strap top.
Also, want to compliment your perfect beach holiday? Come 'on, wear that oversized sheer shrug. So yes, when in doubt, level up your tomboy fashion style with some oversized clothing.
Select from the wide variety of long hemlines, boxy t-shirts, and baggy pants. Serve yourself some comfort while you serve us some rather fuss-free looks.
7. Who Doesn't Want to Accessorize?
Not just clothes but accessories are also a huge part of tomboy outfits 2022. Take your tomboy fashion styles a notch up by throwing in some accessories. Be it a broad hat, a beanie, or a baseball cap, put on a hat, head out and feel the best about yourself.
Well, you might as well spice things up a little more by adding on a stack of bangles, bracelets, or bands for that matter to bring out the punk. You might as well throw on some layered chains to add to your look, the edgy side.
One might try and bring on some grunge by adding a headgear or two. The bottom line remains fear not, worry less about what people say, and accessorize to your heart's content.
7 Tomboy Fashion brands:
After knowing the best outfits next thing that might come to one's mind is that what kind of brand is best to show your spontaneous game of tomboy fashion. Well, worry not we are here to give you the best brands that can blend perfectly with your tomboy fashion essence!
Well, everything which is made in the USA is with superior fabric and hardware. The brand is the love of many people. This brand comes in tops, bottoms, and casual products also.
This is a gender non-conforming androgynous clothing brand that empowers you to be you with designs available across the whole gender spectrum without compromising fit and style.
It is an Australian brand. This company uses traditional and hand tailoring techniques.
If you love bright and vibrant colors outfits then this is the brand for you. Big Bud Press deviates from the usual neutral tones associated with androgynous clothing. It provides a wide range of radiant colors.
Grace Wales Bonner- A British fashion designer. She works for addressing the politics of identity, and sexuality. Wales Bonner brand came into existence in 2014. This brand is very attractive for tomboys.
Telfar is a self-taught designer. His full name is Telfar Clemens, once he felt the need for gender-neutral dresses and so this brand came into existence. All of the pieces and products that they sell are meant for all people regardless of their gender. This brand works on the motto:- "not for you, for everyone."
This brand defines itself as "tomboy chic". Their line includes apparel for women that rejects societal femininity standards. They provide clothing to women who want to look like a tomboy. This brand came into existence in 2011 by Emma Mcilroy, Taralyn Thuot, and Julia Parsley.
 Let the Shoes do the Talking!
Ater the perfect clothes add a little more thought to your tomboy fashion style wardrobe by having an eye on the shoes.
Shoes elevate your entire look and hold it together for some. Be it the perfect Chelsea boot to bring about that English twist, the Converse Chuck Taylor for the perfect sneakers, or the Oxford loafer on the go, all these would surely lay a hand, rather afoot to level up your tomboy fashion look.
Although every female is unique in her way and every woman who has a knack for tomboy fashion style might possess a certain styling sense, we urge you to provide you with a few tips and tricks as the ones mentioned above which might help you to worry less in case of a wardrobe confusion. Looking out for these might help you take your style a notch up.
Well, dare we say, even if you have a different tomboy fashion style set, there is never any harm in experimenting.
5 Types of Shoes for Tomboy Fashion
Speaking of shoes and their significance in tomboys fashion essence let's give a deeper look into these perfect footwear ideas that would match and never disappoint to add that extra zest in your perfect tomboy fashion.
1) Chelsea Boots:
Chelsea boots are higher mid-height boots with elastic gussets on either side. They are named after their popularity on the King's Road in Chelsea in the 1960s. They are close-fitting boots and ankle-high in length. All are made with hand techniques & are genuinely Goodyear Welted. They were designed by Queen Victoria's personal shoemaker in 1851.
2) Tomboy Sneakers:
These are not different types of sneakers. They also look like Normal sneakers. They look attractive with ankle-length Jeans. Common materials used for modern sneakers are leathers, textiles, synthetics, rubber, and plastic. Each has its specific role in footwear. It depends on your choice of which material you want to wear and when. Each material will have a different place in your sneakers collection. The chessboard pattern looks classy.
3) Loafers:
Loafers are also known as a slip-on. They are lace-less shoes. They are known as slippers in American culture. One of its first designs was introduced in London by Wildsmith Shoes and then called the Wildsmith Loafer. They began as casual shoes, but are increasing in popularity to the point of being worn in America with business suits.
You shouldn't wear socks with these shoes. If you can't wear loafers without socks, then you can try liner socks.
4) Tan Boots:
I think you may also love the tan color because a light color shoe is pretty, less clunky than a darker one. When you think of wearing a navy suit, you should immediately think of pairing this suit with tan boots as I love this combination.
5) Oxford Shoes: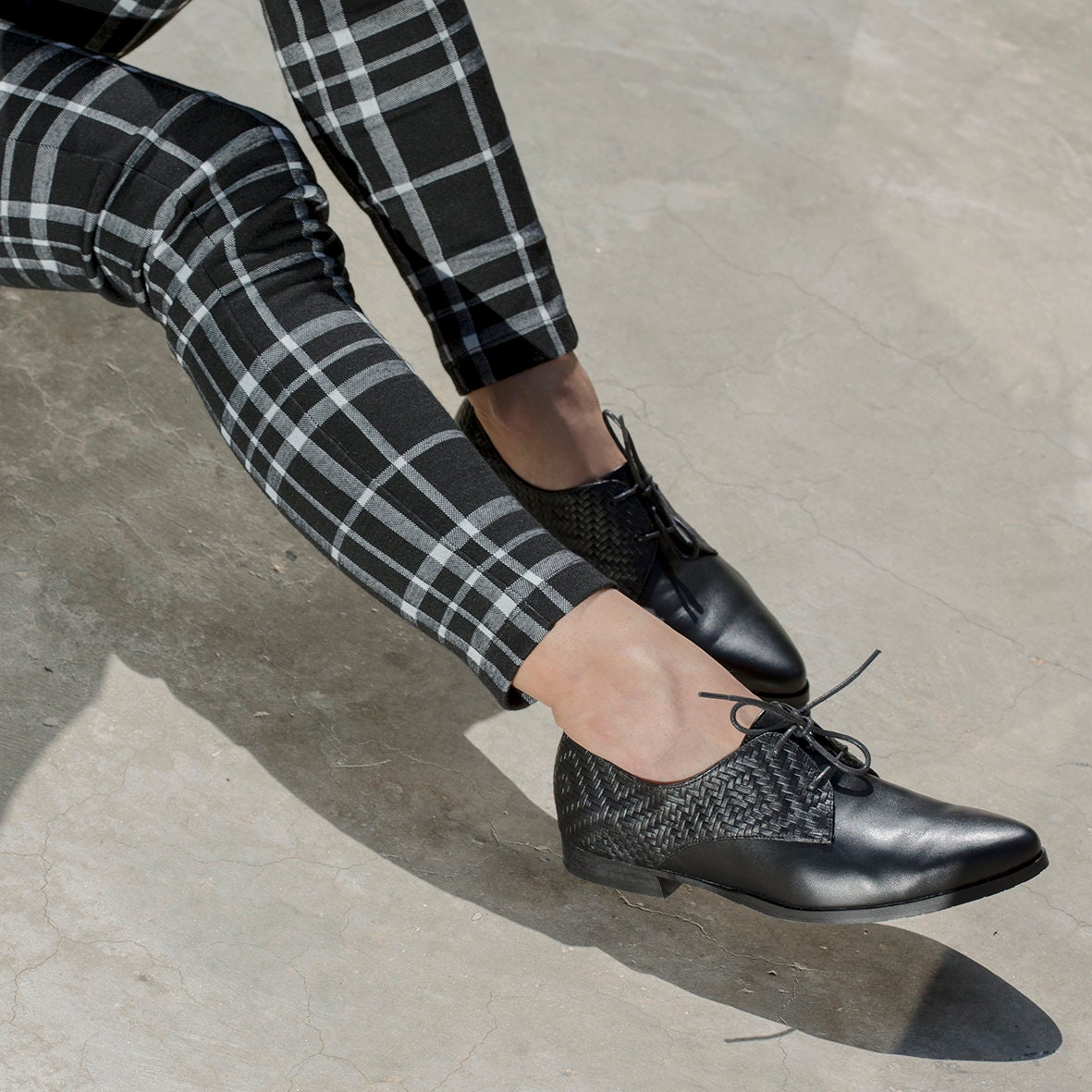 An Oxford shoe is characterized by shoelace eyelets tabs that are attached under the vamp,
a feature termed "closed lacing". They look very classy, you can wear them in a meeting also as they also work as formal shoes. They can be worn on any occasion. In my opinion, you should buy black and dark brown color in oxford shoes. Their shiny look attracts the eye of the viewers.
FAQ!
Can a Tomboy have Long Hair?
The answer is Yes. A tomboy can have long hair. You can make a ponytail. You can either leave your hair messy or make a ponytail.
Messy hair looks amazing and flawless. The choice is yours, you can have short hair too. Based on your choice, you can make any hairstyle that suits you.
How Should a Cute Tomboy Dress be?
Tomboy can wear a loose T-Shirt, pants, with sneakers. A wristwatch with a broad strip can be worn. In the article, I have mentioned some brands and some ideas on how to dress like a tomboy.
What do Tomboys Wear in the Summer Season?
This is a very interesting question. As we know that looking amazing and feeling comfortable is the difficult thing in the summer season.
But you look attractive and classy in summer also by wearing, shorts, T-shirts, sneakers, button-ups, etc. You can also wear a jacket which doesn't give you warmth.
Can Tomboys be Girly?
Yes, this is a plus point of being a tomboy. You are a girl, when you want to look like a girl or behave like a girl, you can easily look like a girl. Instead of wearing loose t-shirts, you can wear designer or girl tops. You can wear sandals or heels for looking like a girl rather than a tomboy.
Conclusion:
As we nearly come to the end, we would like to make sure that the tomboy fashion style has always been rather groundbreaking and continues to do so. It is a very comfortable yet attractive and effortless way of androgynous fashion. We have tried to provide you with quite efficient details of what tomboy fashion style essentially stands upon and what it stands for as well.
We have tried our best to give you exposure to the top tomboy outfits 2022 ideas and the best brands for tomboy fashion which might come in handy when you would want to take your style statement up a notch.
However, we definitely would still want you to hold on to your individuality by adding a little personal touch while you look into the mainstream tomboy fashion statement. We hope we have been successful to pass on the knowledge that we have and we cannot wait for you to show the world your version of tomboy fashion style!