Jeans are the items which never run out of business and it is one of the main accessories for us. Jeans are one of the most worn dresses and they are famous all over the world. Jeans are available for men and women and have many different types. For now, we will be discussing Slim jeans and skinny jeans in this article.
The main difference between skinny jeans and slim jeans is that skinny jeans are one which gives body parts a visible shape as they stick around the body tightly whereas slim jeans on the other hand are the type of jeans that are neither too tight nor too loose. Skinny jeans are mostly preferred by women while slim jeans can be worn by anyone. There are many other things and differences between slim vs skinny jeans, which will be discussed in this article.
What Exactly is Slim Jeans?

Slim jeans refer to jeans that are slim in the fitting. Slim fit jeans are also known as straight leg jeans because the leg opening in these jeans is narrow and they never look sticky around the ankle. Because they are not as tight as skinny jeans, you can move freely and look stylish at the same time.
What Exactly is Skinny Jeans?
Skinny jeans are tight trousers that give a visible shape to the body parts and they are a snug fit through the legs. These jeans are basically tight lifting jeans with narrow legs fitting. It tightly hugs the shape of the wearer and they end at a small toe opening. Skinny jeans are a hot fashion trend. Usually, girls wear this type of jeans at informal parties.
Slim vs skinny jeans: Differences
Slim jeans are a type of jeans that are neither too loose or neither too tight, they are tighter from the legs with a small opening around the separation of legs ( around 9 to 20 inches in size. The main advantage of wearing these jeans whether you have a thin body or chubby body is that they won't look bad on any type of body. These pants can be known with different names such as tight pants, pencil pants, skinnies, and drainpipes.
Skinny jeans are one which gives body parts a visible shape as they stick around the body tightly. These are like normal jeans and there are no cuts through the legs. These jeans do not have many names and are mostly preferred by women though men can wear them but they don't always look good on them.
Key differences between slim and skinny jeans:
1. Slim jeans can fit people with different body shapes as they will look good on any body type while skinny jeans can be suitable for people who have a good body.
2. Slim jeans are mostly worn by women only while skinny jeans are worn by both men and women.
3. Slim jeans are straight from the top to bottom while skinny jeans are tighter around the body which gives body parts a visible shape.
4. Slim jeans are more stretchable than skinny jeans as they have to fit around different body shapes.
5. Slim jeans are mostly worn on formal occasions while skinny jeans are mostly worn on informal occasions.
Best Slim Fit Jeans – 5 Brands
Talking about jeans, after fabric material and price the most trusted thing to rely on for quality and trend assurance is the brand of the jeans. For Every brand has its own style, price, and exclusivity but Here are some brands that we have discussed below -"The best brand for slim fit jeans":
1. Levi's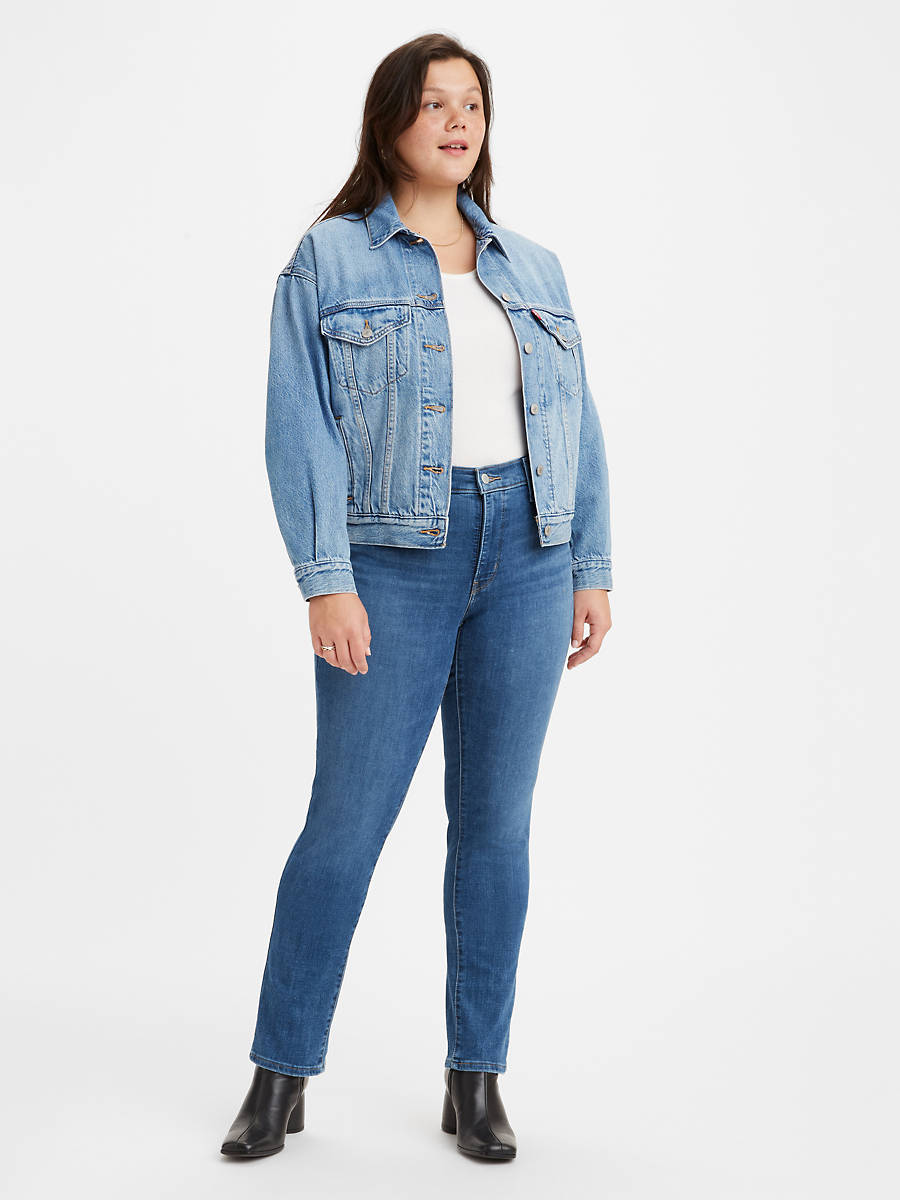 Levi's is the brand that provides varieties of jeans and also takes care of the comforts of the wearer. Levi's is the brand that everyone wants to try because of its top-class quality and yes! we can say this brand is worth the price too
Lee, we all are familiar with this brand as it is one of the foremost brands that gives an alluring look to the wearer, be it the body type or size and Lee is the brand that is trendy and affordable at the same time.
3. Calvin Klein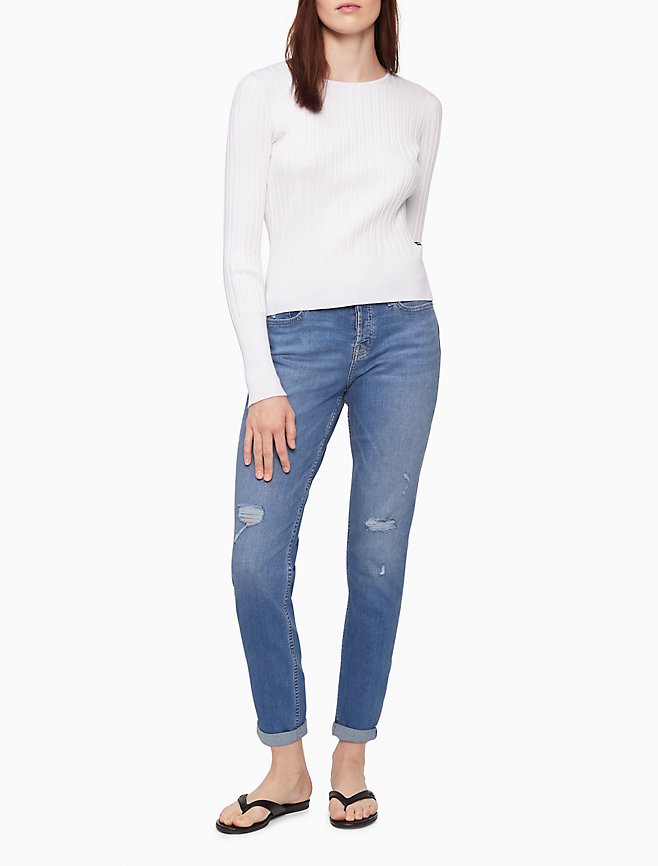 Calvin Klein … Yeah! Calvin Klein is an American company that is mainly for the girls who want to look stunning without any struggle or we can say they cannot compromise on the comfort level.
4. Pepe jeans

In India, Pepe jeans hold the maximum share of clothing brands in the segment of jeans because the most attractive fact about these jeans is they never get faded and always look stylish and classy.
Lee Cooper is one of the most affordable brands which comes in a variety of shades and styles of jeans and we can say it is your budget-friendly brand that gives the best comfortable fit and durability to the wearer
Best Skinny Jeans – 5 Brands
Different kinds of jeans ask for different kinds of brands. Here are some brands that we have discussed below as The best brand for skinny jeans":
1. Levi's

This brand is the OG of jeans and has been equipping men with quality indigo since the 1800s. It is best known for its immense quality and comfort.
2. Cheap Monday
A Swedish clothing label founded in 2004 as a second-hand clothing store in Stockholm. If you like your jeans affordable and comfortable, then this brand should be on your hit list as it is also an H&M-owned brand. Cheap Monday carries some of the most stylish skinnies at an affordable price that'll keep your wallet fat.
Wrangler jeans are actually an American manufacturer of jeans and other clothing items and are owned by kontoor inc. which also owns Lee.Wrangler makes quality skinny jeans that will be workhorses of wardrobes for years to come.
4. ASOS

ASOS is a British online fashion retailer founded in 2000 in London, which aimed at younger adults. They are known for their style and fit. So if you are looking for a class and quality fabric with style as well then, ASOS is the perfect fit for you.
5. River Island

This famous brand was founded in 1948 by Bernard Lewis and brothers. Their prices are famously low and they relaunched its entire denim offering in 2017 keeping their focus on little details to make their denim above every other brand.
Which Is Better Slim Fit Or Skinny Jeans?
It's hard to pick between these two as both skinny jeans and slim-fit jeans are similar in terms of fit, style, and design. Skinny jeans are tight lifting jeans with narrow legs fitting which allows them to contour to the shape of the wearer's body which is something females prefer.
Slim fit jeans gave a similar design and they are slightly wider in the legs. The truth is many people can't tell the difference between skinny jeans and slim fit jeans not until they wear them at least.
Pros and cons of wearing skinny jeans:
*Pros*
1. These jeans are one of the most top-selling styles of jeans in fashion history. Skinny jeans can be worn by both men and women.
2. These jeans are available in every clothing store because of the increasing popularity day by day these jeans come in varieties of colors, sizes, and styles
3. These jeans Can go with anything. Shirts, sweaters, hoodies, and jackets, etc and these jeans make you look slimmer.
*Cons*
1. These jeans can be very uncomfortable if you can't find the right fit for yourself so it is better to purchase your right fit.
2. If you are not skinny, then these jeans are not for you as they might not look flattering on a non-skinny person.
3. These jeans are not your all-day jeans as they are not that comfortable if you want to wear them all day long.
pros and cons of wearing slim-fit jeans:
*Pros*
1. Slim fit jeans are available globally, so you can shop at ease as these jeans are available almost at every corner of the world.
2. These jeans look great with everything and you'll look bright in any outfit. You can have a variety of alternatives to wear with these jeans.
3. People with different body sizes can wear these pants as they'll look great on almost everyone if paired correctly and also these jeans are durable and last longer.
*Cons*
1. These jeans can be expensive as they are made with high-quality materials so this is not affordable for everyone
2. Slim-fit jeans can be uncomfortable if you can't find the right fit for you, so it's recommended that you find a perfect pair for you.
The choice is yours!
What Body Type Looks Good In Skinny Jeans?
If you have a pear and hourglass body figure or we can say rounded hip type figure then you must try skinny jeans but do remember to try dark wash shades as it will enhance your look and if you going to purchase lighter wash jeans then make sure you're body is apple or athletic
What Body Type Looks Good In Slim Jeans?

A straight body with an athletic physique looks good in slim jeans. And it will give a gorgeous look with the choice of right top and footwear. You don't have to wear so tight that they are too snug around the waist and with slim jeans, the body will look tall.
So the choice of jeans according to the shape of the body is very important.
How To Choose?
Not all jeans are made for all body types. Most of the fits tend to suit different body shapes differently. Thus, finding your perfect pair of jeans is difficult. But no Worries here are some tips to find your perfect body fit jeans:
TIP 1: Know your body type
Before purchasing anything you should know your body type and size as it helps you to find the perfect one fit for you. So look for the jeans that compliment your body size perfectly.
But always remember one thing: every woman has their own body size and beautiful skin so Accept it and show your best in it.
TIP 2: Invest in Good Quality
Investing in good quality and a good fit makes your wardrobe last longer and we all know that cheap fabric does not give us the level of quality satisfaction that an expensive one gives. So it is definitely a good option to invest in good quality
TIP 3: Try Different style
Always try some different styles as trying different varieties and styles help you to know your best look and also different styles definitely give you a unique or different look.
Alternatives For Skinny And Slim Jeans?
When it comes to trends, there is a whole world of options out there for a pair of jeans. People truly tend to love Skinny jeans as they are classic and fail-safe choices. Without further ado-
Here are some of the alternatives for skinny jeans:
1. Slim jeans
These jeans are perfect if you are looking for jeans that are neither too loose nor too tight. These are more fitted jeans and are perfect if you are looking to dress up for an occasion.
2. Tapered jeans
These jeans have narrowed openings at the ankle which can be designed with a relaxed fit or a tight fit and the beauty of these jeans is their versatility. These jeans basically give a slightly more slimming impression and look great on most body types which can be paired with any kind of shoes and shirt.
3. Chinos
Chinos are a unique style of trousers and were first designed for soldiers. These pants are a great alternative for skinny jeans as they are comfortable and offer a fitted feel. Without being labeled skinny pants they are adaptable and will fit in with almost any outfit and style. These are perfect and they will ensure that you are looking stylish.
Some slick alternatives for slim jeans:
1. Skinny jeans
Skinny jeans are basically tight lifting jeans with narrow leg fitting which is usually made with stretch denim to make it more comfortable and versatile. These jeans are best for informal occasions.
2. Customized tapered jeans
These are new additions in the field of jeans and have hit the top of the list for many as they are absolutely classic when it comes to jeans. These jeans have unique cut works and can be paired with some simple plimsoll shoes for a relaxed look.
3. Slim tapered jeans
These jeans are a modern twist on the slim jeans and have a skinny fit towards the ankle which gives the illusion of a slimmer fit. They also have comfort stretch which means they have the comfort of everyday jeans and these jeans can be smartened up with a pair of boots with a button-up shirt.
Outfit Ideas for slim fit jeans
As we know jeans are suitable for everything. you can pair your jeans with every style. So it is your responsibility to flaunt your style
1. T-shirts:

Plain t-shirts can work perfectly with your slim-fit jeans as this is the most common and simplest way to flaunt your look with a simple t-shirt and also this look is budget-friendly. You just need to focus on the color contrast of your t-shirt and jeans.
2. collared shirt:
A collared shirt can give you a formal as well as stylish look. The one thing you should remember always is to try to keep your shirt color different from the jeans.
3. Cardigan/Sweater:

Our third look can be created by some efforts. Just wear a loose sweater or a cardigan (sweaters are the best friend for the jeans)and pair it with your slim-fit jeans and add sneakers too for the footwear.
4. Blazer:

Wear a plain white shirt and tug your shirt in your jeans and just throw a blazer over your shirt and for the footwear, you can wear bellies, heels, or sneakers, and yeah that's it
5. Jacket: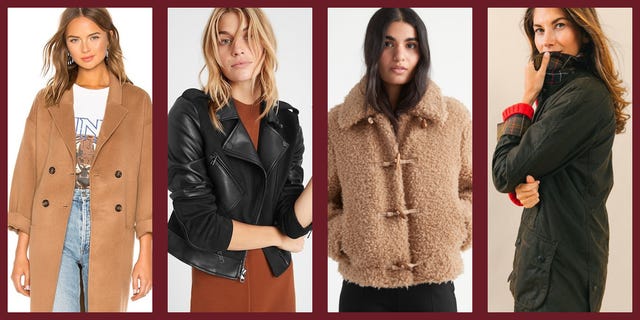 A light shade Denim jacket over a neutral colored plain top (grey, white, light pink, etc)and then a dark shade of slim fit jeans will look great. Jackets are known to complete a look at their best potential, so wearing slim jeans with a jacket wouldn't be that bad of an idea.
Some outfit ideas for skinny jeans
1. T-shirts:

We already discussed above that t-shirts are a good match for jeans no matter whether it is skinny or slim fit jeans. Just add a pair of sneakers and you are ready to go.
2. Plain shirt:

Pick a Plain color shirt and wear it with your dark wash jeans and add white shoes or sneakers for the footwear and now your look is ready
3. Cardigan over shirt:

Cardigan is a versatile outfit so you can wear it with anything(high-waisted pants, jeans, t-shirts, and skirts). Pair your skinny jeans with a cardigan over a plain shirt and for the shoes, you can go for sneakers.
4. Tube top:
Tube top helps you to flaunt your shoulders. Just make a messy bun or a high ponytail and pair your favorite tube top perfectly with skinny jeans and yes, it will help you to look gorgeous and flaunt your body too
5. Crinched waist top:

For summer, these cinched waist tops with your skinny jeans and a pair of heels or bellies look gorgeous on you and you can also enhance this look by using some accessories.
FAQ
1. How tight should skinny jeans fit?
Having a perfect jean fit can be quite troublesome but knowing exactly what you want can help you a lot in having a perfect fit. We suggest that it should fit around the waistline and it shouldn't be so tight that it pinches your skin or makes you feel uncomfortable
2. Can you wear skinny jeans if you have big thighs?
In simple words, it's a big yes! Skinny jeans have a tendency to snug around your legs so if you have big thighs, skinny jeans can help you to make your thighs seem more enhanced and You should probably say yes to skinny jeans if you have big thighs and a petite woman will look more attractive in these Jeans.
3. Should I wear a slim fit or a regular fit?
It all depends on your body type. If you are confused between any of the jeans then you need to identify your body type. It'll help you to decide on what your body will look the best in. Although for petite pear or hourglass shape, slim jeans are considered as best and for the athletic bodies with tall legs skinny jeans are the best choice.
Conclusion:
Here we are with all our points on slim vs skinny jeans. These jeans have gained much popularity and they will be in trend for a long time. These are the perfect compromise for your wardrobe and they should be must-have pants in your Wardrobe since they are in trend and provide comfort, optimum flexibility, and movement.
As they are stylish, versatile, and comfortable they are great going to-go options and they can be styled in a range of ways. We have explained everything we knew about skinny jeans and slim jeans and we hope you got everything you wanted to know from this article.