Styles have no barriers whether it's about jeans or jeggings. Jeans and jeggings look like twins but are cousins. Didn't get that? That's where fun is about.
Identifying the exact denim type in jeggings and jeans can be complicated without touching it. Jeggings are designed to wear jeans with comfort and style of leggings. And if you never owned one, this is an exciting blog for you.
Visibly, jeans and leggings have texture differences only but the wearer can discover a lot more ahead. Material components used to frame both the clothing are not the same. Also, jeggings are much more comfortable than jeans.
This in no way proves that any of the fashion is better than the other. Let's know 'why and how's about Jeggings Vs Jeans.
What are Jeggings?
Jeggings were a significant innovation to fulfill the demands of tight-fitting pants, a couple of decades ago. Gradually the revolution successfully sustained women communities.
In simplest terms, they are a hybrid form of jeans and leggings, designed to hug your lower body quite more than jeans and satisfy comfort goals as well.
Why Jegging is a Must Wardrobe Essential?
Jeggings are that can never fit you badly. It revives your legs and frees you to jog, gym or work. It can comfort you in rooms, accompany you to trips and pubs, style you up for photoshoots, and more.
The basic reason why jeggings are a must wardrobe essentially is the printed and shaded trends of jeggings always ready for an adorable look. Moreover, the jeggings availability online has boosted up the overall jeggings production and consumption like never before.
What are Jeans?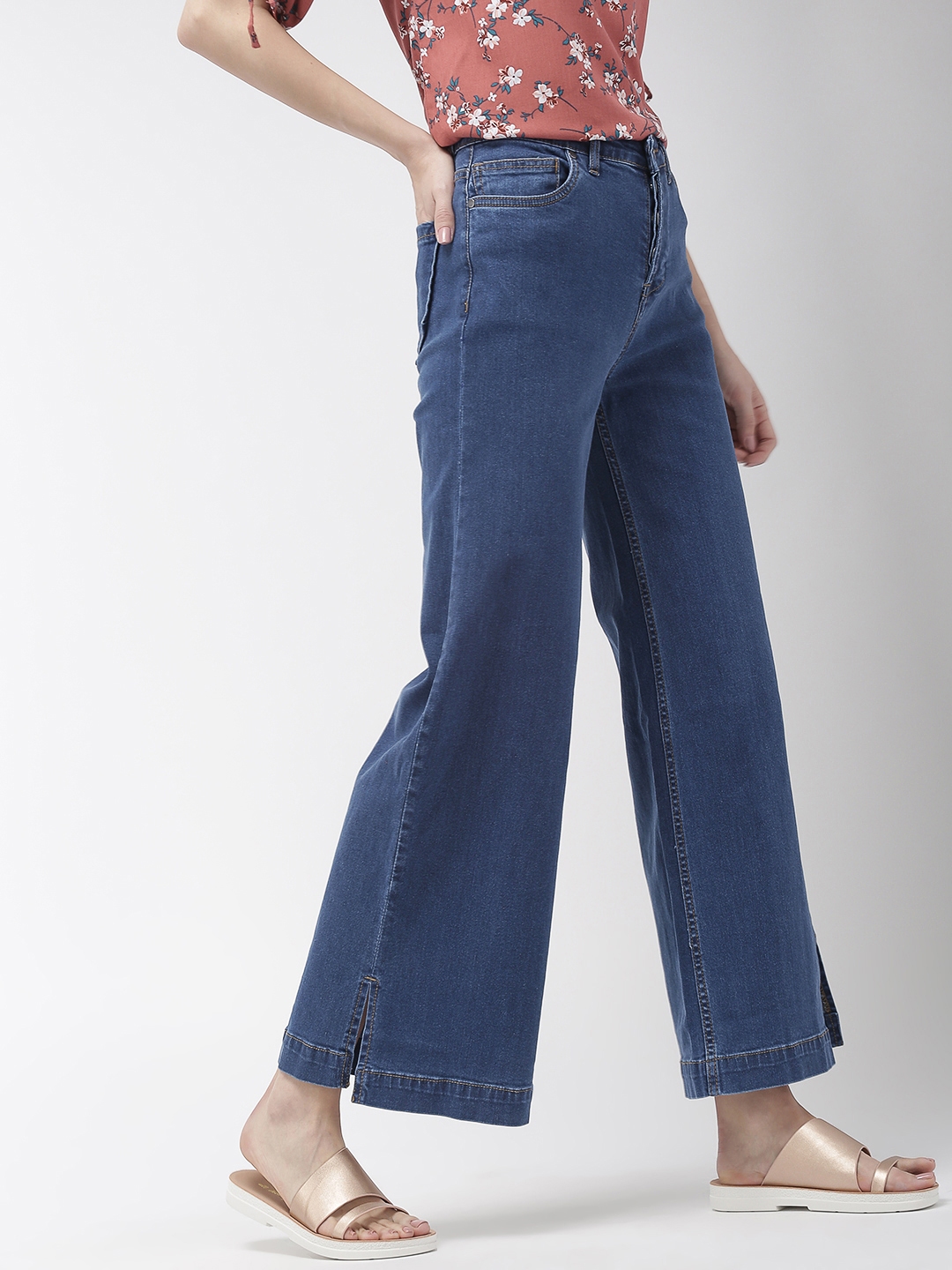 When it sounds like Western trousers, denim, or blue savage pants, well it is obvious that these are the terms for jeans. Cotton fabric designed in the 19th century became the talk of the town and fashion clothing since the 1900s has just registered itself as part of western life. However, jeans have outspread globally in modern days.
Why Jean is a Must Wardrobe Essential?
Jeans are reasonably best pants that level you up in modernization as well as the easiest look to carry. Somehow jeans have become a westernization statement to wear anywhere on earth. Initially, blue jeans were the American recognition, but with years, it has settled with the generation.
Jeans don't just count for style. Slipping in jeans makes it feel damn free like a hip-hop butterfly and empowers it with confidence. This is why jean is a must wardrobe essential. The classic wardrobe
Jeggings Vs Jeans; Which is Better?
Though less in comfort as compared to jeggings, jeans do not have such daily wash routines. You can use them longer without washing than jeggings or leggings. On the other hand, jeggings are not just some tight trousers identical to denim. Jeans are zip pants constructed with non-stretchable material while jeggings lack zips but they've room for elasticity and stretching.
Not all temperatures can stand jeggings. It is a big yes to wear jeggings for style, however, wearing one for the entire day can't be useful enough.
Which looks Better: Jeans or Jeggings?
Both types of denim and jeggings are better options for the style craze. The ideal looks depend on person to person, countries from hot temperature to cold, and brands. Before comparison let's have a look at the why and when to wear jeans and jeggings individually.
Jeggings may have more zips than skinny jeans but not for fitting purposes just for style enhancement. The straight waist design in the jeggings is quite different from the skinny jeans to look unique. Both skinny jeans and jeggings are casual zone clothes. But the flexibility and mobility provided by jeggings to look like wearing jeans without jeans make it a win.
How to Style your Jeans?
Before the advancement of textile technology with typical structural and textual experiments with material to form treggings, leggings, and more, jeans were a part of jaunty wardrobe collections but now the style has accelerated from just lively looks to something more professional.
So, we have come up with 5  gorgeous ways on How to style your jeans:
1. Dressing up like a sniffy lady in the room with voguish denim jeans and pairing it with hot camisole or crops would have been popular norms.
2. In a busy work schedule, putting on a Levi, Zara, or Lee with formal shirts or Jackets looks cool enough than any other clothing.
3. Black skinny jeans with cherry red shaded top and track boots are the hot bossy look.
4. The dark green loose top with black skinny jeans could also go well for those captivating looks.
5. Go for a fascinating look with a Furry vintage jacket with skinnies to add that old charm to your wardrobe and life.
How to Style your Jeggings?
Jeggings, the gorgeous pants are for hip hop ladies who want to feel independent enough at any time and all day long. If you've limited your jeggings to casuals, you are missing a lot. They can be best for your formal spirited day as well as for your casual outgoings.
Are you looking for exciting styles with hot jeggings? Here are the finest ideas to go for.
1. Pick up any sweet-colored crop top and pair it up with royal blue jeggings and dark-colored sneakers to put on a moody look for the weekend.
2. Try out Yale blue or cyan blue jeggings with back pockets with formal white shirts. Also, add black ankle boots.
3. Darker shades of jeggings like Sapphire blue or midnight blue would fit you right with grey T-shirts and denim jackets.
4. Ultimate black jeggings engineered with multiple zips on thigh portions are best to wear on long drives. What say?
5. How about a wrap top with jeggings in buttons? Trust us it doesn't just sound good, but flairs heavenly too.
What's the Difference in Comfort between Jeggings and Stretch Skinny Jeans?
Wearers have particular perspectives for skinny jeans and jeggings, however, the comfort to wear for both may vary. It goes without saying that skinny jeans are tighter than jeggings. So The tight skinny jeans tend to put pressure on your belly which might cause you heartburn and digestive issues. If you are a skinny jeans lover and wear a tight one often, this might not be the best idea for you as its longer usage can cause discomfort and itchiness. Whereas, a jegging can be adjustable wear for any body type, be it slim or chubby, making it less of discomfort and uneasiness on your body.
Unsaid Rules of Wearing Jeggings vs Jeans (Dos and Don'ts)
Anything more than limitations can harm. Hence there are some approved limitations for use of jeggings and jeans, that are really disclosed by clothing professionals. Fashion is not that easy to adapt nor it is well and good for all.
Do's and Don'ts for Jeans
Jeans for normal casuals to put on in the early twenties. There were fewer substitutes for tight casuals, especially skinny jeans.
1. Avoid wearing jeans for 6 to 7 hours at a stretch in a day. The sweat produced by the tightly covered skin leads to a yeast infection in the body
2. Never use the same color of jeans and top until it's darker shades like green or black. Even if you do, a denim jacket might help.
3. An important disclaimer for wearing jeans- if you are not used to wearing jeans, taking prior advice on the fabric is well to do. Since the fabric might be allergic to you. (In rare cases)
Do's and Don'ts for Jeggings
We love jeggings for comfort reasons but they can be desperate if used regularly or most of the time. Jeggings for bulky people can be troublesome to wear.
Never trust jeggings for overwork out. Bending restrictions of legs can be harsh to the body. Jeggings are favorable in winter seasons when there is no sign of sweating.
A tighter one can be highlighting and flattering.
If you have itchy infections on your belly, you must keep away from jeggings. Pajamas or fluffy pants play a quite better role.
Benefits of Having a Jean!
Pair of blue or black denim jeans have done a lot of us a favor with just manufacturing the most fashionable pants. Here's how jeans have so much to serve
1. Formal Wears
Jeans can be counted on for formal wear to the office and school unions. They have been a part of the dress code of formal meetings and confident interviews as well.
2. Jeans Empire in Casuals
In an honest survey, jeans have been recorded as the most opted casual to put on for every now and then clothing. Jeans have captivated the generation for a couple of decades. Goodwill is yet hard to be distracted.
3. Switch Dress up
You can always switch jeans fashion with typical tops, shirts or other apparels suitable shoes and accessories. We would even go as far as to say that jeans are basically your go-to essential, even if you don't have much to style with, these cuties can go with anything. You don't have to stick with one outfit or a particular style when it comes to jeans.
4. No Frequent Washing Routine
Jeans don't need a regular wash unlike most of your clothes and can go weeks or even months without washing, if not used much. Even if you wash jeans regularly, most probably they will end up fading away from their colors. It can come in handy, as faded jean is an evergreen fashion statement and wouldn't disappoint the fashion era anytime soon. However, a good fade of the fabric does depend on various factors like the material used in manufacturing, the number of washes, etc.
5. Durable than Other Pants
Mentioning the durability of jeans, it ranks best in comparison with other pants. The tough texture would last longer if taken care of properly. Jeans are not like any of your basic delicate garbs, most of the jeans are made out of denim fabric, one of the most durable and sturdy materials available in the clothing industry. So you can rely on the long-lasting characteristics of jeans without hesitation.
Benefits of Having a Jegging!
It's pellucid enough to wear jeggings for comfy but interestingly the science of jeggings includes much more than that. Here's why spend on jeggings to buy them.
1. A Jeans without a Jeans
Like vegan meats that are not exactly meat but identically same as well as not different in taste too, jeggings happen to be constructed uniquely to look like jeans. Jeggings are generally flexible and stretchable in nature and usually don't come up with that stiff fabric consistency like denim, however as mentioned above when it comes to looks, you might have to look twice to observe the difference between the two.
2. No Mobility Restrictions
They are tight elastic trousers, designed not to restrict your mobility like most jeans. Its flexible and comfortable fabric would help you to move around freely. Even if you have an hourglass-shaped body or a heavy lower body in general, jeggings are the best fits that you can go for to have that denim ambiance without having to deal with much rigidity and discomfort around your thigh areas.
3. Wear for trends
Jeggings are a trend these days. Fashionable print designs and colors are talks of the time. Doesn't matter how many of those stretchable jeans you see in the market when it comes to comfort with fashion, jeggings will always be the right and popular trend to settle for. Not to mention, jegging is the most basic, reliable, and descriptive style of the decade, making it in trend for the year 2022, and hopefully for the upcoming years too.
4. For gym lovers
This is the best costume you can adapt for your workout hours. The tight-fitting pants with utmost comfort hold the grip on the knees making it easier to exercise. If you are a frequent gym visitor you must have noticed that stretchy legging kind of fabric, worn by almost everyone. Well, you guessed it right, these are jeggings which are adored by almost every gymer. Jeggings can be your best choice if you are looking for mobility and style at the same time.
5. Favourite Formals
A day when you can't stand uncomfortable jeans to your meetings set a style with cool jeggings just then. It's a misleading fact that jeggings are only meant for a breezy look. Jeggings also have a great capacity to give you a professional and sober look. You can basically wear jegging with a button-down shirt and blazer to give you a more sophisticated and formal look.
Top 5 Jeggings Brands!
Well, being a trendsetter clothing, production of jeggings per year has been soaring reasonably. Innovations in clothing with tech development have embraced the quality a customer wants. Also, the availability of jeggings online is another factor that it's replacing the jeans in a huge mass. Here are some coolest brands ever producing the best jeggings.
VERO MODA
Established in 1987 middle Jutland, Vero Moda jeggings have been aspiring and inspiring new clothing startups for a long time. The experience of manufacturers, efficient quality, and trained updated styles have made Vero Moda one of the top 5 jeggings brands.
ONLY
 Initiating their efforts since 1995, ONLY is the leading jeggings manufacturers and marketer. The brand has loyalty as well as a warranty of its products.
DOROTHY PERKINS
Another successful jeggings brand Dorothy Perkins started in 1909 by a farmer family is a well-known corporate to produce the most stylish jeggings every girl wished for.
UNITED COLORS OF BENETTON
Italy-based United colors of Benetton set its roots in 1965 as a clothing brand. More than 1400 employees are contributing to the best outfits out there at United Colors of Benetton. If you're to successfully explore wonder wears, go for Benetton.
MARKS AND SPENCER
The best outfit world of Mark and Spencer has a unique collection and a demanding market. From t-shirts to jeans and jeggings, you'll find all you craved ever.
Top 5 Jeans Brands!
The legs love jeans. In the Era of prioritizing impression, brand and quality matter most. There's no sign of being blue in the world of blue pants. Hence let us have some trusted brands for our favorite pick-ups.
LEVI'S
One of the oldest and genuine brands since the 1850s, Levi's has an amazing wardrobe collection that your eyes may fall for. The variation and varieties won't let your expectations down anyway.
WRANGLER
Here's another bang-bang universe of denim, wranglers. The weaving world of Wranglers goes with dope jeans loved globally.
LEE
The hard groovy jeans brand Lee has been a dominating market for jeans and its quality for sure. Printed, bold, multicolored, shaded, or hot are likely available.
SPYKAR
The premium jeans of Spykar have an incomparable soul of denim fabric to make you look like a highlighted lady on the floor. Spykar can also be counted on for budgeted wear.
DIESEL
Trends walk from here. No wonder Diesel jeans international fashion brand has captured a huge market of denim production. A special comfort felt in their clothing holds customers' loyalty.
FAQs
Do Jeggings Count as Jeans?
Jeggings can only be used as jeans. Jeggings and jeans have huge differences hence it cannot be counted/called as the same.
Do Jeans Last Longer than Jeggings?
There are quite a few wash routines for jeans. The life of the clothing depends on the fabric, how it's been used, and the washing style.
Are Jeggings Jeans or Leggings?
Jeggings are visibly jeans and textured as leggings. The comfort and stretchability say that it's leggings.
What's the difference between Jeggings and Treggings?
Jeggings are less thick because of their fabric that differs from one used in treggings. Treggs are not a proper jeans look-alike while jeggings are.
Are Jeggings the Proper Bottom to Wear in Public?
That's really on you, how you carry outfits, style, and uniqueness. Jeggings can have multiple patterns and designs. A perfect look must have both attraction and comfort goals.
Are Jeggings More Comfortable than Jeans?
The elastic trouser jeggings have much comfort as compared to jeans. Jeggings allow more free leg movement than jeans.
Conclusion!
Jeggings vs jeans can have a lot of reasonable debate as to why to buy what. Both have a significant contribution to fashion background and comfort experience as well. A pair of jeggings may look like jeans and serve like leggings while the fun of jeans has its own taste and cannot be matched.
This blog is dedicated to honest debate and reviews between the two hot denim products. Love what you wear and do share it further. Happy reading!