To start with, we can say that Japanese Street Fashion is about showing off the different clothing styles in the latest contemporary period of Japan. It includes a mixture of fashion and clothing cultures from both inside and outside Japan.
It covers all the popular brands across the world. The Japanese Street Fashion maintains its own distinct style through this event.
They are extremely enthusiastic and Avant-garde in nature. This event has many similarities with the haute couture themed Fashion Catwalk event held in Europe.
This event was very much in a craze during the early '90s and also in the first ten decades of the 21st century.
Many new and fashionable trends rise from this event. This event has also been mentioned for its promotion in the notable fashion magazine of FRUITS.
History
Source: Kadindogum
 The Japanese hip-hop in the year 2003, was very popular among the underground club parties of Tokyo. They were the ones to influence the fashion industry of Japan.
The hip-hop band had its music full of zing which instigated the people of Japan to dress up like them and set fire on the streets of Japan.
This street fashion show showcases different styles of fashion. To name a few we have Lolita, Gyaru, Ganguro, kogal and the kimono style.
Popular trends of the Japanese Street Fashion
Now let us discuss some popular trends of the Japanese Street Fashion show.
The classy looking hip belt bag:-
Source: SmarterTravel
Tying a bag around the waist with a belt is very useful and also easy to use. This trend is very practical, hands-free and gives a stylish look to your outfit.
This trend has marked itself as an incredibly high-end piece of style in Japanese Street Fashion.
Source: Matcha-jp
There is no such thing as using a specific colour while walking on the streets. You are always welcomed to attract the crowd with a range of vibrant colours.
Wearing outfits featuring pop colours have also been featured in the FRUITS magazine. This style was popular in the district of Harajuku. It made an atmosphere of uniqueness and boldness with the styles.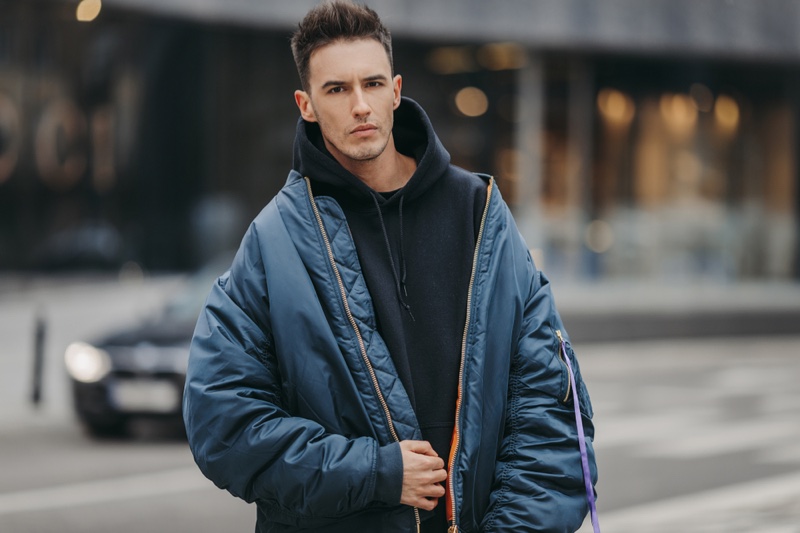 Source: Google images
The trend of wearing oversized dresses was in huge demand by the people of Japan. It was very popular in Japan because it looked very dramatic as well as heavily silhouette.
Both men and women used to wear hoodies, suits, pants and dresses of large sizes. Sometimes high-quality brands were also referred for sponsoring this event.
Source: Google images
The plaided jumpsuit was in high demand during the times of Japanese Street Fashion. At times these plaided jumpsuits are styled with plaided coats.
They have an association with grunge in the late 90s and look similar to the uniform skirts in school. Recently, they have updated the styles of plaided fashion in Japan.
Sneakers in style
Source: Google images
Wearing shoes completely unmatched with your dress colour also was one of the trends of the Japanese Street Fashion.
It has been consistent since the 90s. Popular brands like Converse, New Balance, Adidas and Nike were the Japanese Street Fashion brands to try and they were highly in demand during the show of Street Fashion.
Later other popular brands like BAPE, Asics and Flower Mountain also added sponsoring the show with their sneakers. This trend was considered to be very bossy and stylish during those times.
Living and loving the layers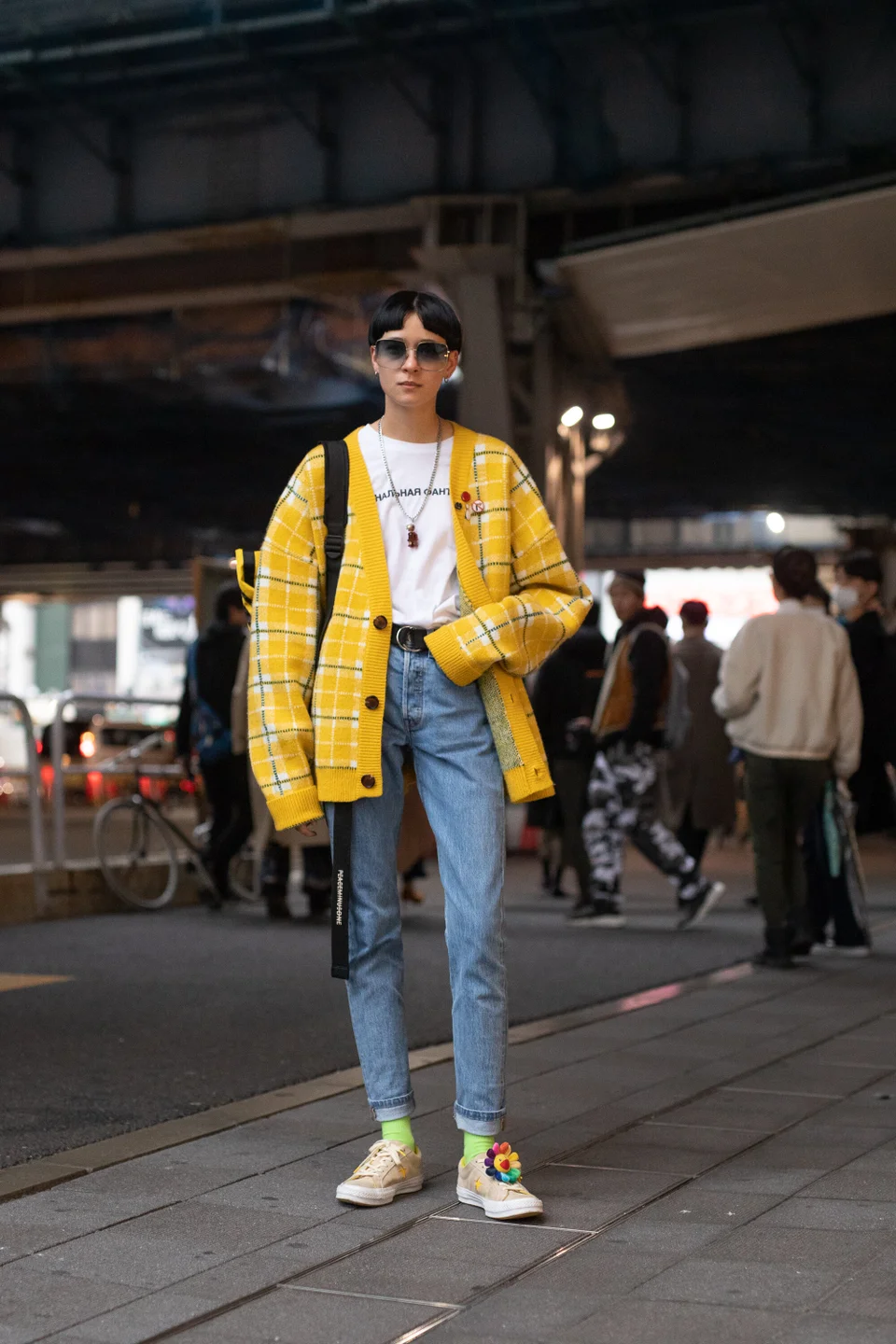 Source: Google images
The art of layering adds both dimensions as well as depth to all kinds of outfit. It was a trend of mixing and matching various patterns, designs and textures of the dresses. This gives them a sober sophisticated look.
The temperature of Japan is extreme during the winters. Therefore, wearing layered clothes is very important for people as it keeps them warm. This trend is a very good way of protecting oneself from the cold winds without sacrificing fashion.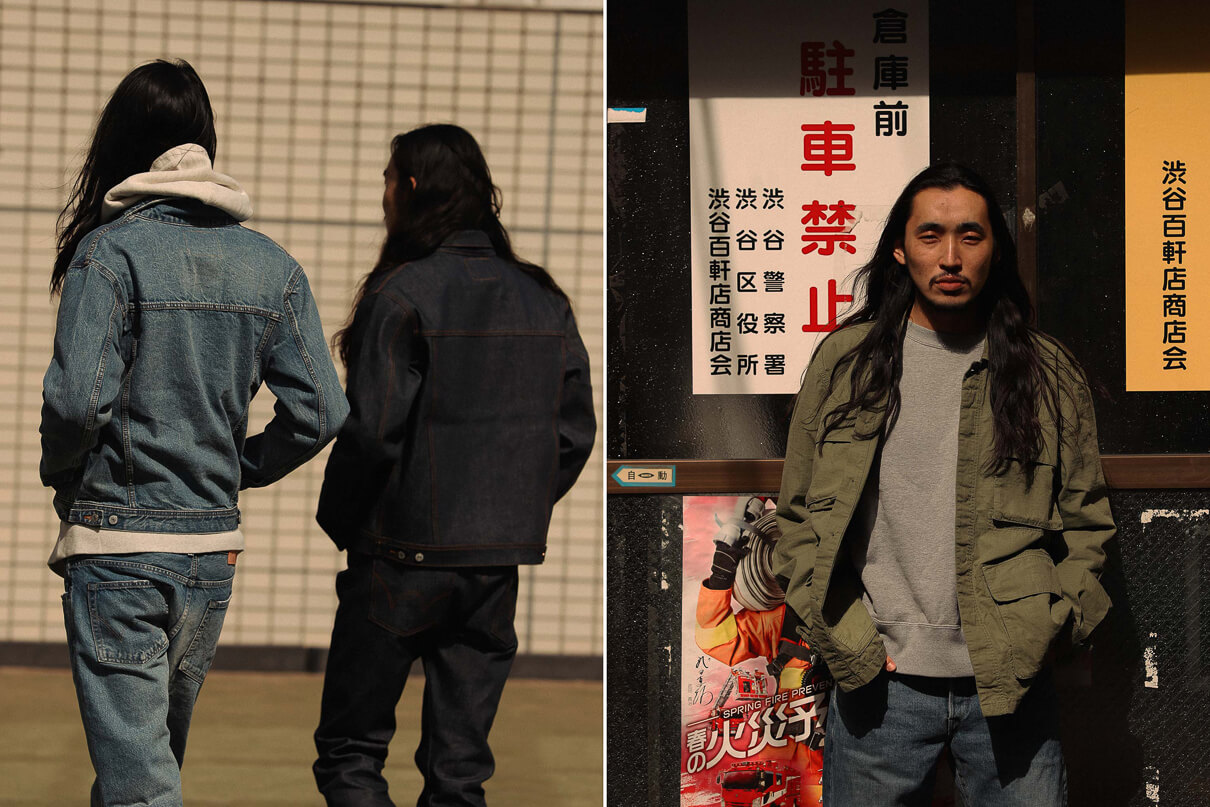 Source: Google images
The era of denim has been consistent in all these years at all places. It is labelled as a timeless fabric that can carry fashion in both casual and edgy outfits.
The fine fabric of denim can be used for making both dresses and trousers. The era of denim still rules in Japan as more than 90% of denim products are manufactured in Japan and transported to other areas.
Source: Google images
The trend of loose fabrics like knitted cardigans of soft and light colours was known as More More Kei during the Japanese Street Fashion.
People who love to embrace nature and are free-spirited loved this trend. With its neutral brown and white creme colour, it showcases a very earthy look. This was also considered to be very whimsical in the times of the street fashion show of Japan.
Styling with modern and monochrome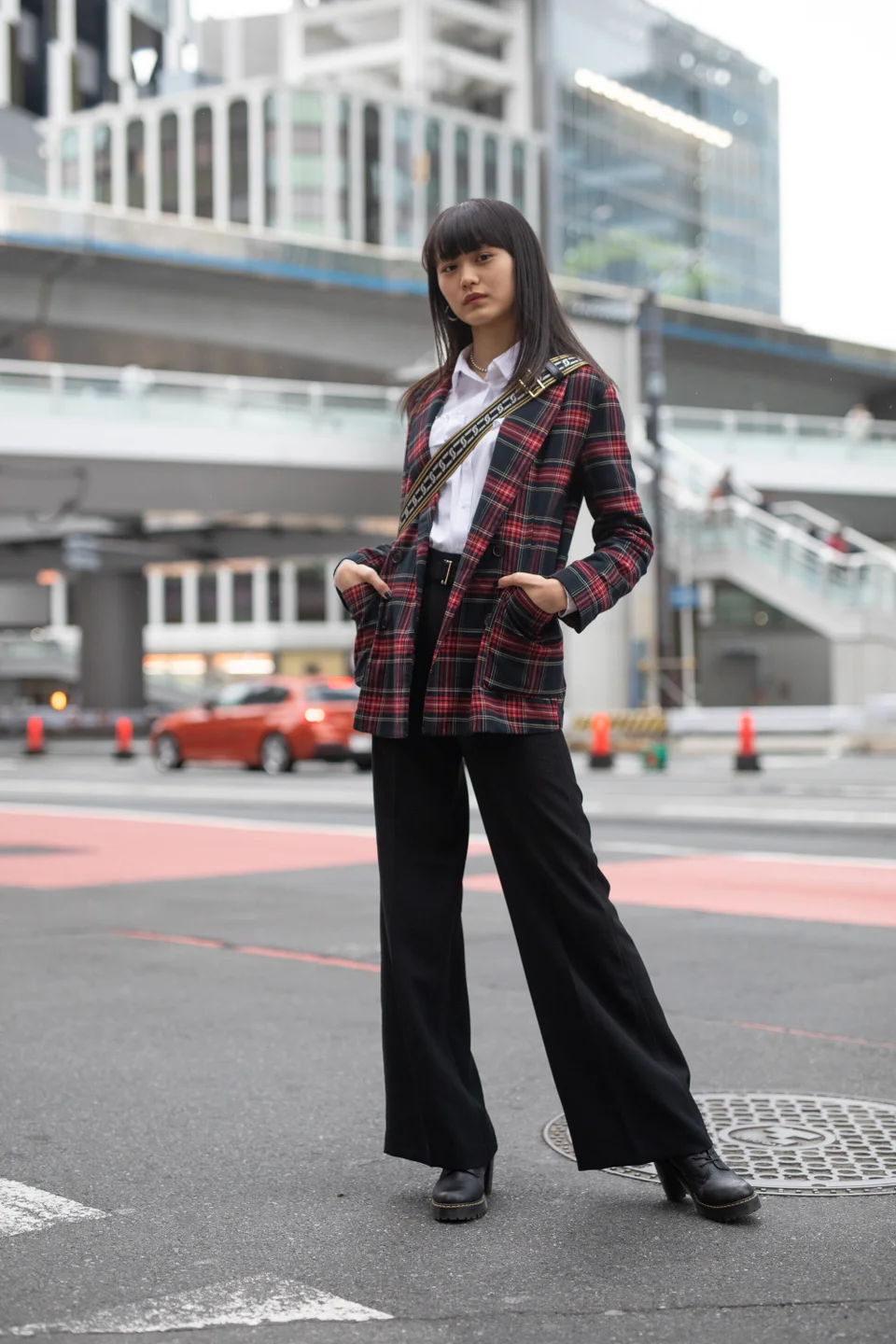 Source: Google images
This trend was about covering bodies with something sleek and smooth with solid colours. This would cover the whole body from head to toe.
This outfit beholds a sharp, contemporary as well as and incredible look that will be worth staring at. This trend was highly popular in the times of the Japanese Street Fashion show.
Japanese men's street Fashion
The Japanese men have different tastes in fashion and their personalities in fashion are also very distinct. Here we will be discussing the different styles of Japanese men.
Source: Pinterest
This particular style among the men of Japan is actively present even today. They have a bold military look with rocker locks.
They focus on the high end but finish being rugged. This trend is considered to be a conservative manner of styling oneself. I glamoured with perfect hairdos and accessories, it will look fiercely beautiful on the men.
Source: Pinterest
This style is loved by most guys in Japan. It is sober, sophisticated, minimal and not too loud on men. It looks better if styled with solid colours especially the natural shade. It will suit very nicely in corporate places.
Source: Pinterest
This fashion in men adds label. It is more likely to the previously mentioned crime Kei style.
They cover high Popular fashion brands like Prada, Gucci and Dior Homme which displays some pieces worth staring at.
Source: Japanesefashionweb
This style of fashion is for men who love styling themselves up with cosmetics. Although society has not yet accepted men to study or work about fashion and cosmetics, many men have taken the challenge of breaking this taboo.
This styling sense has close relations with feminine fashion and covers both high and low-quality brands. They emphasizing their fashion styles by implementing belts, hats, sunglasses and scarfs.
A combination of perfect makeup and hairstyles is also added in the styling sense to add extra spices.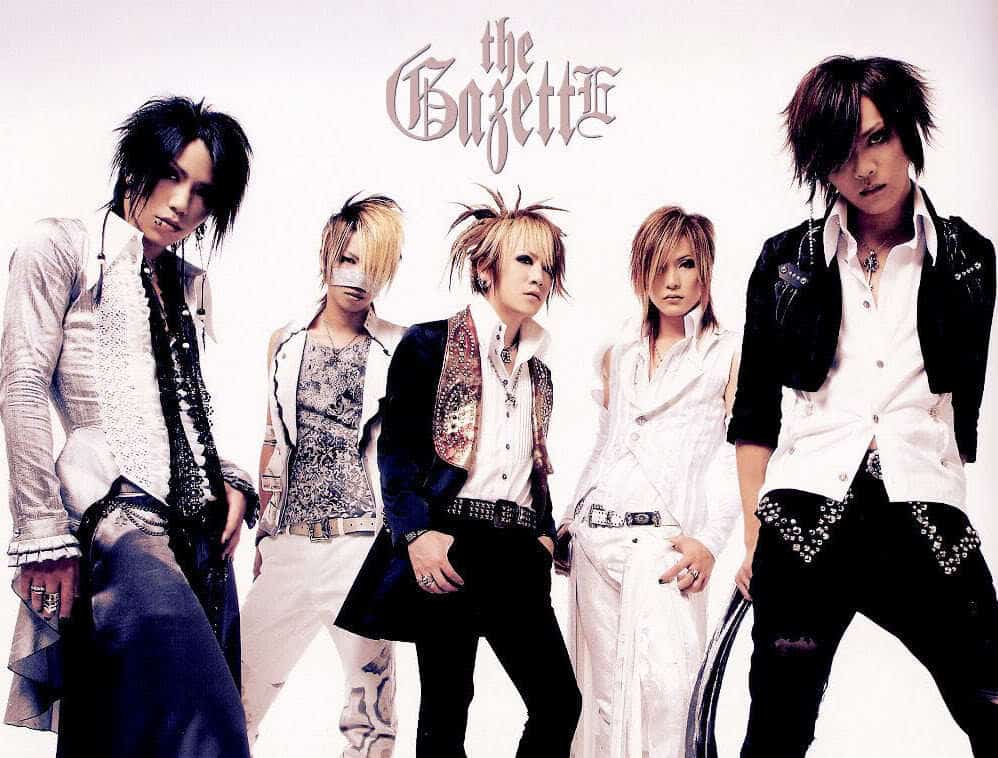 Source: Coolmenshair
This fashion sense is inspired by the music band of J-Rock. They involve black as their main colour. The men spice up themselves with black eyeliners, jackets of pure leather and piercing in the ears and nose.
Source: Pinterest
This style of fashion is highly inspired by the men fashions of America. They include hip-hop tradition with loose baggy pants and basketball sneakers.
Source: Attireclub
This styling sense is extremely incredible and distinct from the above-mentioned styles. Here, the men tan their bodies to have a darker tone and Design themselves by wearing flashy coloured clothes.
They have some similarities with the Abercrombie style from America. To add more enhancement to their look, they highlight their hairs with different colours.
Source: Stylegods
This is for the men who are into vintage fashion styles. They are easily available at any thrift stores. It is a beautiful combination of fashion sense by mixing the old with the new.
Japanese Women's Street Fashion
Just like men, women also have a variety of fashion styles around them. These make them more beautiful and sweet to the whole world. The following are the list of some top fashion styles adorned by the women of Japan.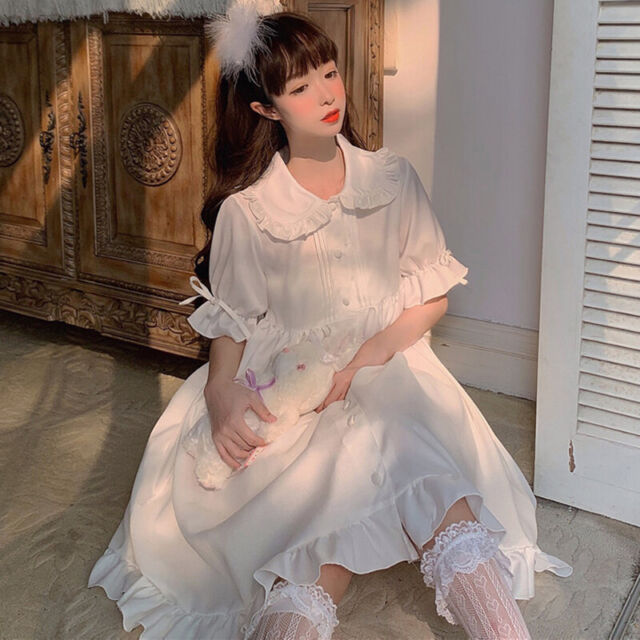 Source: Ebay
This particular style has different themes in it and hence can be categorised into different types. They are easily recognisable when in use by the women in the streets.
The women wear knee lengthed skirts and dresses over petticoats. The upper portion of their body is designed by wearing ruffled or lace-trimmed blouses and tops like the Victorian style.
The spare portion of the legs is covered with stockings topped with well-designed laces. The women put on boots over their stockings.
This fashion style is classified into Gothic, sweet, classic and punk depending upon the soberness, sweetness and classy look of the beholder.
Source: Tumblr
This is a street style fashion in Japan that particularly aims at glam girl styles. It was in great craze during the 1970s.
Women used to decorate themselves with wigs, fake lashes and nails. The concept of artificial beauty was very popular in this styling sense. It was highly Western in nature.
Source: Wikipedia
This fashion sense was very popular in the late 90s and early 20s. Women and girls wore vibrant coloured outfits and western dresses like mini skirts and dyed sarongs.
They decorate their hair and face by bleaching their hair, tanning their skin and adding fake accessories to their eyes and nails.
They paint their eyes with pop coloured eye shadows and liners. Other accessories like earrings, rings, necklaces and platted shoes wear used by them.
Source: Wikipedia
This fashion sense was like styling up the old school uniform. The length of the skirt was quite short and they looked very smart and stylish with loose ankle-length socks.
The girls added colours to their hair at times or just left them covered under the scarf.
Source: Amazon
This is the typical traditional fashion style of Japan. This style is still in use by most women. It is worn on special occasions of weddings, graduation and other events.
Nowadays, the traditional kimono style is mixed with modern designs like foot accessories and jewellery.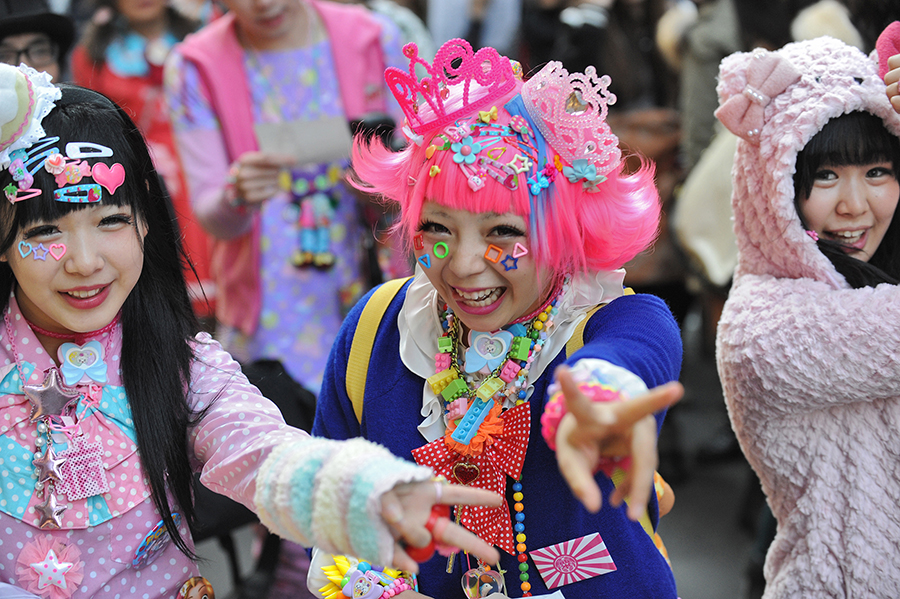 Source: Newvoices
These fashion styles in women are inspired by the musician's bands. Colour like pink, red, dark and rainbow are mainstream in this fashion style.
Girls dressed in plain solid coloured shirts with short skirts and hoodies. The makeup was simple and the hair was tied into a simple ponytail. There were no specifications for the socks, they could be of any length.
Faqs related to Japanese Street Fashion Punk
A lot of questions may arise after knowing about Japanese Street Fashion. To answer some doubts in your head here we have some questions covered in our article.
What is Japanese Street Fashion called?
Japanese Street Fashion is the show which covers many modern contemporary styles in the clothing department of Japan.
It covers both local as well as foreign Fashion and many fashion brands are involved in it. It is also called Gyaru.
What is Tokyo Street Style?
The Tokyo Street Style is a fashion show where people express thoughts and themes with their fashion. It embraces both harmonies as well as the culture of Japan.
How many types of Japanese Street Fashion are there?
There are different types of fashion designs for both men. They also have been categorised into various types like gothic, sweet, London, classic depending upon their types.
Generally, the red colour is used in cellphones, paints and cherries. It is a strong colour that defines strength, blood, passion and sacrifices. Therefore it's no harm in wearing red in Japan.
Is it rude to wear shorts in Japan?
Japan is considered to be a leg country and therefore we can wear the shortest skirt there. This will be considered a casual outfit in Japan.
Is the Japanese Street Fashion dead?
It's not like that Japanese Street Fashion is dead but it was more popular during the 1990s and now it is currently being off due to the Covid 19 pandemic.
Where can I buy Japanese Street Fashion?
The different street fashion styles of Japan can be available in all the online stores like Myntra, Amazon Flipkart and other styling apps. You can also get it offline in selective stores.
Conclusion
In conclusion, We can say that Japanese Street Fashion helped in improving the fashion sense of the people. They get to learn new styles and ideas from the show. Therefore, it is an important event in Japan.