The sun is shining bright and your head is getting hot!
Isn't this the most common thing we all face in the hot summer? You suddenly touch your head and feel that fire is burning there.
This feeling of getting your head heat up is not good for your health too. It can dehydrate your body and make you feel sick. So you need to find a solution to it.
There is only one solution to your problem and that is covering your head.
You need to cover your head but then you realise " What can I use to prevent my head from heating and maintain my fashionable attire at the same time".
Well, we are here to solve your problem always. So we are introducing the concept of fedora hats to cover your head. They will also be fashionable with your attire.
They were more popular in the early 20th century and were worn by both males and females. Therefore in this article, we will guide you in how to wear a fedora hat.
What is a Fedora Hat?
Fedora hats are soft brim hats that have an indented crown on the top. It has a typical shape of being creased at lengths downwards and pinched at the front on both sides. They are not familiar with the small brimmed trilbies hats. The fabric of a fedora hat is always wool, cashmere, beaver or rabbit. It was very popular in both men and women fashion during the early 19s.
 Types of Fedora Hats!
 We will be providing a list of fashionable fedora hats so that you can choose the correct one with your outfit.
Felt fedoras are the most popular fedora hats in the markets. These fedora hats are made from wool and animal fur felt. They are very comfortable when you put them on your head. Based on their texture, felt fedoras can be of two types: wool felt fedora hats and animal fur felt fedora hats.
Straw fedora hats are worn in the summertime especially during events like sports. They are casual in nature. You can also put them on when you're visiting a horse racing show or an outdoor wedding party. Straw fedora hats are very fine with their textures. They are shiny and brittle with their fabrics.
Wide brim fedora hats have a wide brim Ranging from 8-10 inches. They act as a shade and prevent the sunlight from falling on your face.
Short brim fedora hats have short or regular brims of 4 inches. They are short, funky and stylish but fail in protecting your skin from the sun rays.
Casual fedoras are worn for casual outings. They can also be called the daily go-to fedora hats. They are made of wool, leather and even cloth sometimes. They are available in all shapes from regular to pinched and round crowns.
Homburg fedora hats have distinct features of a taller and sharper crown with a circular dent in the middle. The brim is wide and curled at the edges.
Origin or History of a Fedora Hat
 In 1882, the first fedora hat came up and it was considered to be a female hat. During a French play, a man played the role of Princess Fedora Romanoff wearing that hat. That is how the term fedora was first coined for this type of hat. The fedora hats gained popularity from the mid-1920s. It kept its popularity consistent till the 2000s.
In the 90s Hollywood movies, we can see Fedora hats being popular among men. It was believed to define a lot of masculinity. Famous personalities like Michael Jackson, Justin Timberlake have been spotted wearing fedora hats to maintain their fashion.
How to Wear a Fedora Hat | Outfit Ideas
Fedora Hats with Baggy Pants
Style yourself with a pair of baggy pants, an oversized coat and fedora hats. Wear a white top underneath your coat and accessorize yourself with a statement necklace. Choose the black colour for your fedora hat.
Sweaters with Fedora Hats
For girls, if you want to look stylish with your outfit then put on a sweater and add a fedora hat on your head. You will rock the streets being comfortable and fashionable with your outfit.
Floral Dress and Fedora Hats
Take out your floral dress for your spring outfit and put on a blue coloured fedora hat. You will be the true definition of cuteness with this attire.
Dress in a pink top and printed tights and accessorize yourself with a fedora hat. Put a coat over your top and match your hat colour with your coat.
For the summer season, dress up in a cute floral maxi dress and add a black fedora hat over your head. This is the girliest dress you can ever put on yourself. Wear black heels to twin with the hat colour.
Nothing can be more stunning than combining your denim shorts with crop tops and fedora hats. This look is very cool and smart and you should definitely try it.
To look absolutely hot and stylish, try pairing fedora hats with long boots like combat shoes or knee-high Chelsea shoes with your fedora hats. Wear a cute playsuit with a black belt around your waist and then you're all set to shine bright with your fashion.
For men, fedora hats have been a symbol to describe their fashion. As a man, you can style fedora hats with your formal wear like suit and pants. You will have a classy statement to your attire.
Just like styling fedora hats with formals is super hot, casuals carry the same thing. Put on a white casual t-shirt, sunglasses and black jeans and wear a black fedora hat on your head. Fedora hats have a unique characteristic to make you stand out in the crowd and somehow flatter your whole outfit in a simple go. So if you ever think about flaunting a fedora hat with your casual outfit, a big thumbs up from our side.
The Striped Shirt with Fedoras
To make yourself unique amidst the crowd, you should try something new. Wear striped shirts and fedora hats to bring out your unique fashion.
Denim always carries its aura when it comes to fashion. Therefore, you should definitely pair your fedora hats with denim jackets and jeans.
Ever imagined how wild and exotic you will look with your fedora hats, t-shirts and buckles on your sides. If not, try implementing this style on yourself.
Folded Sleeves and Fedoras
You will look breathtakingly smart and handsome on folding the sleeves of your shirt till your elbow. Choose a dark coloured shirt and light colours for your fedora hat.
Rules to be Followed For Wearing a Fedora Hat
 The Do's
Always buy a branded fedora hat. They tend to last longer.
Before buying, give it a trial and see which hat looks good on you and choose that.
Choose sober and sophisticated colours for your hat.
For both men and women, make sure that your shirt has a definite collar. Collar shirts look good with fedora hats.
Put on your fedora hat and be confident when you wear it. Your confidence will make you look smarter.
The Don'ts
Do not pick up random fedora hats from anywhere you see. They tend to have very low-quality material in them.
Never choose pop or bright funky colours like neon, or neon pink for your hat. They look extremely weird.
Avoid wearing fedora hats with collarless t-shirts or shirts. They make a very awkward combination if you do so.
Avoid trying to cover your bad hair day by wearing a fedora hat. It will make your hair worse than before.
Do not wear a hat if you think your outfit is bad. Wearing a pretty hat with a bad outfit will make no changes to the outfit.
When and Where to Wear a Fedora Hat?
 You should wear your fedora hats in the right season. It makes no sense when you wear your fedora hat during the winter seasons. Always wear your fedora hats on the warm and cool days of summer, spring and fall.
Well, there are no definite restrictions on places where you cannot wear a fedora hat, but there is definitely a list of places where you should wear a fedora hat.
Fedora hats are worn by both men and women in sporting events like horse racing, athletes.
They are worn by the American cowboys in the village streets of America.
You can wear fedora hats in the theatres. Many men and women have been spotted wearing a fedora hat while visiting the theatres.
In foreign fall weddings, both men and women wear fedora hats along with their beautiful outfits. They think wearing fedora hats will make them look more good with their attire.
You can also put on a fedora hat when you're going into some fun event of trekking and having a picnic.
This is for both men and women. You can wear fedora hats with your party wear in the club and rock the dance floor.
You should put on a fedora hat with your casual outfits when you are on a beach. You will look very good and the hat will also prevent your head from getting heated under the sun.
You can wear fedora hats when you're visiting your partner on a Romantic Date on a summer day.
You can also wear Fedora hats in places of friendly meetings. These hats will look good with your outfit.
Things to Consider Before Buying a Fedora Hat
Consider your options while buying a fedora hat. There will be many choices in front of you but you need to make sure what suits you the best.
Choose your fedora hat according to your height, like tall people should wear wide-brim hats.
Do not always try to match the colour of your hat with your outfit. Sometimes try playing with colours.
Consider the size of your hat before buying it. If you don't want to cover your pretty face, then choose a wide brim fedora hat.
Always consider your facial proportions before getting yourself a hat. Long faces call for small fedoras while round ones call for the long fedora hats.
Use straw fedora hats when excessive hot and wide brim fedora hats for extra coverage under the sun.
Do not choose too many neutral shades for your fedora hats.
Top 5 Brands For Best Fedoras
Stetson Cromwell Crushable Fedora
Throughout history, this brand of Fedora hats has been the best overall hat for all men and women. It is made up of Crushable wool texture that will regulate your body temperature and give you a smart look.
Crew Packable Panama Fedora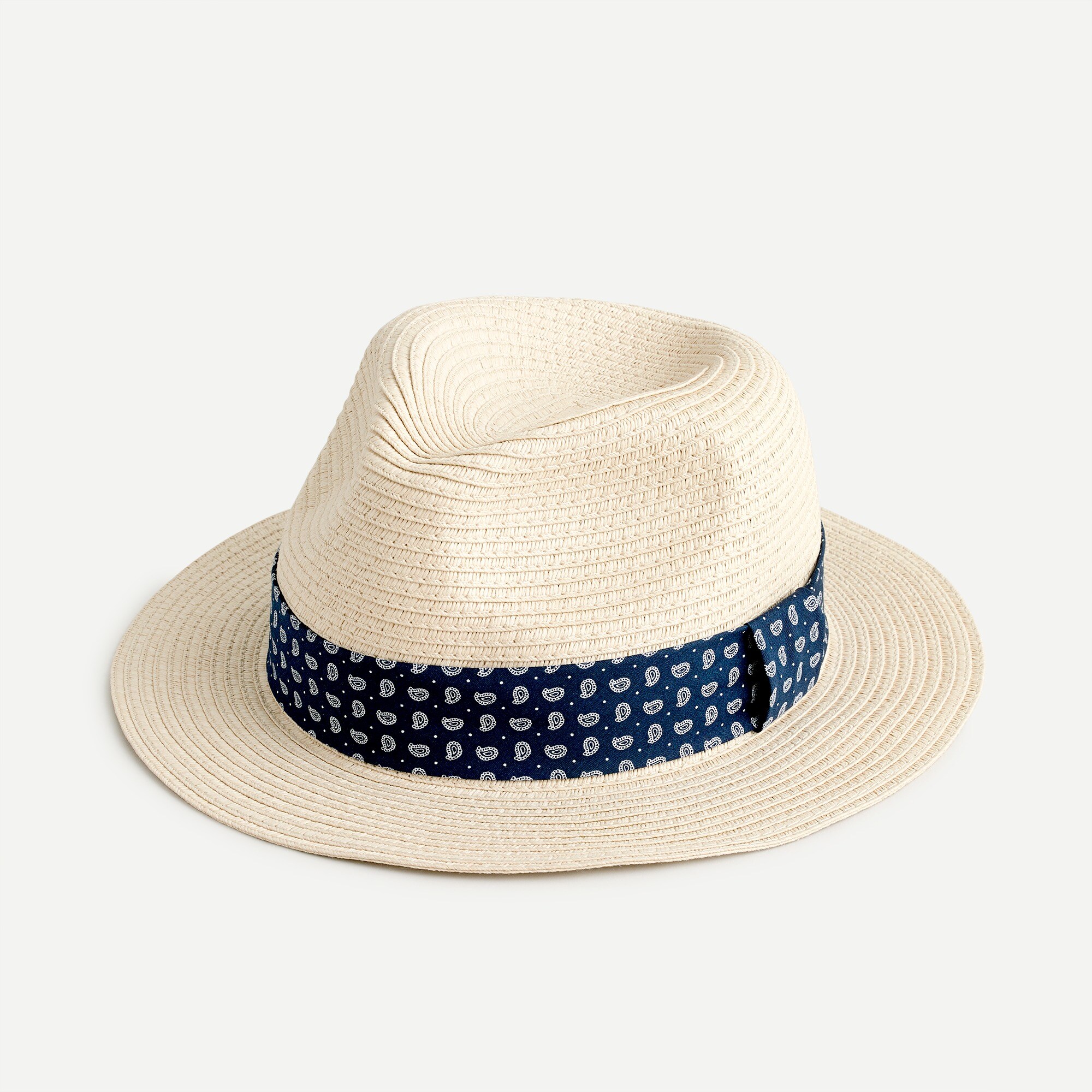 This brand is known for making the best summer fedora hats. They are lightweight and made with good quality straw so that you can wear your hat on the longer days of summer.
Brixton Messer II Felted Wool Fedora
This brand is popular for making the most stylish fedora hats in the market. It has a rich granite colour, and a high-quality rugged leather tied around the whole hat which makes it look awesome in a stylish package.
Bailey of Hollywood Fedora
They make the most comfortable fedora hats. You can wear them for long periods without having a sweaty or uncomfortable feeling. They absorb moisture and give you a fresh feeling. It is available in various colours.
Bailey Tino Snap Brim Wool Fedora
They are the most traditional fedora hats ever featured. They are available in both short and wide brims. They are available in plenty of shades so you can choose one among them for styling yourself.
Faqs about Fedora Hats
 What is the difference between fedora and trilby?
Trilby hats have narrow brims with curled-up edges, a compact tall crown with high sets of shallow indents to make a stylish teardrop shape. Fedora hats on the other hand have a full crown, brim both short and wide.
What kind of people wears fedora?
Fedora hats are worn by both men and women. People who love to define their sense of fashion and are very stylish with their attires wear fedora hats. Besides that, many sportspersons, actors and other people wear fedora hats.
Are fedora hats in style in 2022?
True and imperial fashion never fades away with time. The fedora hats are so elite with the fashion appearance that they are still very active on the trends of 2022.
What is the difference between Homburg and a fedora?
Fedora hats have an indented crown with a soft brim which gets creased down the crown and pinched at the sides. Homburg hats have a single dent with no such brim speciality. They are also known as gutter crowns.
What is a small fedora called?
A small fedora is known as a small brimmed fedora. Generally, fedora hats have a wide brim, but these short brim fedoras have a traditional appearance and are often confused with the trilbies.
How do you wear fedoras in the summer?
To wear fedora hats in the summer season, match them with your summer outfits and try putting on light shades of fedora hats. Choose a straw fedora for wearing during the summer times.
Can you wear fedoras in winter?
Made of fine wool and animal felt, it is very comfortable to wear fedora hats in winter. So you can put them on.
Final Thoughts!
So we hope that now you will not face any trouble of getting your head heated while going out in the sun because you know how to wear a fedora hat.
We would love to know if this article was useful to you so let us know about your views and feedback below on our website. Keep following and reading with us for more such content.
Thank you!