Repeating styles might be boring, but doing the trend of wearing a corset with jeans will not disappoint you. 
 But how to design them and make yourself look stylish remains a mystery. You might see one of your favorite actresses wearing corset jeans most stylishly, and you wonder how to do this style. 
 We are here to tell you how to wear a corset with jeans in the most fashionable way. We will first describe what a corset is and also discuss the various types of corsets.  
we will clear all the doubts that might come to your mind about corsets.
 Going through all the points clearly and minutely, I'm sure that you will fail to resist trying out this style. 
 

What is a corset?
 The corset is a light garment worn for holding and training the torso in the desired shape. The Corsets are in the shape of an hourglass with a tapering shape around the waist portion. Mostly they are worn to support the breasts.
They often offer feature Boning or lacing in the front. In history, this item was an integral item among the women's wardrobes. They were comfortable when worn by the women during those times.
 

How many types of corsets are there?
 Generally, corsets can be categorized into two types. Overbust and underbust corsets. However, here we have differentiated them in detail.
1.Overbust corset
Overbust corsets are best in covering and supporting the bust. So it is more reliable as you don't have to wear a bra underneath it.
They are found in the shape of silhouettes which are generally inspired by historical days. These corsets tend to be the classical hourglass corsets that add a proper shape to your figure.
They are also available in the shape of a sweetheart neckline with a dip inside the breast center and have a circular shape over the breast surface.
Pros:
Overbust corsets can be worn alone. You do not need to wear a decent bra underneath it. 
Cons:
It might be uncomfortable for some women as they might get tight under your breast area.
Types of overbust corset:
 

Cupped corset

Bustier

Flat-Front style

Sweetheart neckline

Lingerie corset
 2.
Underbust corsets:
if you're a beginner in the corset type of dress, you should surely opt for the underbust corsets. They are situated just below the bust and do not support your breast tightly.
They are also worn as protective undergarments as they minimize the size of the waist. As it minimizes the waist size, it makes your body look like an hourglass.
It can also provide a lot of back support, and it is very versatile. Therefore it is a perfect win for all the beginners.
Pros:
The underbust corsets are very comfortable and easily affordable.
Cons:
If you wear this, you need to wear a decent supportive bra underneath it to look good when you wear it. 
Types of underbust corsets:
 

 Longline

Cincher

 Bodice

 Corsets with wide straps

Waspie
 

How to choose the right corset for you?
 For choosing the right corset, you need to consider the following criteria:-
●Check the fittings
 You should always be sure of the measurements when you get yourself a corset. The corset should always be 4 inches less than the natural size of your waist. For example, if you have a waist size of 32, you should get yourself a corset of 28 inches. However, the size of the corset varies according to the brand. 
● The comfortability factor
 As we all know, the corsets are tight-fitting; therefore, it is necessary to get yourself a comfortable one. It should completely fit as well as let some air in your body. It should have a breathable twill lining against the surface of your skin. The fabric should be of good quality, and it should provide a long-term posture. 
● Good quality
 You might think of getting a corset that completely fits your budget, but you should never let your budget compromise your quality. You should check the qualities of being sturdy, strong, and natural fabric as a good corset should possess all of them in it. Also, make sure your corset is made of spiral steel boning. They allow the corset to shape itself as per your body shape.
● Get yourself a correct corset
 Depending on the size of your bust, you should get yourself either an overbust or an underbust outfit. For instance, if your cup size is DD or above, you should opt for an overbust outfit. They will provide you with extra support. On the other hand, if you're a person with normal cup sizes, you should have an underbust corset. They are more flexible and better for daily use. 
 

 

How to wear a corset with jeans?
 Pairing up jeans with a corset will no doubt be the most stylish combination. But for that, you need to know how to wear a corset with jeans. In addition, there are certain kinds of jeans that do not match well if worn with a corset. Therefore you need to know the following tips to style yourself the best in jeans and a corset.
Deciding the right corset
Jeans can be tricky sometimes, and all you need to do is find the perfect match to fit into your style. First, you should decide whether you want an overbust or underbust corsets depending on the cloth's factors like cup size, waistline, and versatility. You should also consider other factors like the color and quality of the corset.
The type of jeans:
A big no to the

 high waist jeans
 Since a corset is worn over the top of a hip bone, pairing high waist jeans with a corset will not be a good idea. 
 A pair of trousers will be a good choice for wearing with a corset because it fits below the waistline. You may also go for trousers with a wide waistband because they provide more comfort and padding for your hips. 
 If you want to wear Leggings with your corset, you can tuck them below the corset for a more comfortable experience. Also, since leggings have an elastic waistband, they are the easy-to-go outfit for your lowers ones.
 

Five kinds of jeans to go with a corset:
● Lower waist jeans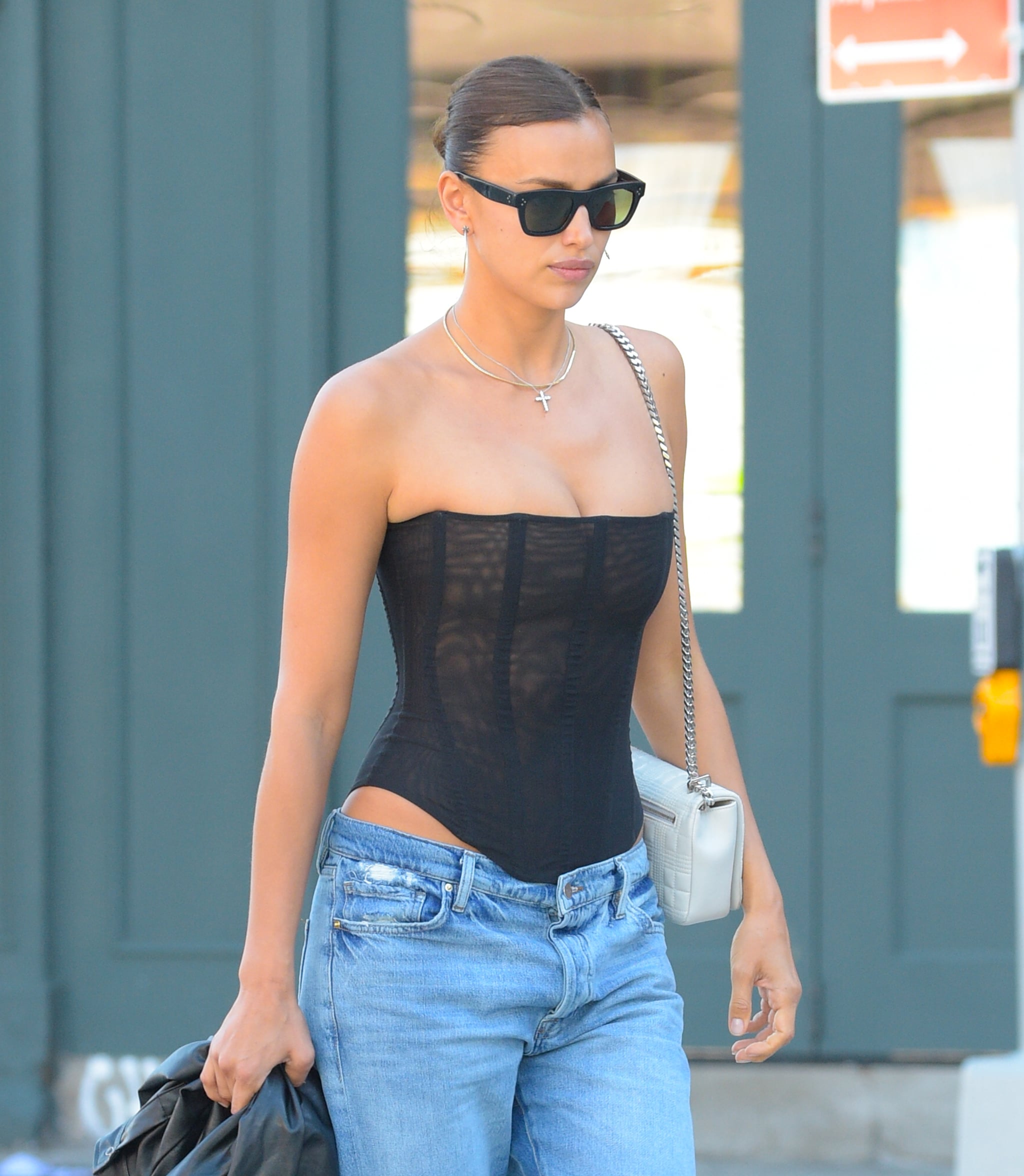 Style yourself in lower waist jeans, a solid black corset, and make everyone stare at you with a wow. This style is no doubt the soberest and fashionable amongst all. Make your hair into a bun, and wear black heels to add extra fashion to your attire.
● Bell bottom jeans
 It is the unique style and also very inspiring. However, wearing a crop top and high waist jeans can be boring. Therefore try wearing a floral printed corset with bell-bottom jeans. This particular style is very chic and fashionable. You will love yourself when you look at the mirror with this outfit on.
● Mom jeans
 This fashion sense is very trendy and has made me a lot happier. The combination of mom jeans and corsets is a perfect example of recreating the old fashion styles in recent times. This combination is also super versatile. If you try this one, you look the most gorgeous.
● Ripped jeans
 Fashion has no limits, and the combination of a corset with ripped jeans proves that. Choose a rose-printed corset and wear it with light coloured ripped denim jeans. This outfit is very cute, and therefore you should try to do your makeup cutely.
● Boyfriend jeans
 As we know, boyfriend jeans are very comfortable. To make the boyfriend jeans outfit more comfortable, you should try the combination of boyfriend jeans with a corset. Nothing can be as relaxing and easy as this outfit during summer. 
 

How to style a corset (without jeans) 
 You can also style a corset without wearing jeans. Instead, you can choose trousers, skirts, and pants.
● Trousers:
 A pair of trousers will be a good choice for wearing with a corset because it fits below the waistline. You may also go for trousers with a wide waistband because they provide more comfort and padding for your hips. 
● Pants:
 Choose dark pants with a white corset, and I think you're just perfectly ready for the evening party Vibe. This look is not only solid and stunning, but it also proves that a corset can be perfect to wear when it comes to dressing yourself with style.
● Skirts
 Styling up corsets with skirts is a pretty sexy combination. Choose the black color for both your corset and skirt for a more bold and hot look.
Accessories flair to the corset with jeans
● Jewelry:
 Most women wear jewelry to enhance their beauty. Use UK-inspired jewelry to style up with your corset. These UK-inspired jewelry are chosen for both underbust and overbust corsets because they give a feeling of beautiful, empowered, sexy, and stylish. Therefore you should try them out.
● Heels:
corsets with jeans will look better with heels as their footwear. Black heels add extra styling to the entire attire and make you look more classy. 
You should always twin your heel color with your corset. It's like adding a cherry on the top of your attire.
● Hair accessories:
depending upon the print of your corsets, you should choose your hair accessories. For instance, if you wear a corset with floral prints on it, you should go for some cute hair clips or floral print scrunchies. On the other hand, if you're wearing something bold, then choose classy headwear like a hat or lace clips on your hair.
 

How do you wear corsets in 2022?
● Overbust corsets
 You can casually style your overbust corsets as everyday wear, or you can also glam it up elegantly in evening wear. Add a pair of heels to it, and you're already with this attire of overbust corset.

 You can also wear an overbust corset over a shirt and pair it with black jeans. That will add a vintage look to your attire.

Wear an overbust corset with a PVC leather skirt and stockings for any night or evening party. You will glow along with attire amidst all. Add black heels for adding extra spice to your outfit.
● Underbust
Underbust corsets are usually a supportive garment, so you can wear them with any type of dress and skirt. Layer them with a jacket or a shrug. It will make your entire attire look more classy.

You can also traditionally style an underbust corset with a black or white frilly shirt and white legged jeans. This style will seem as if the historical European era inspires it.

 You can also casually style underbust corsets by wearing them over tank tops or printed tees. This style is unique and should be tried by all the youths in 2022.
 

Top 5 corset brands you should give a try!
● MORE
 This corset brand is highly praised for its vintage designs and is considered a woman's necessity. In addition, it has been complimented by many customers for its extreme comfort fabric. It is available in a variety of prints like the leopard one. 
● CREASE
1 month until Christmas!! Perfect presents for the kids right here on our website pic.twitter.com/3AuAX8dDrR

— Crease Clothing (@crease_clothing) November 25, 2014
 This brand of corsets is known for producing the most versatile corsets globally. The quality of comfortness of the fabric is also loved by many women who have used it. Kate and Rosemary officially run this brand.
● ROSIE EVANS
 The most important aspect of this brand of the corset is sustainability. These corsets are very durable, and they provide a long-term posture for your body. They also provide comfortable fabrics so that you can wear them with loose jeans or long skirts.
● IMMORAL LONDON
 This brand strives for perfection with every corset they make. Besides good quality fabric, they also provide sleeves, Beads, and laces as per your choices. In addition, they will take your order and send you a customized corset just for you.
● ALICE PONS
 This brand is a clear recommendation for those who love to style themselves with simplicity. This brand is established with the motto of making good quality corsets for modern women.
● Will wearing a corset flatten your stomach?
 Yes, definitely. It does flatten your stomach when you put on a corset, usually because of the steel Boning, latex, or some other materials in it. However, it gives you a perfect hourglass figure, and it persists as long as you're wearing the corset.
● Do corsets change your body shape?
 If you wear a waist training corset, your body shape will change as you tighten up the laces. However, if you continue wearing it for a long time, it may affect your body permanently too.
● Is it okay to wear a corset at night?
 It is not suggested to wear corsets at night as it may create many health issues, as mentioned by the American Board of Cosmetic Surgery. It may cause problems like improper digestion, acid reflux.
 

Conclusion
 In conclusion, I would like to say that you should wait for more to try out the unique corset outfits. They are super fashionable. You can pair your corset with anything you like. In jeans, now you know how to wear a corset with jeans, and hence you should try out the styles. You may mention your views below as we would love to know about them. For more such content, keep reading.
Thank you!