Are you obsessed with the bandana? But you don't know how to wear a bandana? Don't worry we are here to help you with an amazing style guide for 2022.
Bandana, too common these days, and maybe that piece of cloth is designed that beautifully that every other person is obsessed with it, even tho I don't use it daily, but yes, I use it very often.
Bandana is very famous and considered as one of the best accessories for men. But very few people know how to wear a bandana; due to this, I got a few emails in which many people are demanding a complete guide on wearing a bandana.
Especially when it comes to men's accessories, scarves and bandanas are a classic and timeless choice.
This simple but versatile piece can be worn in many different ways and is perfect for adding elegance to any outfit.
The turban is not only suitable for cyclists and pirates if worn properly, but it is also suitable for every gentleman.
Whether you are going to a festival, meeting friends on weekends, or participating in elegant daily activities, the headscarf can add to your outfit. In this guide, we will learn how men wear and style these fabric accessories.
Let start with this guide on wearing a bandana or how you can wear a bandana in different ways in 2022.
What exactly is a bandana?
A bandana, also called a scarf, is a large triangle or square piece of fabric, or we can say a large scarf that can be worn around the neck or head.
It is also considered to be a hat by few. Traditionally, bandanas are worn on the neck or head for protection or decoration purposes; however, nowadays, men and women wear them differently, such as on their wrists, around their waists, and even as pocket squares.
Classic bandanas are colorful, usually with white paisley prints, but today there are more options. Therefore, when buying a bandana, you can choose from various colors, patterns, fabrics, and sizes.
What is the history of the bandana?
Bandanas were originated in India. It is a colorful silk and cotton scarf or handkerchief with white spots on a colorful background, mainly red and blue Bandhani. Silk tailoring is made of the highest quality yarn and is very popular.
The scarf itself originated in South Asia and the Middle East. The paisley pattern of the classic scarf comes from Persia.
Today, this colorful fabric square has been given a mosaic-like meaning and association.
Since its inception, the turban has become an ornament for all kinds of people, from sailors to cowboys and farmers, miners, and gang members; throughout its history, it has also been associated with a general rebel culture.
In the 1970s, homosexuals wore scarves of different colors. It Means different sexual orientations and preferences. Handkerchiefs of different colors are also used to indicate gang affiliation, such as members of Crips and Bloods in Los Angeles.
People often think of the 90s as the heyday of the headscarf because he collaborated with famous artists such as Tupac, Axl Rose, and Christina Aguilera. However, in the early 2000s, stars such as Beyoncé, Britney Spears, Mary Kate, and Ashley Olsen also introduced some iconic headscarves.
How to wear a bandana ( Styling guide for men and women 2022 )
Bandana is a unisexual accessory, and we can carry it in many ways; here is a guide for you on how you can wear it in the best possible way according to gender.
Men
Around the neck is one of the easiest ways to the bandana. This style is suitable for every gentleman, suitable for casual and elegant everyday occasions.
To make you look delicate, please choose a small scarf. Tie a knot at the neck and front. Or, to look bolder, you can try to tie it to the nape of your neck and have a free corner on the front.
If you have a large enough headscarf, you can even wear it as a bandana. But no matter how you wear it, remember the color of the headscarf. Choose bold colors, such as red, add tension to originally neutral clothing, and choose soft colors for clothing that already contains colors.
A simple bandana can be very versatile. In a pinch, you can even use it as a spare pocket square. The pocket square is perfect for elegant everyday occasions; it can be easily folded and put into the jacket pocket.
First, choose a bandana that suits your style. Those with bold patterns or tones will stand out, and subtle designs will blend with them. Also, consider the size and weight of the bandana fabric.
Another easy nevertheless fashionable thanks to wearing a bandana is to wrap and tie it around your wrist.
Doing this can add a refined dose of perspective to any outfit.
Good for a highly-strung casual appearance sporting a bandana around the wrist comes to a moment rockstar vibe. As such, this look works best with darker bandanas and placing prints.
For instance, a black bandana with white skulls will seem far more acceptable than a conventional red vogue with a textile design.
Also, bear in mind that a bandana around the wrist looks best once worn a bit messy, so don't get caught with yours doubled and tied.
If you want a bolder rock look, you can try wearing a bandana on your head. Musicians love this look, which is perfect for creating a charming look.
It is also a good choice for men with long hair. Try it yourself when you arrive at your next festival or concert. To create your look, first, choose a perfect scarf.
You can use neutral colors such as black or bold, bold tones to maintain your appearance. After finishing the selection, place the bandana on a flat surface.
Then fold it longitudinally several times to become a long rectangle. Finally, tuck the loose corners in and tie them to the head.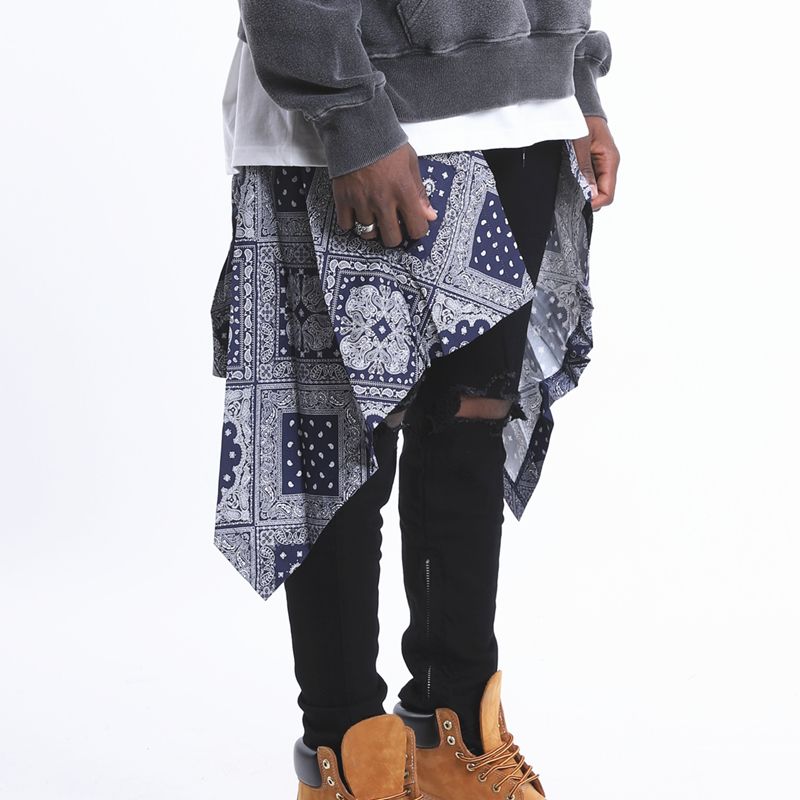 If you are looking for an elegant way to incorporate a bandana into a casual outfit, then tie the bandana around your waist is a good choice.
If you wear a scarf close to your faces, such as around your neck or head, it will immediately become a statement.
On the other hand, when worn below the waist, it can gently accentuate your appearance and increase brightness without appearing too arrogant. Wrap the bandana around the waist can also be more comfortable and relaxed.
All you have to do is to put it in a belt, bag, or belt or clip it to the belt to hold it in place.
I mean, why not? You already know that covering your mouth with something is always good because it protects you from dust, bacteria, and other pollutants in the environment.
Now imagine a bandana. The mask and the look of a complete barbarian! Yes, you can be one of them. How is it?
First, let's talk about how to turn your headscarf into a mask (then enter the wild part). Fold it from one corner to the other.
You will now see a triangle in front of you. Grab the corner of this triangle and place the turban on the bridge of your nose. Tie it on the nape of your neck, and you are done. You now have a mask.
This one in the Boys Bandana Styles / Bandana Wearing Styles list will cover your entire head! Yes, it is! We came to Skull Head, Moto, Hardcore, Hulk Hogan Style.
If you want to put the bandana in front of you and fold it from one corner to the other, you should have a triangle in front of you, grab both ends, and place the bandana in the center of your forehead (the bandana shouldn't be just your forehead, but the whole head) tie a knot at the back.
On the back, you can see the end of the turban hanging down. Tie it to the first knot, and then tie another knot in the middle.
Women
A simple knot in the hair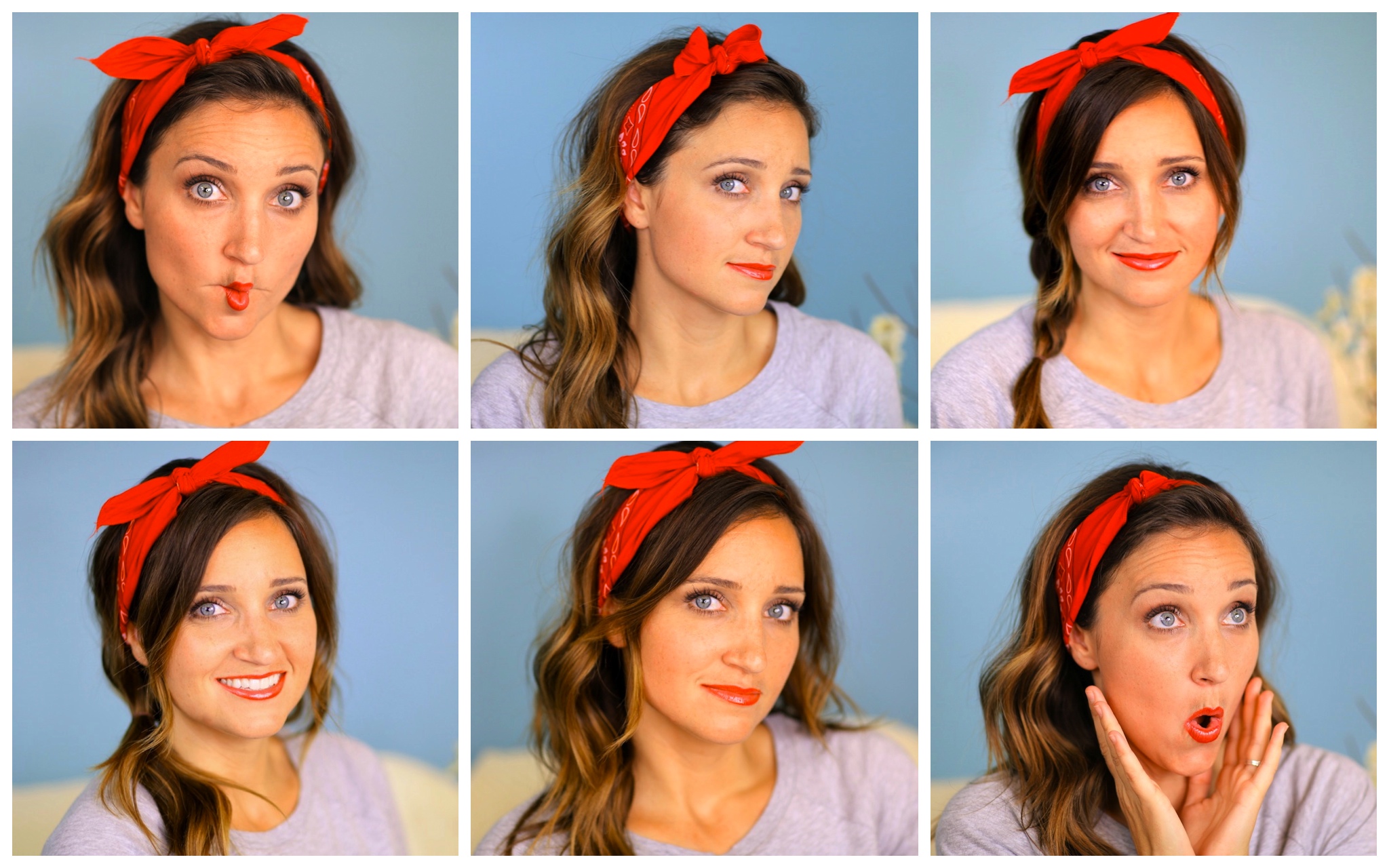 Comb your hair thoroughly to remove tangles. Now use the teasing comb to randomly move the front and crown of the hair.
Assuming you have bad hair today, tie your hair into big bangs and bake it a bit. Look. Wear a bandana like this.
Now pull the turban from under the tail so that the loose ends are on top. Adjust the bandana and tie it up with one or two loops.
Make sure it is not damaged. Try different options, including loose or tied hair, loose buns, etc.
Fold the bandana to make it look like a collar. Then, tie it around your neck so that the front end of the neck is loose. And your bandana choker is ready. You can buy different bandanas and can convert them into a choker.
It is called the cyclist style or biker style because both men and women wear a bandana during long trips. It is stylish and protects your hair.
Simply put, it looks like a do-rag. Comb, comb and leave hair. Just fold the bandana in half. Now wrap it around your head and bring the loose end to the separation zone. Tie them together, and you are done. You can also try this look with a sloppy bun or ponytail.
Fold the bandana in half. Gently twist it and tie it around your neck.
It should be tied tightly behind the head. Adjust the rest of the bandana in front. It is smoother and looks like a mask.
Comb your hair into a bun or ponytail. Fold the bandana into a chic ribbon and wrap it around a bun or ponytail (starting from the bottom of the neck).
Tie both ends to the crown. Now tie up the remaining parts with a bow tie. It's easy, almost like tying a shoelace. Practice a few times, and you will soon become a professional.
All you have to do is to fold the bandana into such a thin band. First, wrap the bracelet around your wrist with the tip facing down. Leave enough things to fasten it, then stuff the rest (if you have any) in it.
Place the handkerchief (bandana) on a flat surface, fold it in half, and begin to wrap around the tip of the bandana, allowing the tip to slide into the handkerchief without sticking out. And your headband is ready.
4 Golden Rules for wearing a bandana
Rules are important in every field, and we should consider them and give them respect too.
Watch this video for better understanding
[embedyt] https://www.youtube.com/watch?v=R4N2wBXSIlE[/embedyt]
1. Fold it correctly
Fashion experts explain that simply folding the scarf diagonally into a triangle is easier than you think.
2. Wrap around your health correctly.
Wrap your head properly, and then start pulling the loose ends below the back hairline. Comb your hair up or down and add.
3. Tie the ends tightly together
Tie them together, and you are done. If you feel the scarf slips off or needs to be held tightly, just hold it a few times.
4. Don't be afraid to try.
If you are afraid or not sure whether it is suitable for you, Victoria recommends wearing a more casual scarf first." The white shirt and jeans match well,"
How to wear a bandana according to the different occasions?
Different occasions mean a different style of the bandana and a major topic for the guide.
Bandanas are great accessories for daily activities. You can work at any time of the year and can match various outfits.
For a casual look, choose a lightweight cotton Bandana in a classic color (such as blue or red) or a paisley pattern. Or disguise.
Wear it on the neck, head, wrist, or waist. Then, you can decorate your headscarf with jeans, sneakers, and T-shirts to create a stylish and simple look or add your unique style. Keep the overall atmosphere relaxed and confident.
Bandanas can be unexpected fashion accessories for elegant everyday occasions. It can be a perfect match for a white shirt and jeans, or pair it with a casual suit and T-shirt to create a playful and stylish look.
Choose an elegant square and tie it neatly around your neck or wear it like a square. By choosing silk or satin styles, you can stay refined and elegant.
Also, if your headscarf is gorgeous, make sure the rest of your outfit is neutral for a balanced and elegant look.
It is just a myth that you cannot wear a bandana on a formal occasion. Yes, you can wear it cause it is an accessory, but only if you want to do some funky look.
You can wear it as a square pocket with your formal suit, or just to try some funky look with your formal attire, you can use it as a bow too.
How to wear a bandana if you have long hair
Who doesn't love long hair? Well, I like long hair and want to club it with a bandana.
Men
There is no doubt that when it comes to wearing a headscarf or bandana on your hair, it is best to wear it on your head, but remember that this is not always suitable for all occasions.
Leave the bandana at home for interviews or weddings, or choose a satin or silk bandana as a pocket square or hang it around your neck (you can still choose a gorgeous and avant-garde pattern).
Your headscarf, even if it is a rock star style, your hair should not stand out everywhere unless it is the atmosphere you want.
As an added benefit, when you "participate in a windy festival or drive a rock star convertible," the headscarf helps keep your hair away from your face.
Women
For women, I can say you can go for any look—bow in your hair, headband, or any other style. Just go for that look you love the most, and don't worry how you look. You will look beautiful.
How to wear a bandana if you have short hair
Men
Most of the styles of bandanas for men are made considering short hairs, so all styles possible are open for you if you have short hair.
The ball is still in your court, and you can go for a biker look, face mask, around the head or neck, any look.
Women
Bandana hairstyles are suitable for short and long hair. They become a beautiful hair accessory that resembles a retro style.
Three popular styles: skull bandana, traditional scarf style, and headband style. All are charming and impressive in their way, so choose your favorite style despite being having short hair.
What to avoid while wearing a bandana?
Don't wear bandanas at funerals, weddings or business meetings, and other elegant or formal events. Not at all!

Don't wear fashionable clothes such as headscarves and suits on your wrists or head; it is not. It doesn't work; you will be the focus for all the wrong reasons.

Do not use bulky cotton bandanas tucked into your jacket pockets as pocket squares.

Choose satin or silk bandana (be careful not to iron the bandana, if she wears a headscarf, please tie it neatly around the wrist). , It should be messy and a bit tricky.
FAQ's
Is it offensive to wear a bandana?
Cultural appropriation refers to the use and identification of cultural elements outside of one's own culture without adequate representation and evaluation of its origin.
The scarf is a fashionable and practical garment.
Are bandanas in Style 2022?
The decade has changed, and since 2020 bandanas are quite famous among youngsters and used as an accessory.
Is it dangerous to wear a bandana?
No, this is not the case. If you wear a bandana, you will not be tied to it. The only way to be dangerous is to put it in your mouth.
What do black bandanas mean?
Crips (local gang) are identified by blue or black or a combination of both. Bloody gangs usually wear red accessories such as hats or turbans to identify themselves.
Black is used by some Latin American bands and Anglo Heavy Metal. Other common gait colors are brown or purple.
Can I wear a bandana as a top?
Bandanas are a great option to wear as a headband. You should not hesitate while going for this look.
What does a blue bandana around the neck mean?
The blue bandana on the neck means they have a "female" part, and the red scarf means a "male" part.
Conclusion
Bandana is a square piece of cloth that makes everyone flatter. It is too common and easily available in every other's wardrobe, there are many ways to wear it off, from neckband to headband, wristband you can do many such things with your all-new bandana.
You should know how to wear a bandana if you have one and collect knowledge about it the guide is prepared which you can see.
One of the most easily available and most conveniently configurable accessories available in the market and a unisexual accessory is one more highlight.
Just go and try out the styles with a bandana which you like more and keep having fun.