In this article, I'll take you around the world of Numerade and make you well aware of the pros and cons of its usage so that, you can make the decision of whether to avail of its benefits or not for yourself.
Everything that you need to know about this platform is right under the umbrella of this title and I hope that after reading this, questions like, "how do I cancel my Numerade subscription" or "How to delete my Numerade account" don't cloud you anymore.
 While Taylor Swift and her songs are for literature students, Numerade might just be for students in STEM. For the layman, STEM stands for Science, Technology, Engineering, and Mathematics.
For a subject, this vast, Numerade has been doing a fairly good job at making it accessible to the students at ground level.
In addition to providing for the pupils, it also is a source of financial aid for the educators who teach on this platform. They are handpicked through a rigorous selection process and after that teaching virtually becomes a piece of cake.
Now, to use Numerade, one has to subscribe to it. But not more than often many people who might want to unsubscribe to it find the same problem they find while punctually submitting their assignments, they just don't know how to. Well don't you worry, I'm here exactly to explain to you that(not the submission part but the unsubscribing part). So let me walk you through the steps of how to cancel your subscription on Numerade.
What is Numerade?
Let me tell you what exactly is Numerade and how it functions. After all, basic knowledge is as important in STEM as it is in knowing about this app. Thus, let's get acquainted with this application.
Numerate is a virtual learning platform that adds more meaning back to STEM education. It is an online source of support that provides the tools to encourage understanding above all: understanding what you learn, why it matters, and why it matters to you. Basically, it makes onerous subjects like science and mathematics a child's play for the average dumb student (only counting myself in this category.)
It works by selecting meticulous educators who then upload videos on the platform to teach.
Numerade Subscription Price and Refund.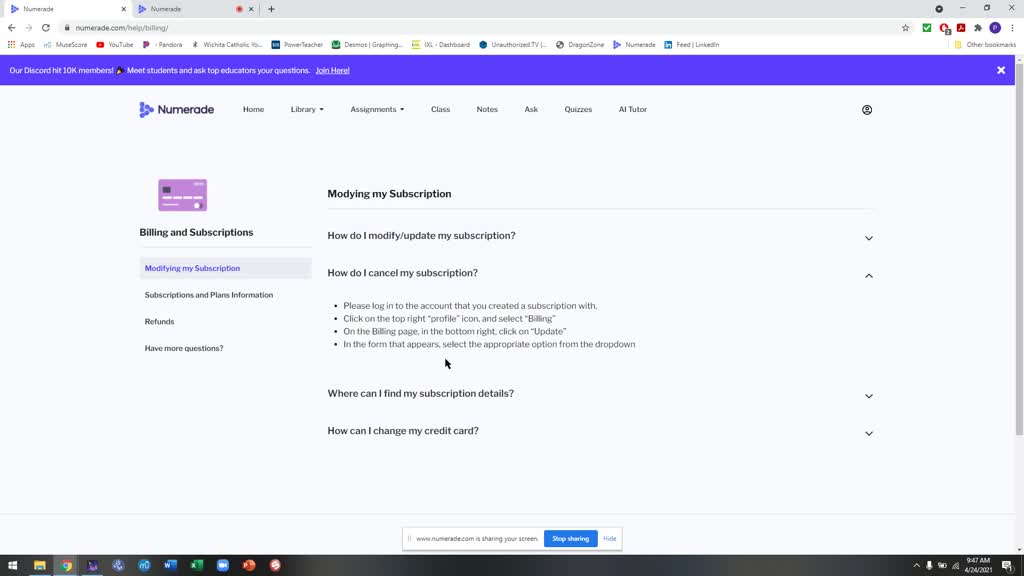 Are you confused about the Numerade subscription cost and refund policy? Well, do not worry as you have come to the right place.
Numerade, being the definition of a green flag, provides you with a free trial, monthly subscription and even a yearly subscription. It charges its users $9.99 a month or $83 annually which in my opinion is definitely cheaper than your college bills.
But just like any other platform, Numerade also has its setbacks and the major one is it is a non-refundable app. In simple words, once you cancel your subscription for personal reasons, it doesn't issue any refunds.
How to delete your Numerade Account?
Ending your relationship with this app is as easy as a simple click. You just need to delete your account and you're free from the bondage.
Do not worry! Ending a relationship with Numerade is not as difficult as ending a relationship with your ex. You just have to delete your account. By doing this, your personally identifiable data will be removed, however, Numerade maintains the right to use, reproduce, distribute, and sublicense any of your content. All you have to do are follow some simple steps :
* Through website
Browse the web portal https://www.numerade.com/help/account/
Fill out your registered details like first name, last name, and email address.
On the Reason Drop, Down Menu Choose SUBSCRIPTION MANAGEMENT.
In Message Box type your honest reason regarding deleting your account and tap on the button SUBMIT. Now, wait for at least 72 hours to get a response to your email address.
*Through Email
Open your email account which is registered with the application or website.
Now compose an email and enter the email address info@Numerade.com .
On Subject Type "Request to delete my account".
Now write an email wherein you're requesting them to delete your account from their database, and to wipe all your information with them if any.
How to cancel Numerade Subscription?
Numerade makes sure that ending your relationship with it turns out to be as uncomplicated as starting one was.
Since, this is a very user-friendly platform, cancelling your subscription is as easy as a walk on rose petals. So, no need to constantly worry about how to cancel your subscription to Numerade.
You just have to log in to the Numerade account you created a subscription. Then, click on the "profile" icon on the top right, and select "Billing." Click on "Pause" or "Cancel" and follow the instructions provided to do the same.
How to cancel Numerade subscription through PayPal?
Having difficulties with cancelling your subscription using the above means? Do not panic. There are always more than two ways to end a thing.
If you used apps like PayPal to subscribe, simply self-cancel the recurring payment in your PayPal account (for further assistance, contact PayPal support).
If you are having trouble for any reason, you can also submit a support request for assistance with cancelling. Visit https://www.numerade.com/help/account/ and select the "Contact" button. You can also call their customer care services. And that is how you'll be able to cancel your Numerade subscription through alternative ways.
Details you need to know on cancelling your Numerade subscription.
Some unknown facts about Numerade and even more unchallenging ways in which you can cancel your Numerade subscription. Remember, the devil is always in the details.
If you send your student success manager an email, they'll cancel your Numerade subscription at the very minute and might issue you a refund. It can even be paused if you want to return in the future.
Even after deleting your account, Numerade will hold the rights to use your content.
All copyright infringement will be reviewed by sending your requests at copyright@numerade.com .
There are also other ways to cancel one's Numerade subscription based on the device they're using.
a) For Apple users
Go to settings, then click on Apple ID and from there you can go to Subscriptions. A list of current subscriptions will be shown with their expiration dates. Tap on a subscription to cancel it.
b) For Android users
Open your Google Play app and go to Menu. Select subscriptions and then cancel your Numerade subscription.
Numerade free STEM boot camps.
Let me make sure that you do not miss out on any of the beneficiaries provided by this platform and don't be ignorant about the boot camps of Numerade.
In an attempt to show the world its philanthropic side, Numerade provides free online boot camps in 18 STEM subjects for students who want to further their learning.
They are designed for students at the middle school, high school and college levels. Each online boot camp provides the equivalent of a semester-long course. In addition to STEM courses, Numerade also offers standardized test prep boot camps for the SAT and ACT exams. Thus, making it a lot easier for students who want to avail the benefits of short-term learning.
FAQs
Is Numerade subscription worth it?
As I've already mentioned above, a Numerade subscription is worth it if you're facing difficulties in studying STEM subjects and need that extra support.
Is Numerade legit or a scam?
Cancelling your subscription on Numerade is definitely a scam as sometimes it can be a long and tedious process(you can prevent this from happening by banning automatic payments) and if you're worried about your money, you can opt for some other apps like socratic.org, gauthmath.com, algebra.com, chegg.com.
How do you cancel a clear subscription?
You can cancel it in the same way as you cancel a normal subscription or if you're facing difficulty then you can simply stop automatic payments on the platform you're using to pay them and thus, you'll be able to cancel your subscription on Numerade, whether it be of any type.
Numerade : An Amalgamation of Technology, Capitalism and Education.
I hope this article turned out to be a great aid in helping you to make up your mind or to cancel your Numerade subscription. Thank you!
Numerade is one of the leading educational apps right now and is really beneficial for STEM study. However, it does have its fair share of drawbacks which I've mentioned in the article above. But is it still worth it? In my opinion, to study the subjects inherently provided by it, Numerade is worth it and you can try it for yourself at least once.