Christmas is such a happy event. That is why on that day, we greet each other Merry Christmas. It's a joyful environment, and people from all countries celebrate it. 
 We see people wearing red all over them. They try to cherish the moment by dressing up as Santa Claus in red and white. So you can understand how important Christmas as an event is. 
 When it comes to you, you should also be dressing cutely for the Christmas event. You open your wardrobe, and the first thing that comes to your mind is, "what should I wear to look the cutest in this event."
 Well, we have the solution for you. We will be presenting some cute Christmas outfits for teenage girls to look the prettiest in the merry event of Christmas. 
 Meta:- Christmas outfits for teenage girls- winter outfits for teenage girls– Christmas party outfits for teenage girls– footwear and accessories for Christmas outfits — Some FAQs related to this article.
 Once you get to know about all the ideas, I'm sure you won't wait to try them on yourself on the auspicious event of Christmas.
 Christmas party outfits for teenage girls
 1.
 Apple cut pink party dress.
 If you want to try out something pretty and fashionable, then this pink Apple cut party dress is for you at your Christmas party. It has a unique and beautiful neckline pattern, and it has apple cut on the edges, which makes the entire outfit look very trendy and glamorous for a Christmas party event. As we know, pink is very girly.
Therefore you can try it as a cute prom dress for your Christmas event. Pair them with your strappy sandals, and enjoy your lovely attire.
 2.
The red-black net dress
 This red-black dress is cute and stylish for a Christmas party as you can see that it has a red net base. In addition, it has a cute black bow belt around the waist which adds more beauty to the dress. Try cute ballerinas with red black tints in them, and you are all ready for your stylish Christmas party.
 3.
The crop top with the skirt
 Nothing is more attractive at a party than a short pleated skirt and a cute crop top. Try your top with geometrical patterns and as it will make your entire attire look very trendy, attractive, and appealing.
You can combine a lot of colors in this pair of outfits. Choose red and white combined as it will be best for a Christmas party night.
 4.
 Floral dress with a halter neck
 Black and white have never looked so good as it looks in this outfit. The floral print in this dress is so attractive that it adds a feminine touch to your body.
The halter neck in your outfit makes you look mature and fashionable. Add cool black dangle earrings to enhance the beauty of your attire in the Christmas party event.
 5.
Black tempting short dress
 This little black dress is very bold and beautiful as a Christmas party event. The factor of this dress which will make you astonished is how this dress lies in a fabulous short style adorned with a U edge shape at the bottom and the neck.
For teen girls, this is just a perfect choice for a Christmas party. A small and stylish sling bag with black luster stilettos will look perfect with this outfit.
 6.
The white double frilled dress
 This dress is gorgeous and fashionable in a simple white color. The double frill in this dress makes the teenage girls look like a doll. The dress for being in white color looks outstanding, and you can team this outfit with a piece of modish girly jewelry for your Christmas party event. 
 7.
 The lavender organza party dress
 The lavender color is very sweet, and you can win copious glances wearing this outfit. The beauty factor of this Lavender dress lies in its organza foreplay. The light purple color adds a royal, glamorous, and stunning look, whereas, on the other hand, the delicate waist belt dazzles your outfit with a sparkling look.
The dress is knee-length and makes you look elegant and feminine for a Christmas party.
 

What to wear in winter, teenage girls? (winter outfits)
 1.
The casual neutral tone
Neutral-toned sweaters and knitted warm clothes are both comfortable as well as desirable for young teenage girls. The best part is that you can pair them up with anything of your choice, be it light blue jeans or a grey scarf.
Wear skinny jeans so that you do not look overweight. Add statement shoes to complete your sober attire.
 2.
The striped pattern sweater
 This sweaters pattern will give you a chilling vibe, and you tend to have a hangout mood with your fellow peers.
A sweater with a striped pattern in light colors will look pretty good if paired with black, blue jeans, a scarf, and a pair of studs. So it would help if you tried this outfit.
 3.
 The hand-knitted woolen clothes
 If you pair hand-knitted woolen scarfs with any outfit, they look highly fashionable. You can style them either way with a peplum or a sweater.
Wear long vintage cardigans with your outfit because they look extremely beautiful with black tights. Add black boots to match your footwear with your outfit and make your hair into a bun. There's no one stylish like you in this cold weather.
 4.
 The pink and grey combination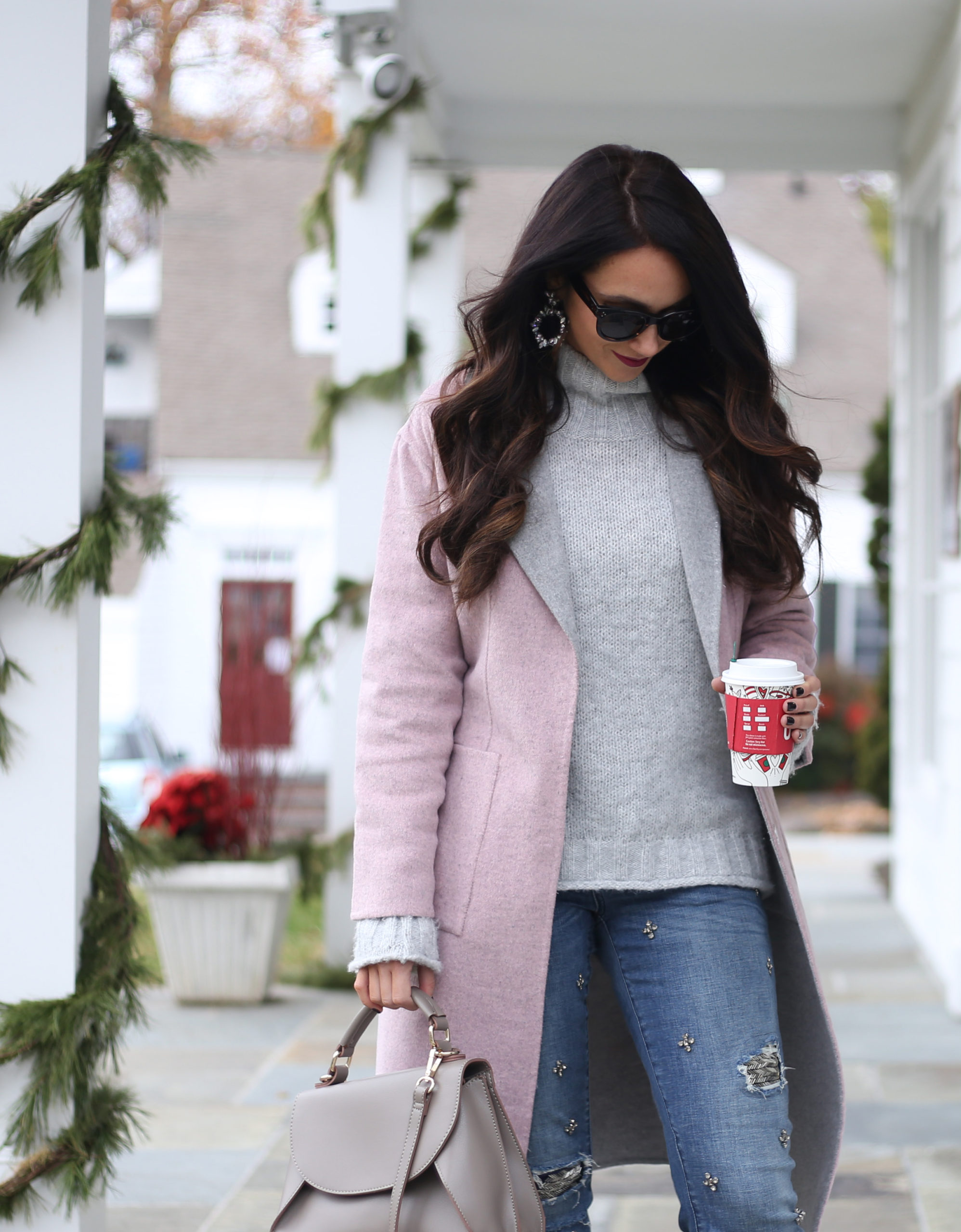 You should wear soft and soothing colors for winter. And for your Christmas times, you should wear the girliest outfit when you go out on the streets.
Wear a pair of tight leggings with the subtle combination of pink and grey, and look what magic it does on yourself. Wear a grey light sweater with a pink scarf and pair them with silver or grey studs. To give your outfit a fun twist, wear pink ugg boots for your footwear.
 5.
 The denim outfit
 You can get the perfect geeky look for a teenage girl on Christmas by wearing denim. A bleached loose jacket in denim will give a retro vibe to your attire. Choose a distressed or embellished denim jacket and wear it over a grey sweatshirt and black leggings.
This outfit is extremely youthful and perfect for a casual afternoon on Christmas. Add cool eyewear and Jordan sneakers with your attire.
 6.
 The grey-black combination
 The perfect chic outfit to wear during Christmas in winter is the grey and black combination. It is a minimalistic style, and you will look cute, comfortable, and warm without putting any effort into being fashionable.
So get your basic pair of black jeans and wear them with a grey cardigan or a long woolen shirt. Add grey Jordan sneakers to your outfit, and your perfect black and grey combination is ready.
 7.
The schoolgirl style
 Make your outfit basic during Christmas by putting on a nice pair of jeans with a cute sweater to make everything look cute and comfortable.
Choose colorful and bright colors for your sweater, twin it with a printed or vibrant scarf. In addition, you can choose a pair of cool sneakers, espadrilles, or boots to complete your schoolgirl look during the winter.
 

Cute Christmas outfits for teenage girls
 If you want to look cute and fashionable for your Christmas family dinner, this cute red dress is perfect for you. You can wear tights or stockings with this outfit. In case you feel cold, you may put on a black coat over it. You will still look fashionable, stylish, and cute with it.
 Crop top sweaters or cropped sweaters look perfect when paired with cute skirts and tights underneath them. This outfit is extremely cool and fun, and you can wear them when you are on a day out with your friends. Wearing red, Will portray your Christmas vibe in your attire.
 

The Christmas-themed sweaters
 If you're a person who's more into comfort than style, then you can put on the comfortable Christmas-themed sweaters with reindeer or Christmas patterns on them. Then, pair your sweater with skinny jeans and boots. It is a perfect Christmas outfit for a perfect Christmas morning.
 

The sequin skirt and a sweater
 To add sparkles to your Christmas outfit on Christmas night, wear a white sweatshirt and pair it with a black sequined skirt. It will take your outfit to a different level of glamour, and you will look extremely stylish and classy. You can add a scarf to balance your stylish Christmas look in case you feel cold.
The pencil skirt Christmas outfit
Wearing a red checked pencil skirt as Christmas attire will make your whole attire look very classy and elegant. Next, wear a white woolen top and add a red scarf with it. Finally, make your hair into a ponytail and add a red ribbon to it. It is a perfect cute Christmas attire, and you can wear it during the afternoons or evenings.
 To attend your office during Christmas, you need to try out something bold and stylish. Therefore, we have this red sequin dress for you. This dress will get you a lot of compliments, and you will personally enjoy wearing it. Adding tights to your attire will rock your entire look.
 You can also try out something long and beautiful on Christmas. So wear a cute printed half sleeves top and pair it with a red maxi skirt. This look is very basic and simple, but you will look elegant and beautiful once you try it on yourself. It will be like a beautiful dress at a beautiful event.
 

Footwear ideas for Christmas outfits
Strappy sandals are very cute and attractive and look very good when you wear them with a skirt or party dress. They will look good if you wear them at Christmas.
The ballerina shoes are somewhat made for teenage girls to look lovely with their whole attire. They are the girliest pair of shoes you can try with your Christmas outfit.
Stilettos with a slight luster and shine on them will look perfect when you wear them with party attire at a Christmas event. They will also add some more height and will make you look stylish.
Boots are the ultimate stylish footwear, be it for boys or girls. Combat boots with jeans and sweaters or skirts at Christmas events will look very fashionable on you.
The best thing about Jordan sneakers are they can be cool, fun, and trendy. Therefore when you wear them with a pair of jeans and a cute sweatshirt, they look pretty awesome on you.
They are the classy pair of shoes for the winter season. They give you a feeling of warmth and comfort as soon as you put them on your feet.
Footwear on girls is incomplete without heels. Girls love wearing heels as they are very, very stylish with almost every outfit. Make sure to twin the colors of your heels with your dress when you are going out to a Christmas party.
 

Accessories for Christmas outfits
Tights and stockings look good when you wear them under a skirt or dress during winter parties. They are the comfort accessories for a Christmas outfit.
Some pretty Christmas outfits, especially those party dresses, have a belt around their waist. These belts are found in various patterns like they have a bow in them. These waist belts look very elegant and pretty with your attire, so you should try them.
Winter outfit for Christmas looks incomplete without adding a scarf to it. Scarfs make the entire outfit look elegant and smart. They also have a comfortable feeling when you wrap them around you.
You know you can add some cute eyewear with your Christmas outfits. They will protect your eyes from the cold winter winds.
Light jewelry is always appreciated with any outfit. For Christmas, you can try out cute bracelets and necklaces. They will look extremely beautiful on your wrist.
Try carrying small handbags on your hand or your shoulder with a denim or jeans outfit. They look extremely smart and classy with your outfit.
To make your hair have a good and pretty hairstyle, you can put on some cute headbands and scrunchies on your hair. You can also add ribbons if you want.
 

 What clothes are appropriate for 13year olds?
 For a 13-year-old girl, there are no such dressing limitations or restrictions. She can wear everything she wants. But to look good and pretty during Christmas, a 13-year-old can try cute pencil skirts or Christmas dresses in red and white combinations. She will look cute and pretty with this attire.
 

 What colors should you wear for Christmas pictures?
 Getting inspired by Santa Claus, you should try keeping the color of your clothes in red and white. Red for the merry event and white to depict the beauty of the snow. There's no harm if you wear other colors like black or lavender at a Christmas party. Make sure whatever color you choose should be youthful and not dull.
 

 Is it okay to wear black on Christmas?
 Yes. It is completely acceptable to wear black at a Christmas party. As long as you carry the cheerfulness in your attire during the Christmas party, you will look extremely good and beautiful and beautiful.
 

Is it okay to wear white on Christmas?
 Yes. People love wearing white during Christmas as it depicts the beauty of the snow in winter. In addition, white is a lovely color, and wearing it as an outfit will make you look more lovely. So you should wear white at Christmas.
 

 Are white leggings tacky?
 White leggings are extremely unflattering for all body types. Free size is not all the things that should come to your mind when you think of them. Besides that, they are transparent and not highly recommended by us to wear during Christmas events.
 

Conclusion
I would like to say that Christmas is a merry event and you should, after all, try something merry as your outfit for Christmas.
Be comfortable with your outfit because that's the first thing you should keep in mind. Here, we have provided some cute Christmas outfits for teenage girls,and I'm sure you all will try them on yourself if you found them pretty like us.
We would like to know about your views and recommendations so please mention them below. For more such content, keep reading with us.
Thank you!