Are you the infamous Casanova who has made it abundantly clear that you want to be in an open relationship
but still your annoying situation ship won't stop breaching your privacy and going through your phone? (if you're not then please skim over everything that I just babbled with my keyboard of course.)
See, the thing is privacy is the need of the hour and we totally get that but some people might not.
It could be a strict parent or guardian or a suspicious partner snooping around your phone or text messages at every chance that they get.
It can be pestering at first, and frustrating later but sometimes even calling out the person doesn't solve much.
So, what should one do in such situations? We say, avoid the problem altogether! Don't give them any content that they can pick apart.
Simply find a way to hide your messages and what better way to do that than to use a secret messaging app disguised as a game? To make matters easier, we have curated a list of the Top Best 17 Cheating Secret Messaging Apps That Look Like Games For You. Without further adieu, let's get started.
Cheating Secret Messaging Apps That Look Like Games
Calculator Pro+
Starting strong, we have an app named Calculator Pro+, for Android users, about which you might or might not have heard about. The best feature of this app is that its icon is disguised as a calculator which gives zero to no clues to the person looking around your phone.
But even if Mr. Sherlock Holmes did manage to open it, then to them it'd seem like a simple calculator! And not just that, it can even perform calculations if they try to further check its credibility.
The thing which will be unknown to them is that they'll need a secret four-digit pin to open the actual messaging app. Now, I know, you might be thinking of the calculator as Aladdin's cave, and exactly, that is what this is!
Move the contacts into your list of 'private contacts' and then you'll be able to contact them through this app.
You can even get a virtual number when you sign up if you don't possess a sim card. To double the security, you can even set the settings of the app to close automatically after a certain amount of time.
Wickr Me
Another app that can be worth trying for you is Wickr Me. Again, the icon of this app nowhere resembles a messaging app and can be easily used to fool someone.
One of its best features is that it can destroy the messages on your command and timing making it impossible to get caught.
There is even a feature called the Shredder feature which overwrites the deleted data so that it can never be recovered from your device by people who are tech enthusiasts.
You are not required to provide any information regarding your phone number or email, since Wickr Me lets you create an account by simply setting a username and password.
You can send photos, videos, and texts and even do video calls and voice calls on the app. It even allows you to form groups that can even secure your friends' group chats also.
NetSfere Secure Messaging
If you have an iPhone and it is hard for you to find a secret messaging app amidst this sea of android apps then, this app is especially for you.
NetSfere Secure Messaging app has a logo that looks nothing like a texting app and therefore, safeguards you from suspicions.
It Is not only beneficial for individuals but also for companies and organizations as it makes it easier for them to be compliant with GDPR, HIPAA, FINRA, and other regulations.
You can also form groups in the application and set administrative access for group chats.
A very special feature that can be quite rare to find in other apps is that NetSfere Secure Messaging allows you to send emergency broadcasts in case of a fire hazard or a natural calamity.
FortKnoxster
Did you ever have the slightest idea that a secret disguised messaging app will one day intertwine with the world of crypto? Me neither but I guess it has happened.
FortKnoxster is the amalgamation of a digital crypto wallet, an NFT wallet, a crypto trading exchange, and a messaging app all in one.
To the ignorant ones, it might look like a crypto wallet, a VPN, or even a crypto game but little will they know that it also has a hidden messenger in it.
What makes it different from the other applications is that you can actually buy crypto using your credit card through it.
You can even exchange one crypto for another and store them in your private wallet, which you will possess the keys to.
Other than this, you can even chat with your friends on this app and even send crypto to each other. It even allows you to send NFTs in the chat and you can send and receive bitcoins through the QR code this app provides.
It is a safe and secure app and a one-stop destination for your crypto and privacy interests.
Secret Messenger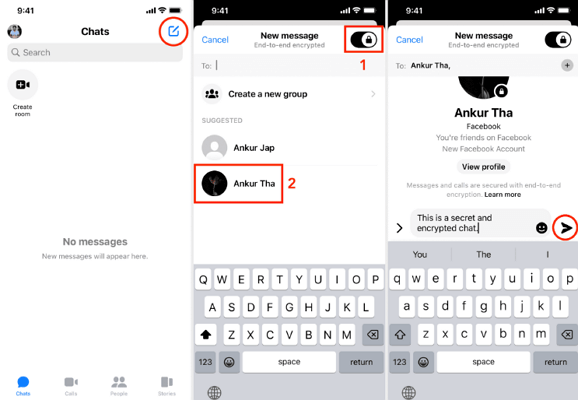 Next is an app that is quite true to its name and indeed is one the best secret messaging apps, yes, it is the secret messenger. It is a fuss-free, hassle-free app whose icon looks like that of a silly simple game.
It also has a self-destruction feature and messages are end-to-end encrypted. You can send media and texts either to individuals or to group chats. Secret messenger even allows you to divide your groups into your regular friends and your core friends.
You can build your own community thus bringing this app closer to the aspects of social media. In addition to all of this, the app has a built-in wallet that uses QR codes to make payments. Though, this is their one feature that can be a little unreliable at times.
Kubool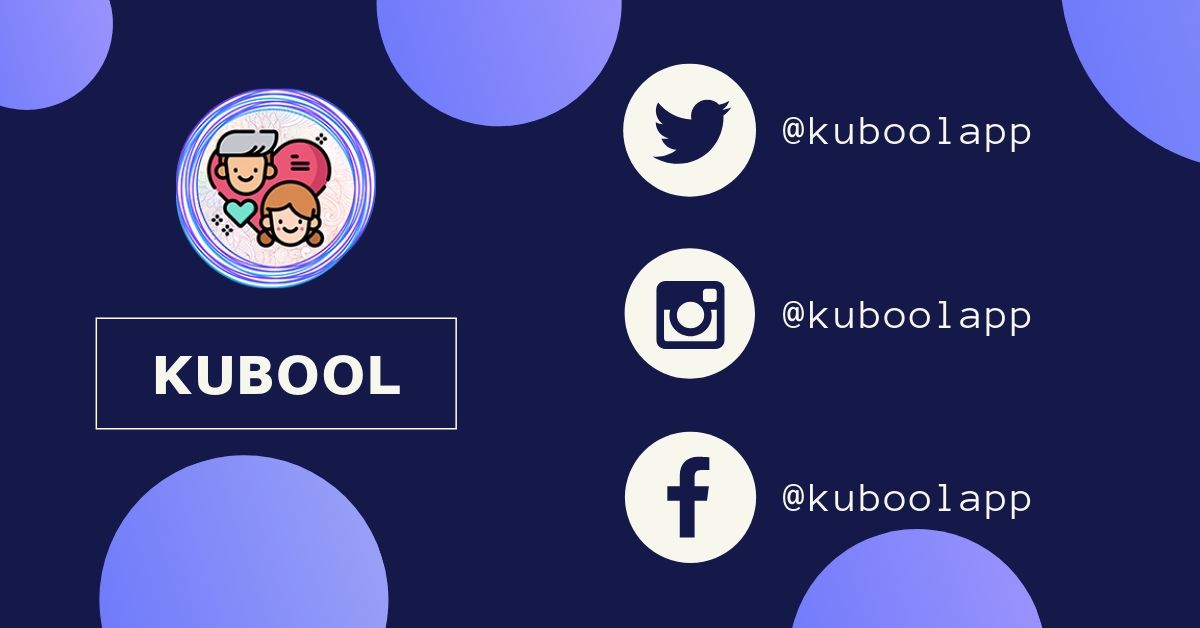 Kubool is an anonymous messaging platform whose icon definitely doesn't give away its identity. In fact, the icon resembles the most basic games you can think of thus, leaving no room for suspicion.
When you sign up on Kubool, you get an ingenious username and a profile link which you can send to whoever you like. You can even upload it on your socials like Instagram, Facebook, and Twitter if that's what you want.
Through that link or username, people will be able to text you anonymously thus making you ignorant of the sender's identity, unless you've only sent the link to one specific person. It helps you ensure your privacy as you can deny the whole thing as a prank if getting caught in the process.
Gem4me
Gem4me is another messaging app whose icon is disguised as a game icon. It provides you a special QR code through which you can invite your friends to chat with you anonymously. It also allows you to form groups.
One of its unique features is that it not only allows you to delete sent messages but you can even edit them. I know! Why has whatsapp never thought of that?
Anyways, by doing so Gem4me saves you from making typos or saying the wrong things at the wrong time.
You can even create a public or private channel on the application where you can post your updates, thus making it a bit similar to social media.
The app also allows you to make audio and video calls and all in all is a good option for your purpose.
Silence
Silence is a secret messaging application for Android users and is a lot like any other messaging app.
One of its many perks is that through the app, you can even send messages without a proper internet connection.
It allows you to send messages, photos, videos, and voice recordings and is highly secure because of the availability of code auditing for anyone.
It also doesn't ask for your credentials like your contact or your email in order for you to register thus making it impossible for anyone to trace back your identity through your silent account.
Wire
The wire is a secure messaging application and is made while keeping in mind the needs of the companies and the corporates.
In this age of data interception, it is quite important for companies to opt for such a messaging app in order to contact their employees which takes its security quite seriously and Wire does just that.
It has one of the best end-to-end encryptions and it makes sure that the information shared by companies only reaches their intended receivers.
The application also allows users to send instant messages and make phone calls with the safest channels available. The app can also be used for private purposes also, therefore, being a great option for secret messaging apps.
 Smiley
In this ocean of secret messaging apps for Android users, Smiley comes as a breath of fresh air as it is an application for Apple users and is quite reliable.
It offers security and assurance of your chats or data not being intercepted. And It provides end-to-end encryption and is one of the better options in the field.
It also gives the user a password option which helps the users to hide their chats behind a safety pin and reduce their chances of getting caught. In our opinion, this application is worth a try, a secure try to say the least.
CoverMe
CoverMe is another secret messaging application that provides its users with multiple facilities the most unique of them being assigning a temporary phone number to keep the user's real phone number and identity private.
It even takes matters two steps further by masking your phone number while calling someone to eradicate any proof of yourself. It also has a self-destructive messages feature which enables it to destroy your chain of messages thus, keeping your affair a real secret.
Not only this, but it also has a vault which might just be more secure than your bank account, and is used to keep the user's private photos, videos, or other data.
Secret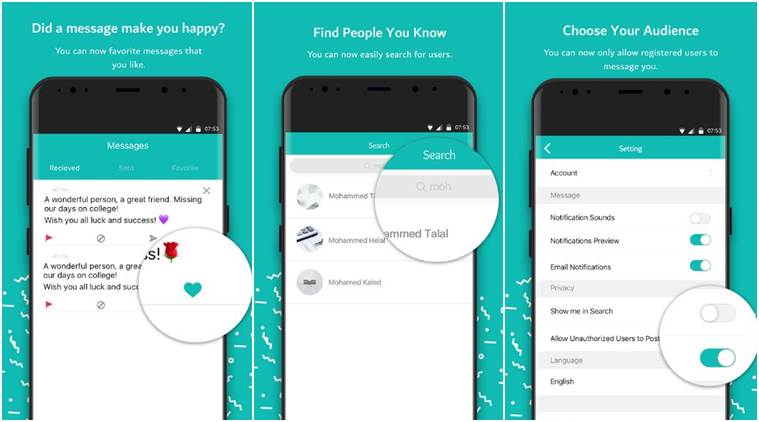 The secret is another messaging application that can be used by both iOS and Android users. It allowed users to send messages anonymously to their friends, and friends of friends either publicly or privately.
Like any other messaging app, it makes your credentials a well-kept secret, and chatting with your lover can be really safe on this application as it keeps their identity anonymous thus, making it easier for you to call the whole thing a prank if getting caught.
Also, unlike the majority of the apps, it is available for both Apple and Android users which makes it somewhat different from the others.
Signal
When talking about the very few secret messaging apps available for both Apple and Android users, one can't help but mention Signal. It is a private messenger which allows users to the community without SMS fees.
It never collects the user's data plus the chats are obviously end-to-end encrypted thus, making it quite a secure app to use. One of the best parts about Signal is that you can archive your chats which are then, removed from the chat list.
All in all, Signal is also a great option for maintaining your privacy and keeping your chats safe from the prying eyes of others.
Plato
Plato is one of the many secret messaging applications whose icon is disguised as that of a game which makes it quite hard to be detected.
One of the coolest things about this app is that it is ad-free which means no ad-nagging between your deep conversations! You can chat with your friends in end-to-end encrypted windows and it is quite famous among teenagers.
It Is also available for both Apple and Android users implying that the company of your device should not get in the way of safeguarding your privacy.
Blur chat
One of the safest applications to talk to your friends is Blur chat. Its best feature includes lock-sensitive messages that can only be unlocked after a successful identity verification via facial recognition or touch ID. Crazy right? This way another person can never read your texts without your permission.
It also allows the user to delete sent messages thus making it safer to send explicit content and even has the self-destructive messages feature which just up levels the game even more.
You can even disguise who you're talking to by changing their contact name or hiding their face, so that chances of getting caught are reduced to zero.
Briar
Briar is another application that people use to prevent data interception or to keep their privacy secure. It has end-to-end encrypted chats and you can even join forums here which does paint the app in the subtle colors of regular social media.
The messages on this app are secured on your device, not on the cloud which is a plus one. You can even connect directly with your contacts without an internet connection which in our opinion, just adds to its benefits.
Hide My Text
Using this application you can go into full incognito mode by hiding text messages or call logs of 5 chosen contacts.
Also, the icon of the app is completely invisible making it really secure to maintain your privacy. In addition to all of this, the application also requires a password set by your choice to open it which leaves no room for any kind of spying eyes.
You can even set your own chat thread color and see a number of failed attempts to log into the application and hence, can stay vigilant.
We hope this article on 17 secret messaging apps was helpful to you and proved to be a sanctuary for your privacy. Thank you!