Dying wet hair is the new trend on which people are asking plenty of questions and they have several doubts regarding this topic, whether dye the hair dry, semi-dry or completely wet.
And hence the main question arises can you dye Wet hair?
If you also have the same question then I am guessing that you are trying to save time.
Please understand that dry hair is thirsty hair and it will absorb more and more colour (If you want a solid colour, then you should dye dry hair) so if you have little dye, you can.
In Wet hair, the hair dye will be diluted and you will be able to dye your hair with less than a box but yeah quality will be somehow inferior in comparison to dying dry hair.
Some hair expert says that you can dye your hair dry as the back of the dye box is also telling you to dye your hair dry, but many experts say that not only you can dye your hair wet but it's actually the best way to dye it.
Really, it's the best way to dye the hair.
Yes, this is the best best way as compared to dye dry hair. And here are the benefits of dying Wet hair.
The Benefits of Dying Hair While It is Wet
Image Source: Makeup
1) Better results with less dye.
You don't need to use as much dye as in dry hair and you will get better and more even results, because in Dyeing with their the amount of Dye is distributed evenly within all your hairs.
2) Less Damage to hair
Of course, protecting your hair from damages is a major concern you may have when dying your hair. And the good news is that dying wait here may help to protect your hair from damage.
As you know that the dye contains some chemical ie. Ammonia or any other colouring chemicals, so in the process of a dying wait here the Chemicals are generally e-waste for less effect on the scalp.
3) You can use 2-3 different dyes to mix colour
Yet this is an experimental thing if you want to get a mixed colour of 2-3 different colour, it is quite difficult to get the desired result on dry hair but it is very easy to pour two different dyes on your Wet hair and smash together until it lathers in shower.
4) Hair becomes more absorbent
When our hair is wet there is a higher chance of absorbing more and more colour. it means that the cuticle opens itself up a bit and it is ready to absorb liquid.
And there is an open opportunity for the colour to penetrate the hair shaft on a slightly deeper level than it would be able to on dry hair.
Well if there are benefits of dying Wet hair then there II must be some drawbacks as you know that where there is a benefit there must be some drawbacks so let's talk about few drawbacks of dying Wet hair.
The Drawbacks of dying hair while it is wet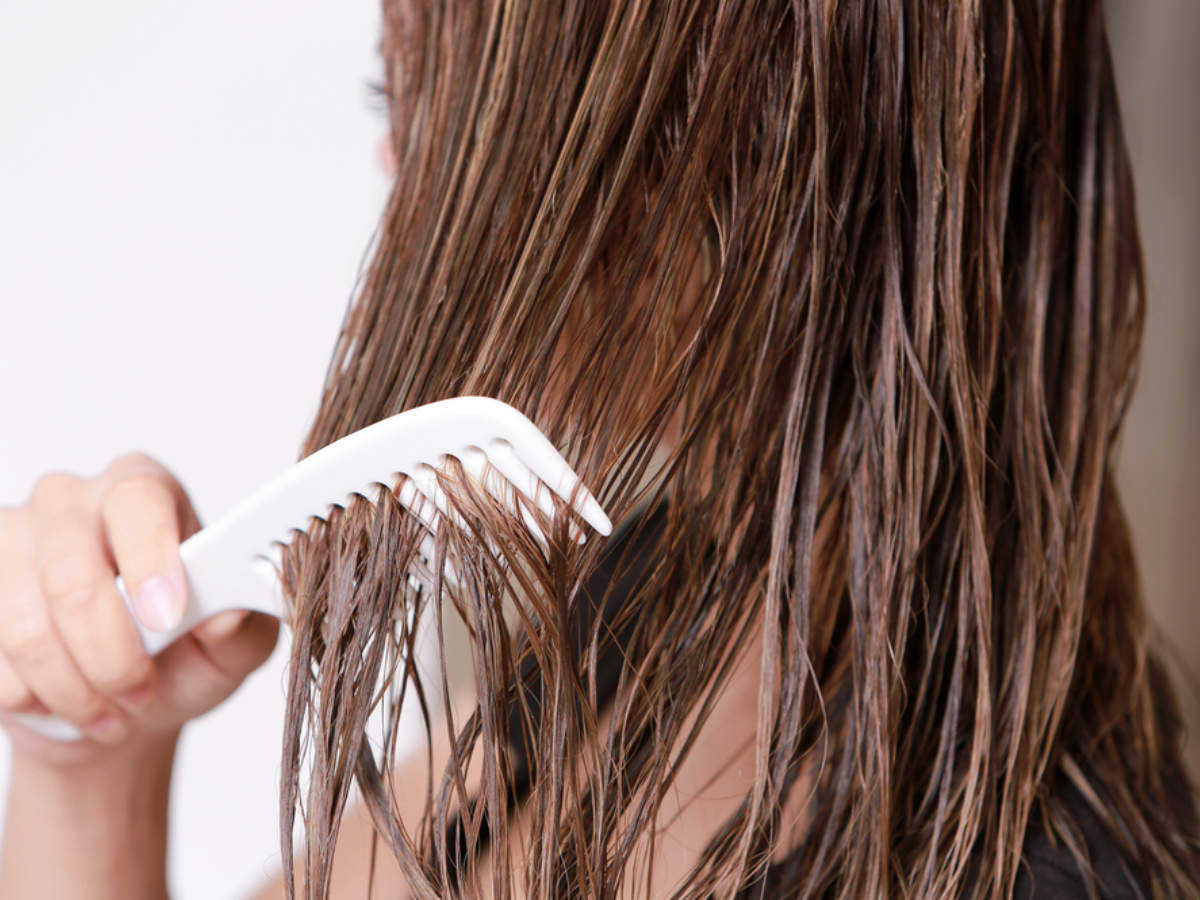 Image Source: TimesofIndia
1) Colour is not completely absorbed
Wet hair is already soaked in water and it has very little room for the hair colour to get through it so colour can't be completely absorbed by the hair so I must say that it is a drawback of colouring Wet hair.
2) Scalp Temperature difference from outer temperature
When you dye wet hair, the most common result is the hot roots of the hair. This is because the temperature of your scalp will dry out the hair of the root and make it observe hair dye more fastly in comparison to hair tips and it will create some differences between the colour of hair tips and hair roots.
3) Water Dilutes the colour
If your hair is extremely dry and damaged then your hair is already passed and looking for moisture. In such scenes, your hair might have observed so much water already that there is no space for the dye to penetrate the hair cortex and the colour will be less effective on hair.
4) May cause some damages
Hair is more vulnerable when it is wet, the cuticle is like steel that protects the hair and in which year the cuticle stole opens itself that we can see the bond that normally protects our inner cortex.
So we use chemical products on our hair then there is more chance of damaging our hair with that chemical.
So it is highly recommended that if you are using dye products for colour products on Wet hair always make sure that you are using a chemical-free product.
SHOULD YOU WASH YOUR HAIR BEFORE COLORING IT?
Image Source: Hair
That depends on your hair behaviour but generally, it is recommended that always wash your hair so that you can clean all dirt oil in your hair and you can get your hair evenly coloured.
If you are curious to know, why I am saying you wash your hair oil before colouring it, then you must think that the oils in your hair are supposed to protect your hair and they also keep your hair from accepting colour.
If you apply hair dye or colour on oiled hair, first you will need more and more colour dye and your hair will not accept or absorb that colour and somehow more or little your hair also will be damaged.
CAN YOU DYE WET HAIR AT HOME?
Image Source: Google Images
If you want to use the chemical product to colour or dye your hair you should have your hair done by a licensed professional colourist for the best result.
But if you want to dye hair at home use only home friendly colour which does not contain any chemical substances like Ammonia sulphur for anything else so that it can't harm your hair or scalp.
 Permanent Hair Color On Wet Hair (Why it doesn't work)
If you are planning to dye your hair with a permanent colour then I must say a big NO to that idea, as it will not absorb the colour properly and you will not get a satisfying result.
So my suggestion is, if you want to colour your hair then colour it when your hair is dry. It soaks up the hair colour completely and it will give the true to colour result.
Why it doesn't work?
Because when the hair is wet it is already soaked up with the water which leaves very little room for the hair colour to get through it that's why the hair colour on Wet hair doesn't work.
Can You Dye Wet Hair After Bleaching?
First of all, I must say that when it comes to Bleach, never apply bleach Chemicals to wet or damp hair, believe me, your hair and scalp will absolutely burn.
For bleaching, purpose turns into cotton candy and possibly even live bald patches so that the chemical can't show its effect on the scalp directly.
How to Dye Wet Hair step by step  (6 Steps)
Image Source: Freepik
So you have decided to dye your hair at home rather than going to the salon. Oh then just follow these 6 simple and easiest steps to dye Wet hair.
1. Choose your dye and find the colour you want. (Suggestion: Have semi-permanent dye, as it is best for wet hair)
2. Perform a patch test because it's an easy way to check for allergens at home, whether you have an allergy from dye or not. Perform the same test also on hair strands so that you can confirm it is not harmful to your hair.
3. Then first of all wet your hair with lukewarm water. This is optional, you can apply shampoo but keep in mind that your shampoo should not be greasy as this can affect the outcome of your hair colour.
4. Mix the dye (if it is in powdered form, dilute it with water) and place it in a small container and have a hairbrush from which you have to apply it on your hair.
5. Apply the hair dye. Place a thick amount of hair dye wherever you want it. Go over every section of your head or hair to make sure that dye is even on your hair.
6. Let the dye sit for 30 to 45 minutes. After 45 minutes rinse out the dye. And don't use shampoo just after removing the dye. Apply shampoo on your hair after 24 hours and wash it.
You are now set with new hair colour.
FREQUENTLY ASKED QUESTIONS
What happens if you put hair dye on wet hair?
Nothing bad my friend, dying your hair while it is wet is best for sub tell result and it looks like that are less likely to cause damage because the chemicals (if it has some) will cause less damage to your scalp in comparison to dry hair.
Can you apply semi-permanent dye on wet or dry hair?
Of course, you can apply semi-permanent dye on Wet hair or dry hair. But it is recommended that apply dye on damp hair (damp hair means towel-dried, not too dry not soaking wet).
Can we apply dye to oiled hair?
Yes, you can apply dye on oiled hair but there is no guarantee of the colouring of hair after oiling. So I suggest that do not use permanent dye or semi-permanent dye on your oiled hair because the oil is supposed to protect your hair and oil can't accept the colour so the hair dye will become useless so it is not recommended.
Should you shampoo hair after dying?
Well, Shampooing hair after dying depends on your choice. Well, this depends on the product which you are using like you can Shampoo your hair after 4 hours or after a day it is also mentioned on the packet of Dye or colour.
 How long to live dye in hair for best result?
Most hair dyes should be left in the hair for a minimum of 30 minutes and a maximum of 45 minutes. The hair dye and its 30 minutes for the peroxide and ammonia to work their way into the hair cuticle to change the hairs natural colour or pigment and the last 15 minutes are for the dye to fully develop and permeate the hair.
Final Thoughts
Yes, You can dye wet hair and by using some tips and tricks and you will get a salon-quality dye in your own home.
Semi-permanent dye is the best dye that can be used on wet hair because the semi-permanent colour doesn't have ammonia.
I believe that this article is helpful as well as informative for the people who are prone to dying or colouring their hairs or who you are generally experimenting with hair and I hope you also got the answer regarding Wet hair and dying.
If you find it interesting then share this article with your friends and colleagues. Thank you for landing on this page.