Krista Gonzalez, an artist in a popular fashion company, asserted that cowboy boots are a natural way to align with the trend. With multiple options on boots and jean styles, it can be a tedious job to know what combination of best cowboy jeans to wear.
These jeans and cowboy boots have included a wide variety of cuts, washes, colours and specific designs, so it has become essential to have the best jeans for cowboy boots.
We have a wide range of fashion choices ranging from dress boots to work boots, straight-leg jeans to boot-cut, leaving us with many options.
But finding the right combination of cowboy boots and jeans for ourselves is as easy as getting a few style directions and then having to select our personal choices that would suit us the best.
The Best Jeans For Cowboy Boots
The burning question now arises about how to implement and wear cowboy boots in the best way along with jeans. As a general rule of thumb, we should wear medium to dark-wash jeans and boots, preferably not tucked in, as it would give us a much better look.
We can opt for form-fitting, which has decent room in the lower leg for the boots. Let us discuss finding the jeans for ourselves with the right properties.
THE BEST PANT CUT
If we are talking about the best jeans for cowboy boots, we can't overlook the cut; they carry a significant role in our look, so it is very important to choose what goes well with our jeans. The best pant cuts to wear with our cowboy boots so that we look best on any given occasion: –
⦁ BOOT-CUT: – This combination of jeans, i.e., Boot-Cut jeans and cowboy boots, go together very well as our favourite PBJ, peanut butter and jelly sandwich. It allows for adequate room to bind our shoes in.
⦁ REGULAR OR STRAIGHT LEG CUT: –
This combination of regular and straight-leg jeans works fine with cowboy boots, but we may have a little issue putting them on.
This is because if we go with this combination, we would have to roll up our jeans to wear our boots and roll them down afterwards.
⦁ WIDE OR THE RELAXED FIT CUT: –
This combination of jeans, i.e., wide and relaxed fit cut jeans are very okay to wear with our cowboy boots, but we may want to consider a shorter inseam to compensate for that extra bagginess we'll get because we're wearing relaxed fit.
Pro-Tip:- Jeans cut which is narrower than a straight leg possibly may not fit over our boots, which means that we'll have to tuck them in, but this doesn't function well unless we are doing some heavy-duty work.
THE BEST DENIM COLOUR FOR COWBOY BOOTS AND JEANS
⦁ Today, everyone is trying to wear every colour of denim with their cowboy boots, but generally speaking, the best jeans for cowboy boots are either dark blue coloured or charcoal coloured ones.
⦁ Medium blue coloured jeans turn out just perfect for something to wear during the daytime.
⦁ We can utilize darker shades of blue for our jeans, for spending a night out, and also wear light-coloured jeans to revive an old-fashioned notion to give for the best pair of jeans with cowboy boots.
Ultimately, this choice to wear cowboy boots and jeans comes down to our personal preference but as we gain just a bit of knowledge and experience on aspects that we talked about earlier in this article, i.e., length, its cut and colours, we'll have a head start in terms of better fashion.
Here are some more variety of jeans to wear with our cowboy boots –
Even though some fashion bloggers have made the statement which has told us about the end of skinny jeans, Krista Gonzalez, whom we talked about earlier, isn't very sure about this.
She said a skinny silhouette in a fashion designer's book is a foolproof option and easy to tuck in with our cowboy boots.
The wise opening of a cowboy boot at the top, instead of the more tapered and close-cut one, turns out simple to tuck that pair of skinny jeans into our boots.
Tucked in skinny jeans, give our boots to take a chance at the centre stage in our attire and lets them showcase the intricate details on our boots.
More about Skinny Jeans…
As stated on a popular fashion website, Langston's, it said that today's women's fashion is getting more intricate and detailed than ever; from high-fashioned boots to boots of daily wear, we can easily find boots with intricate stitching with bright colours and not to forget the beautiful inlay designs.
One more option we can do is a solid boot colour that blends in with our skinny denim jeans, for example, wearing the combination of thin black boots paired with a dark coloured or black coloured denim. Matching the colour of the boots to our denim jeans will elongate our jeans as it would create that one uninterrupted line.
While knee-high cowboy boots are a classic, but not to mention lower cowboy boots are also fun to pair with skinny jeans and can be flattering if worn by women.
As said by Priya Virmani, a personal fashion stylist and also a style curator, shorter cowboy boots are not overwhelming on our bodies and are difficult to style regularly, but luckily, there are many mid-calf western style boots that we can choose from now, thanks to our very big market, that has got tons of options in every fashion aspect.
WITH BOOTCUT JEANS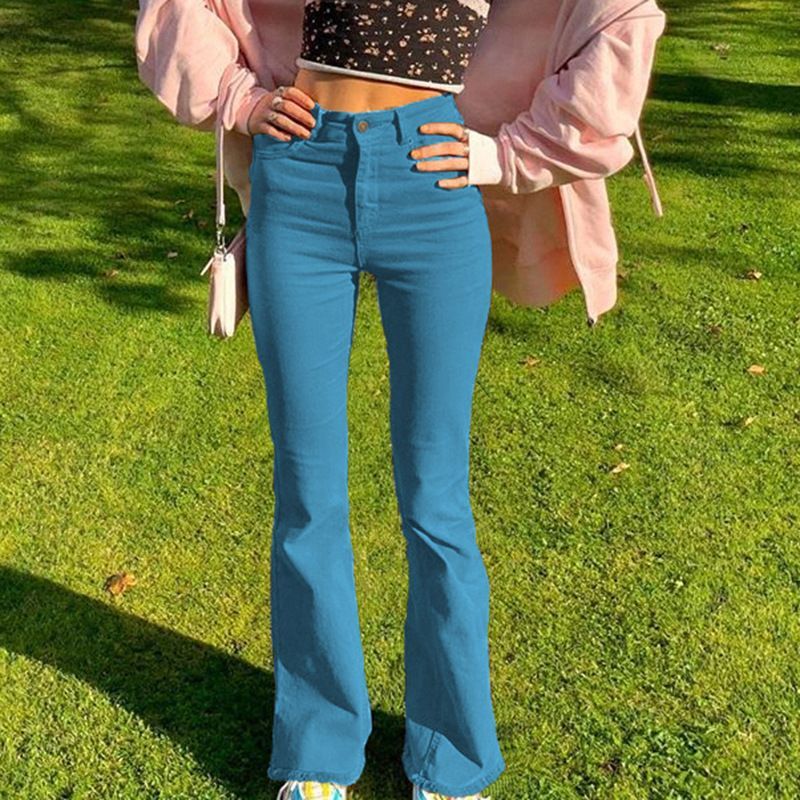 Bootcut jeans are another classic option that we can choose to pair with our favourite cowboy boots.
In this look with bootcut jeans, one wears their jeans over their boots. They should fit our waist and thighs and have adequate space to put them over the stake of the boot.
Another great option is straight-legged jeans with a wide opening for legs to cover the boots.
The span of jeans should be just right. It shouldn't be too long that it dangles or short that one can't appreciate it. They should be a bit longer than what would work for flat shoes or sneakers.
Despite, many people purchase them for extra long size and scrunch or stack their jeans at the bottom over the boots, but if we don't want to be stepping on edge, then we ought to purchase a size around two inches bigger than what we generally wear than our regular inseam. That would make us look fine and spectacular.
We may don boot-cut jeans and pair them with a belt buckle to emphasize our waists and praise our outline. This fashion style goes well for girls wearing Cowgirl boots with jeans.
 WITH CROPPED JEANS
We can certainly go for cropped jeans and boots having an exciting pattern. A unicolor look will work great with boots and jeans with identical colours and patterns.
We have to choose cropped jeans with a straight leg and an easy but not too baggy fit that maybe either be cuffed or have ragged edges. Such jeans are perfect to wear with boots with a slim duct.
Choosing the proper length of cropped jeans is much needed, as we might want the jeans to cover the boot slightly or deliberately show a little skin between the jeans and our boot.
DENIM SHORTS
We can easily pair jeans shorts with cowboy boots. Although we may think we are a bit old for this combination, and newer varieties are available, we shouldn't be too sure about this.
If we follow proper styling, we may find older women wearing Cowgirl boots with jeans (denim shorts actually) combination and look good.
Women can wear low-key span shorts that go perfectly with a decorous top. Women who are fond of wearing shorts can try ankle cowboy boots, shin-length shorts, and a huge sports jacket for a more settled, elegant look.
JEANS THAT MAKE US FEEL SELF-ASSURED WITH STYLISH BOOTS
If we wish to get onto wearing jeans and on our feet western-styled boots, but we are afraid that we might not be able to give off a cowboy-inspired look, we might have to think it over once more.
Cowboy boots aren't something that we should have grown up with or something where we have to like country music or to know horse-riding; it's particularly a state of mind. So, we must channel our wild west side and put on these cowboy boots.
COWBOY CUT SLIM-FIT JEANS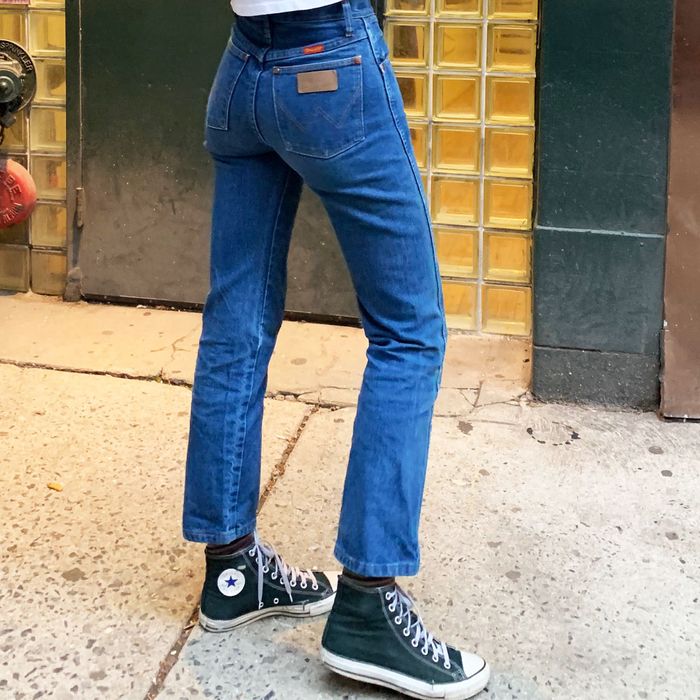 We don't require baggy jeans to match and resonate with the cowboy boots we don; instead, we can opt for something more exotic and, at the same time, fancy looking.
Slim-fit jeans are perfect for our body; this legwear can go with different body types! They make us look pretty sophisticated while maintaining sufficient room to fit our boots underneath.
This outfit works best for guys who aspire a bunch from their denim, when they are working around the property loading their bulls or when they normally hang out at a backyard cookout with their pals.
It is relaxing and gives off a graceful look in front of our comrades and others before whom we may want to look as appealing as possible.
STRAIGHT WESTERN JEANS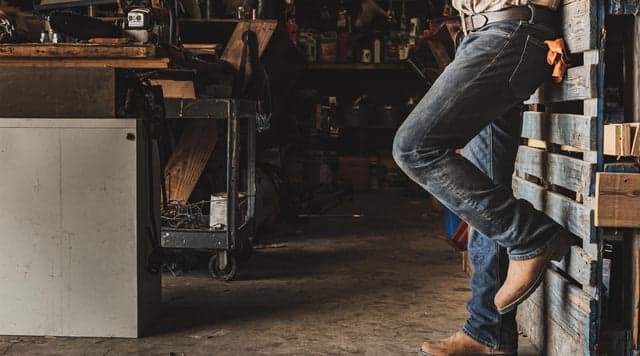 Another category of best jeans for cowboy boots is straight western jeans. These jeans go pretty well with our well-made cowboy boots, making us look handsome. They prove to be great denim to go with any cowboy boots.
Hardworking people might want to go for this pair of jeans along with their cowboy boots because this piece of the outfit is made precisely for such people who want to look the best while they work.
These jeans offer a slim approach that can withstand the rough work we may have to undergo every day. They are the best for us when we want to wear them to work for the entire day, and after a hard day's work probably go to a date wearing the same jeans.
WESTERN FIT JEANS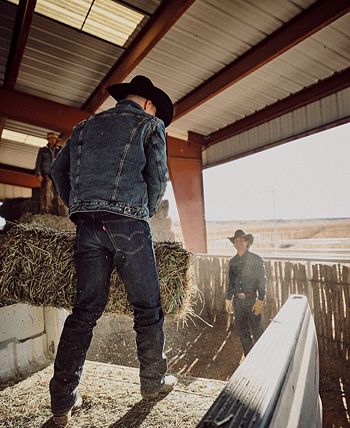 We can't possibly go wrong with jeans. A pair of western-fit jeans and cowboy boots will ensure that. These jeans are essential for modern cowboys who wish to stay comfortable for as long as it would allow but at the same time maintain a good look on them.
We get rugged durability from this outerwear that looks dashing on us and provides us with a pair that will last much longer than any other that we would have purchased in the past. So, let's just put these on and get going!
The Final Verdict
Cowboy boots and jeans both are pieces of accessories that in themselves can give for an elegant and stylish look, but when these two are combined, they produce something out of the ordinary. But, to maintain that uniqueness, we have to be careful to choose the best pair.
A variety of jeans go pretty well with our cowboy boots. Boot-cut jeans are quite a remarkable example of such jeans.
We may go for comfy jeans, which contribute to our good look and ensure that we don't look worn out after a long day's work.
Skinny and slim-fit jeans work well as they provide a slim and dashing look on us and are quite comfortable to wear.
Cropped jeans with patterns and denim shorts are excellent for our cowboy boots.
Western jeans are an excellent option for modern cowboys.
For More updates on Fashion and Lifestyle visit Onxshadow
Top Fabulous Outfits | Country Concert Outfit Ideas | Latest Ideas 2022
15+ Fabulous Outfit | How To Wear Straight- Leg Jeans | Latest Ideas 2022